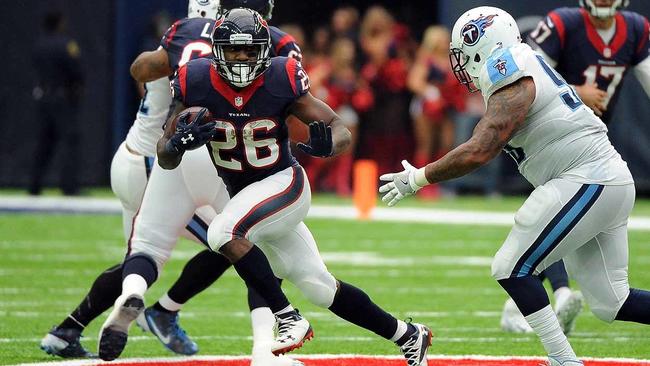 Written by Brian Murphy
12 October 2016
ASL's Brian Murphy points out three star running backs who could be had at a bargain now and pay big dividends later. 
There are a few running backs who have gotten off to less-than-ideal starts. However, if that means you might be able to acquire them at a discount, why not try?
Lamar Miller, Houston Texans
I initially wanted to make this article all about Miller. I decided to spread the words around, but that's how strongly I feel about him for the rest of the season even though he hasn't lived up to hs first-round draft slot and is coming off a dismal performance versus the Vikings. On the bright side, that nine-touch, 24-yard outing might have driven his price a little lower. There are a couple of negatives when it comes to Miller -- his offensive line is playing poorly and quarterback Brock Osweiler isn't doing him any favors either. But only Ezekiel Elliott (118) and Todd Gurley (116) have gotten more touches. Miller hadn't received fewer than 22 in a game this season before this past Sunday. Only David Johnson and DeMarco Murray have been on the field for more snaps. It hasn't really translated into production, but players as talented as Miller who are on the field that often are going to put up big numbers. Or, at the very least, keep a high floor. Case in point, Miller had gained at least 97 yards from scrimmage in every game prior to that Week 5 outlier. The fantasy community would probably be viewing Miller very differently right now if he had the fortune of falling into the end zone a handful of times. But as I said about Odell Beckham Jr. last week, the TDs will come. Get Miller on your team now for when they do.
Mark Ingram, New Orleans Saints
Early-season concerns about Ingram's amount of work have evaporated. He has handled the ball at least 19 times in each of his last two games, and his role as a receiver has increased as well, highlighted by his six catches in Week 4. However, because of his slow start to the season and a total of just two touchdowns, Ingram's overall numbers don't look that great. But you know better. You know the Saints will use him as a workhorse and give him chances to supplement his value as a pass-catcher. You know, again, that the TDs will come -- as long as John Kuhn doesn't steal them all. And you know that acquiring Ingram now kind of buys you a free week of services since his bye has passed. He still needs to be viewed as a stellar RB1.
Jamaal Charles, Kansas City Chiefs
The best opportunity to buy low on Charles came and went a couple of weeks ago, just before he made his sneak-peak debut against the Steelers, rushing just twice for 7 yards. However, with the Chiefs on bye in Week 5, it's worth putting out a line to see if his owners still view Charles as too much of an injury risk after he was out of sight, out of mind for a while. Admittedly, Charles is an injury risk given his history of knee tears and slight frame. But those concerns should be baked into your asking price. When Charles is healthy -- and he said last week that he is -- he can be one of the league's best backs. He will have to share more than he's used to because Spencer Ware has earned the right to be a part of Kansas City's every-week game plan. But when all is said and done, the Chiefs want Charles to be their backfield leader. And while matchups don't matter a whole lot with a player who can burst through a defense and go to the house at any moment, the fact that the Colts, the Saints, the Buccaneers and two matchups apiece with the Raiders and the Chargers await the 29-year-old Charles gives you more reason to deal for him.