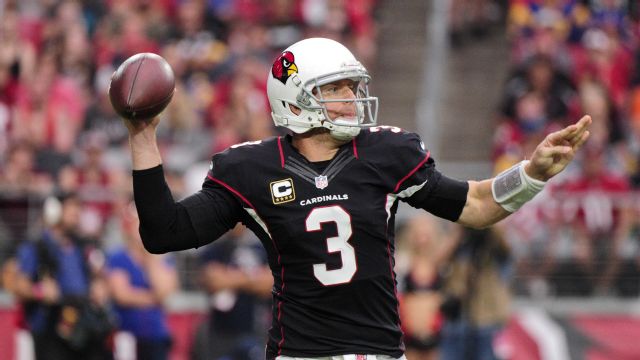 Written by Brian Murphy
06 October 2016
Injuries are a part of the game. It's a tough realization, but it's something that every fantasy football owner has to deal with. Here is what we know as of Wednesday night about this week's large group of injured fantasy stars.
Cam Newton, QB, Carolina Panthers
The reigning MVP took a forceful, completely unnecessary hit from a Falcons defender while running in a two-point conversion Sunday and was diagnosed with a concussion. The Panthers don't face the Buccaneers until Monday night, so Newton will have an extra day to recover. If he can't clear his tests, Derek Anderson. He is not a streaming option, even against Tampa Bay's pathetic defense. The fantasy community just wants to see if he can get the ball to Kelvin Benjamin consistently.
Carson Palmer, QB, Arizona Cardinals
Speaking of quarterbacks with concussions, Palmer has already been ruled out for Thursday night's showdown versus the 49ers. Drew Stanton, who owns a career 12:18 touchdown-to-interception ratio and a completion percentage of 54, will start in his stead. Downgrade all Arizona receivers, and expect running back David Johnson to get all the work he can bear.
Rob Gronkowski, TE, New England Patriots
Gronk's nagging hamstring is still nagging. He indicated Wednesday that he still doesn't feel 100 percent. However, especially with Tom Brady back in the fold, Gronkowski probably can't be benched if he's active against the Browns.
Tyler Eifert, TE, Cincinnati Bengals
The good news: Eifert has recovered from his offseason ankle surgery. The bad news: It took him no time at all to pick up a back injury. That's what happened to him during Wednesday's practice and, according to ESPN, this new ailment is expected to keep him out of another game. Maybe Eifert's season debut will come in Week 6.
Latavius Murray, RB, Oakland Raiders
We found out Wednesday that Murray has a toe injury which is apparently debilitating enough that he is unlikely to suit up Sunday versus the Chargers. That opens the door wide for rookie DeAndre Washington to have a big outing. The rookie is averaging 6.4 yards per carry, albeit over only 23 totes. San Diego has allowed the second-most touchdowns, receptions and fantasy points to RBs through four weeks. Thus, Washington is on the RB2 radar.
Dez Bryant, WR, Dallas Cowboys
Bryant didn't practice Wednesday as is waiting for the hairline fracture in his knee to heal. The Cowboys are keeping hope alive, at least publicly, for Bryant to play. But his odds seem less than 50-50 at this point. For the desperate, Brice Butler filled in for Bryant last week and caught five of his nine targets for 41 yards and a touchdown. He will continue to get a lot of playing time -- he played 62 snaps versus San Francisco -- as long as Bryant is too hurt to suit up.
Kevin White, WR, Chicago Bears
2016 wasn't quite the total loss for White like 2015 was, but he is going to be sidelined for the duration due to another leg injury. Specifically, White has a high ankle sprain and a broken fibula. He missed his entire rookie season due to shin splits. In related news, wideout Eddie Royal and tight end Zach Miller didn't practice Wednesday. In the unlikely scenario that both are inactive, Alshon Jeffery is going to get 20 targets. 
Jason Verrett, CB, San Diego Chargers
You can now shelve your worries about starting your top WRs against the Chargers. Verrett, one of the best cover corners is the league, is done for the year because of a partially torn ACL. I've already mentioned in this column how poor the Chargers are at stopping running backs. San Diego's pass defense, however, should also look very inviting to opponents now as well. 
Arian Foster, RB, Miami Dolphins
To the surprise of many, Foster went through limited practice Wednesday. To the surprise of no one, his groin injury probably still needs more time to heal in order for him to play. Dolphins head coach Adam Gase remarked Wednesday that he is scrapping the team's four-man backfield and will instead trust one or two backs to carry the mail. I expect the usage in this backfield to fluctuate from week to week, but if you need another RB for Week 5, it looks like Jay Ajayi will get the most cracks at proving his worth.
Eric Decker, WR, New York Jets
Decker wasn't on the field Wednesday and is expected to sit out his second consecutive game because of a shoulder injury. As such, Brandon Marshall will remain a target hog. 
Dwayne Washington, RB, Detroit Lions
First Ameer Abdullah and now Washington? Detroit is running seriously low on running backs. He made it through all of two carries for 8 yards and caught an eight-yard pass before foot and ankle ailments ended his Sunday action very prematurely. Theo Riddick should pick up most of the slack while Washington is out, but Zach Zenner will also be in the picture versus the Eagles' third-ranked run defense. I'd avoid this backfield if possible.
Other injured players who are expected to play: Alshon Jeffery, WR, Chicago Bears; Jeremy Hill, RB, Cincinnati Bengals; Isaiah Crowell, RB, Cleveland Browns; Kenneth Dixon, RB, Baltimore Ravens; Ryan Mathews, RB, Philadelphia Eagles; Zach Ertz, TE, Philadelphia Eagles; Mohamed Sanu, WR, Atlanta Falcons; Jacob Tamme, TE, Atlanta Falcons.
Other injured players who are not expected to play: Jay Cutler, QB, Chicago Bears.