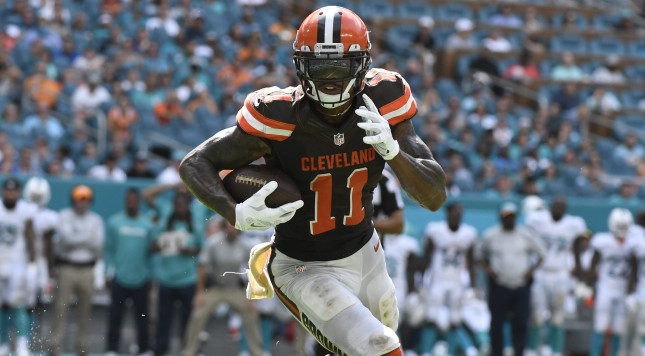 Written by Brian Murphy
06 October 2016
If you want to optimize your weekly fantasy football lineups, get projected point totals for each of your players, see which waiver wire pickups and trades will benefit you most and much more, you must make sure that you have purchased The Machine. 
Carson Wentz, QB, Philadelphia Eagles
For the second time in three days, I'm leading off a column with Wentz. He has played more like a perennial Pro Bowler than a rookie from an FCS school while recording five touchdowns, no turnovers and an average of more than 250 yards per week through three games. He is coming off his bye, so the extra preparation time should help him be even better. However, this quick study probably didn't need a full two weeks to know how to beat the Lions' defense; quarterbacks have been doing just that all year long. Detroit has already been victimized by a pair of QBs who threw four scores in a game and most recently did nothing to slow down Brian Hoyer as he tossed for 302 yards and a couple of TDs. It's no wonder why The Machine has Wentz slotted as the week's No. 9 quarterback. Expect the second overall pick in April's draft to keep the Eagles flying high.
Todd Gurley, RB, Los Angeles Rams
Who would have thought, four games in, fantasy football owners would have needed a little bit of persuasion to put a top-five pick into their lineup? But Gurley's owners might need some coaxing this weekend considering that he has yet to top 100 yards in a game, is averaging an ugly 2.6 yards per carry has just two end zone visits. His offensive line stinks, Case Keenum doesn't frighten defenses, and ... I'm not exactly helping my case here, am I? OK, first of all, the Bills will visit L.A. on Sunday, and that defense has given up five rushing touchdowns in the past three weeks and 4.2 yards per carry in the past two. Gurley's five catches in his previous game presented an encouraging development as well; he had caught just one pass in each of the first three weeks. We know he is a lock to get 20-plus touches, but if the Rams continue to give Gurley the ball with space to move, he is going to produce good-looking numbers. The Machine certainly hasn't turned its back on the fantasy first-rounder. The Machine has him currently ranked fourth among running backs for Week 5, in front of Ezekiel Elliott, LeSean McCoy, C.J. Anderson and Melvin Gordon.
Terrelle Pryor, WR, Cleveland Browns
Pryor is an off-the-charts athlete, but there have been an incalculable number of athletic wideouts who haven't come close to succeeding in the NFL. Pryor has taken his game to the next level, even with Cody Kessler at quarterback, thanks to improved route-running -- he broke Josh Norman's ankles on one play last weekend -- and thanks to head coach Hue Jackson putting him in advantageous spots. Pryor has taken 13 receptions over the past two weeks for 190 yards and a score. He is getting a bunch of targets and although the Patriots aren't a favorable matchup for wide receivers, you can rest assured that Cleveland will need to call a lot of passes Sunday as Tom Brady kicks off his vengeance tour. In a week where most sites have Pryor ranked as a low-end WR2, The Machine has him all the way up at No. 10. Pryor is projected to score 11.1 points.
Cameron Brate, TE, Tampa Bay Buccaneers
You may not have known Brate's name a month ago, but he needs to be on your radar now. He may need to be in your starting lineup, too. The 25-year-old from Harvard has seen 18 targets over the past two weeks, compiling 10 catches and a couple of touchdowns. He's not a tough cover, but he is a big target at 6-foot-5, and the Panthers have seemingly been unable to cover any tight end this season. They have permitted at least one TE touchdown in each of their last three games, including one each for the Falcons' Jacob Tamme and Austin Hooper (who?) last Sunday. In a week where Rob Gronkowski is still a tough player to trust, Eric Ebron, Antonio Gates and Tyler Eifert are dealing with injuries, and Travis Kelce, Jimmy Graham, Julius Thomas and Coby Fleener are all idle, Brate is a suitable TE1 with a great matchup. The Machine has Brate ranked 10th at his position for Week 5.