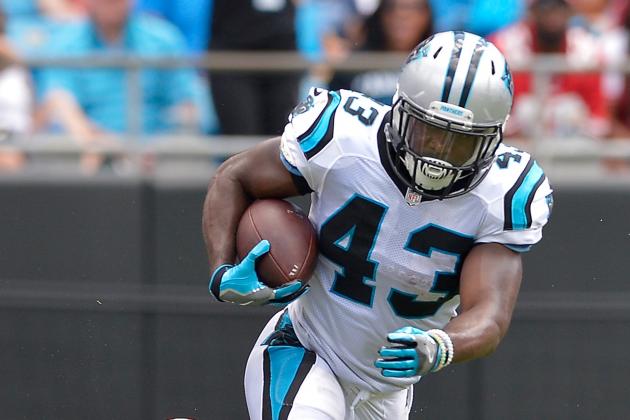 Written by Brian Murphy
20 September 2016
A very painful Sunday on the field will beget a flurry of action on the waiver wire this week. Here is whom you should be targeting in your fantasy football league. 
Jerick McKinnon, Matt Asiata, RBs, Minnesota Vikings
The top story across the league Monday was the condition of Adrian Peterson's right knee. It's not pristine, but the damage could have been a lot worse. While many feared he might have sustained a season-ending injury Sunday night, the truth is Peterson has been diagnosed with a torn meniscus. The Vikings have yet to rule him out for even this week's game versus the Panthers, but the safe bet is that Peterson, as much of a physical freak as he is, will be sidelined for at least a couple of matches. 
That makes both McKinnon and Asiata worth adding. But know that neither is going to be a true workhorse. McKinnon, Peterson's direct backup, got two carries immediately after Peterson suffered his knee tear, but those were his only touches of the game. Asiata was handed six carries as Minnesota tried to run the clock out. We're looking at a committee here, and Vikes' upcoming schedule -- at Carolina, home versus the New York Giants, home versus the Texans -- doesn't look friendly for opposing runners. If I had to choose one, I'd take McKinnon because he is much more of a big-play weapon. Yet, Asiata is probably going to bogart the goal-line touches. Neither player is more than an RB3 right now.
Fozzy Whittaker, RB, Carolina Panthers
If you rather fancy a running back who has a better shot of handling a full workload, look toward Minnesota's opponent this week. Jonathan Stewart is expected to miss at least one game because of a hamstring injury that he suffered early in Sunday's meeting with the 49ers. In his stead, Whittaker picked up 131 total yards off of 16 carries and three catches. Cameron Artis-Payne got quite a bit of run when Stewart missed some games late last season, but he has been a healthy scratch so far this year. That will undoubtedly change now, but Whittaker, an apt receiving back, is the likely backfield leader while Stewart is on the mend. 
Charles Sims, RB, Tampa Bay Buccaneers
Sims spent most of his first two NFL seasons acting as the Bucs' passing-down back. But with Doug Martin looking questionable for Week 3 due to a hamstring problem, Sims might be forced into a larger role versus the Rams. Los Angeles' run defense was stellar against the Seahawks on Sunday, but it was also shredded by Carlos Hyde in Week 1. Although the matchup is a bit nebulous, Sims' participation will almost certainly be robust. He should be picked up in all leagues but given more priority in PPR formats. 
Dwayne Washington, RB, Detroit Lions
This week's parade of physical misery at the running back position continued in Detroit, where Ameer Abdullah has a sprained foot. He will be out of action indefinitely, leaving the Lions' ground game in the hands of Theo Riddick -- whom you should have already scooped up -- and Washington. The seventh-round rookie is simply a stout dude. As in 6-foot-1, 225 pounds stout. He might get the minority of the carries, but 10-12 touches per week isn't crazy to predict. And if he converts just one of those chances at the goal line, as he did in Week 1, Washington will make for a decent enough flex option in some situations. Situations like Week 4 versus the Bears' pitiful defense.
Jay Ajayi and Kenyan Drake, RBs, Miami Dolphins 
Shocking news out of Miami as Arian Foster has a soft-tissue injury. I'll give you a second to compose yourself. Foster's latest ailment is a familiar one: a groin strain. He has yet to be ruled out for this weekend's game versus the Browns, but considering his injury history, he is probably going to need at least one week off. Ajayi and Drake will step in as they did this past weekend versus the Patriots. The touch count went 9-4 in Ajayi's favor, but he averaged fewer than three yards per carry and lost a fumble. If you can't grab any of the players previously highlighted in the column, then you can turn here. I think Ajayi is the favorite to get the most work, but even with the cozy Week 3 matchup, we don't have much of a reason to be currently intrigued by either.
Joe Flacco, QB, Baltimore Ravens
Most owners aren't clamoring for quarterback help. That is unless you were starting Jimmy Garoppolo or Josh McCown, in which case, can I join your league next season? If you aren't satisfied with what you are getting from your QB right now, Flacco is well worth a short-term add. Buoyed in part by Mike Wallace's surprising return to fantasy relevance, Flacco has been solid in the early going. But with the Jaguars and the Raiders next up on the slate, his numbers are bound to get a boost. Those two opponents have permitted a combined 13 passing scores through two weeks of action.   
Dennis Pitta, TE, Baltimore Ravens
And why not try to double your fun by pairing Flacco with his top tight end? Pitta's story is pretty amazing when you consider that it looked like a major hip injury in 2014 would cut his career far too short. But he has completed his comeback and is resembling the player who put up a 61-669-7 line in 2013. Pitta hauled in nine passes for 102 on Sunday versus the Browns. More encouraging is that he has garnered 16 targets through two weeks.
Victor Cruz, WR, New York Giants
I will close out this column with another nice story. Seven hundred days passed between regular season games for Cruz after he tore a patellar tendon in October 2014. He has returned as not quite the Cruz of old but as still a productive player in a pass-heavy offense. He scored in Week 1 and made a couple of extraordinarily tough catches in Week 2 on his way to a 91-yard afternoon. He could be a season-long WR3 and is owned in well less than 50 percent of leagues as of now.