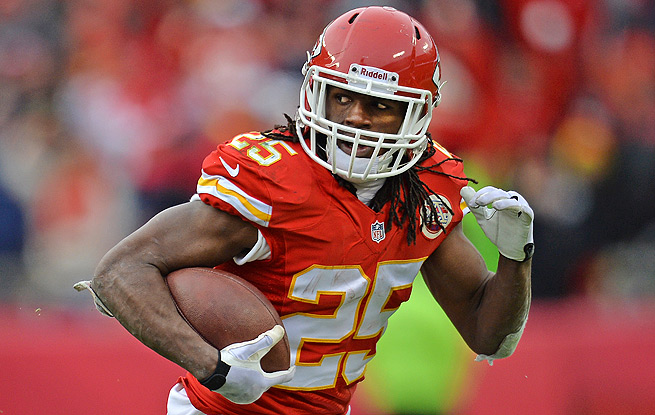 Written by Brian Murphy
08 September 2016
The official playing status of some on the list below won't be known until Sunday morning, so keep your ears and eyes open for any new information. But as of midday Wednesday, here's what we know. Or at least what we can comfortably assume. 
Jamaal Charles, RB, Kansas City Chiefs
Don't expect to see Charles on the field Sunday versus the Chargers. Even his own head coach, Andy Reid, expressed pessimism this week when asked about his star's playing status. Charles is just about 11 months removed from tearing the ACL in his right knee and while he should be rocking and rolling once again relatively soon, no one can really put a finger on when that day will come. Starting in Charles' place will be Spencer Ware, whom I just can't stop promoting this week.
Thomas Rawls, RB, Seattle Seahawks
Seahawks head coach Pete Carroll threw a splash of cold water on Rawls' Week 1 outlook Monday, saying that his No. 1 back will be ready to start "in the next couple of weeks." Days prior to that comment, Carroll had said Rawls was practicing at full speed and looked "ready to rock and roll." Now, perhaps he's only ready to sway to the beat? Whatever the case, Rawls will probably be limited by his still-healing left ankle, which he broke in December. The Machine currently has Rawls projected as the seventh-best RB for opening week, but I think we'll see a good dose of Christine Michael versus the Dolphins. This situation should clear up somewhat over the next few days, but I would not be surprised at all to see Rawls and Michael splitting carries evenly. Rookie C.J. Prosise should get some playing time on passing downs as well.      
Jordy Nelson, WR, Green Bay Packers
It's not a matter of if Nelson will play this week; just how much. He recently admitted that he has talked with his coaches about being on a snap count as he returns from the ACL tear he suffered last August. However, even if Nelson doesn't line up for 90-plus percent of the plays, you should still be starting him as a WR2, at worst, against the Jaguars.
Carlos Hyde, RB, San Francisco 49ers
Hyde remains in the league's concussion protocol after sustaining the brain injury during an Aug. 26 preseason game. He has gained some measure of clearance, and the 49ers are optimistic that he will suit up Monday night versus the Rams. But until he is indeed fully cleared, you just never know. Concussions are wholly unpredictable. According to its projection blend, The Machine has Hyde ranked as the No. 15 running back for Week 1, although Shaun Draughn could receive 15 touches or more if Hyde suffers a setback. 
Jimmy Graham, TE, Seattle Seahawks
Amazingly, it looks like Graham is going to play Sunday. He tore the patellar tendon in his right knee a little more than nine months ago. If you need a comparison to know exactly how amazing Graham's recovery has been, take a look at Giants receiver Victor Cruz. He went through the same injury in October 2014 and, due in part to numerous setbacks, this Sunday will represent his first regular season game since. Graham will likely be on a very conservative snap count and shouldn't be trusted in your lineup. But he may be able to significantly contribute much, much sooner than anyone could have imagined back in November. 
Matt Jones, RB, Washington Redskins
Jones returned to practice Monday for the first time since suffering a shoulder sprain Aug. 19. He went one step further Wednesday when he took part in a contact practice. If all goes well, he should get the green light for Washington's season opener against the Steelers on Monday. Jones will be a low-end RB2.
DeVante Parker, WR, Miami Dolphins 
Hamstring injuries have been a trend for Parker this summer. He has missed time because of injuries to both, including a current hamstring problem that has held him out of practice since Aug. 30. This 2015 first-rounder possesses plenty of upside, but good health has been hard to come by during his short stint in the NFL. You can park him on your bench even if he is active versus the Seahawks.
Julio Jones, WR, Atlanta Falcons
The stud wideout doesn't have a major injury concern, which is why he's at the back of this column. Call it an honorable mention. Jones injured his ankle during the Falcons' third preseason game. However, he returned to limited practice Wednesday and head coach Dan Quinn told reporters that he expects Jones to go through a full practice Thursday. Assuming that's exactly what happens, Jones will be primed to terrorize the Buccaneers' defense Sunday. He is The Machine's No. 3 wideout for Week 1.