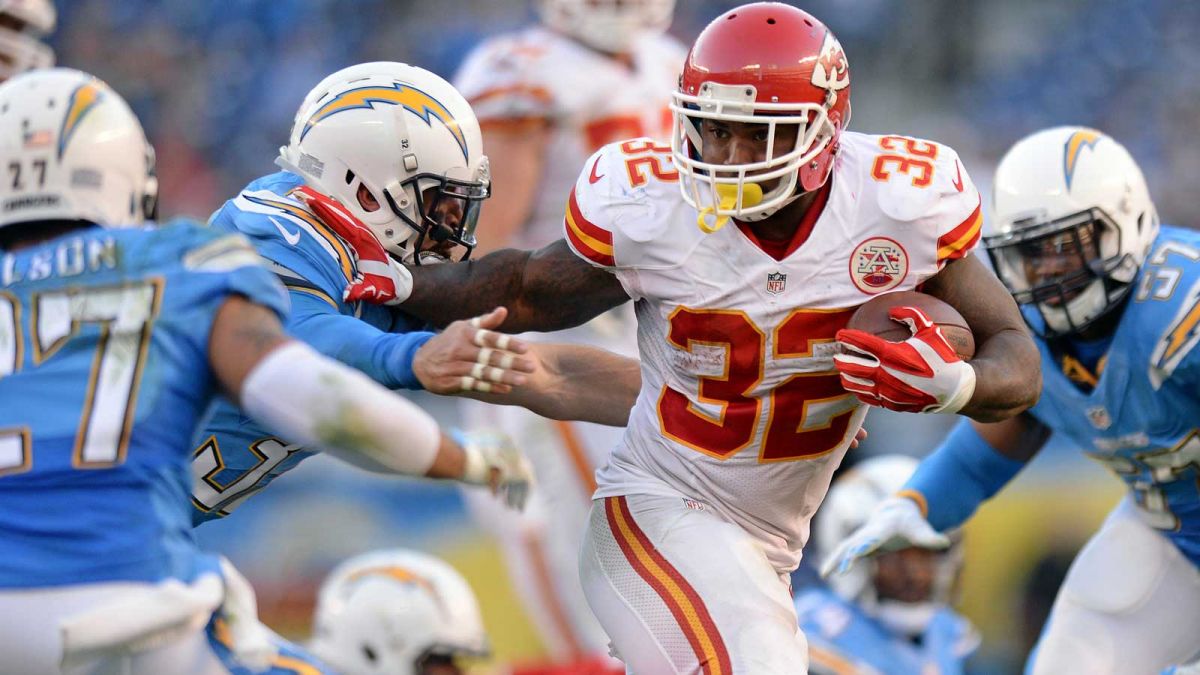 Written by Brian Murphy
06 September 2016
Week 1 of the NFL season is upon us. You have finished your draft, and while you are snuggled in your bed with visions of sugar plums and 40-yard touchdowns dancing in your head, you are awoken by a stark realization: Your team could be better. Perhaps you made a rushed decision during your draft that you now regret. Or especially if you have rostered two kickers or two defenses, you should pay heed here. Put your fantasy football hubris aside and understand that these few players can help you right your team's wrongs, even before the season-opening kickoff.
Spencer Ware, RB, Kansas City Chiefs
Ware's ownership percentages are rising fast, but as of Sunday night, he is still available in about half of all Yahoo and ESPN leagues. That's just bananas. He is the heavy favorite to lead the Chiefs in carries this week as Jamaal Charles hasn't quite fully recovered from his knee reconstruction surgery. Don't forget that Ware averaged 5.74 yards per carry and scored five times from Weeks 11-17 last season. He'll begin the year versus the Chargers, who allowed the fourth-most fantasy points per game to running backs last year and don't figure to be markedly stronger on defense. The Chargers were also witness to Ware's breakout game last year as he ran for 96 yards and two touchdowns on just 11 totes. Ware can be inserted into your lineup as an RB2 straightaway; he is the No. 18 RB for Week 1, according to The Machine's projections.
Will Fuller, WR, Houston Texans
Honestly, I don't think this first-round rookie is all that special (how about that for an endorsement?!). However, he does have two critical things his favor: speed and a probable starting spot in the Texans' lineup. There's plenty of room for expansion in Houston's receiving corps behind DeAndre Hopkins, and Fuller has seemingly won the No. 2 job on the back of a strong preseason. Specifically, he hauled in eight passes for 144 yards and two scores in three games last month. When the games count, Fuller won't be a high-volume wideout, but his 4.32 speed can be a major weapon against opponents who pay too much attention to Hopkins and running back Lamar Miller. That opponent this week is the Chicago Bears, whose cornerbacks are generally weak in coverage. Expect Brock Osweiler to take a handful of deep shots to Fuller on Sunday. He still has to actually catch the ball, which can be an adventure with him, but the opportunities for him to record a long touchdown will be there. The Notre Dame alum is at least worth adding to your bench because of his raw big-play ability.
Philadelphia Eagles defense
More fantasy owners need to employ the defense by committee strategy. I say that every year and I will keep saying that until that way of thinking occupies the large majority of leagues. Still too many people fish for defenses far too early in their drafts instead of playing the matchups every week. For those who do follow the committee strategy, kudos. Good on you for spending your draft resources on the more important positions. The criteria for a worthy defense are pretty simple in Week 1: Pick a group that is at home and facing a mistake-prone offense. Home fans around the nation will be more raucous than usual as hope springs eternal for every franchise in early September. Few fanbases are more raucous than the Eagles', and no offense has been more mistake-prone over the past few years than the Browns'. Granted, Cleveland looks halfway dangerous with Robert Griffin III under center and Corey Coleman split out, but be mindful that RGIII has committed 26 turnovers and taken 71 sacks in 22 games since his amazing rookie campaign. The Machine projects Philadelphia to be the eighth-best fantasy defense in Week 1.