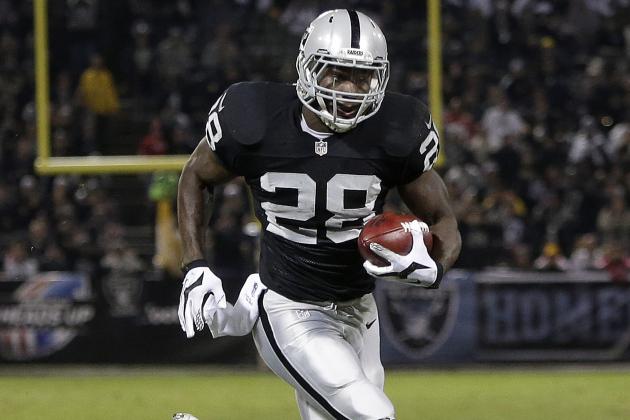 Written by Brian Murphy
29 August 2016
Although it's only the preseason, there are worthwhile conclusions to draw from what happens on the field. Here are some of the things that stood out at the running back position this past weekend.
The scores don't count. The stats don't count. But every play in the preseason means something to somebody. In Week 3 of the preseason, the meaning of each play increases just a bit as the game is traditionally seen as each team's dress rehearsal for the regular season. Many backfields provided interesting story lines over the weekend, and here is what I took away from that position, in no particular order. 
Oakland Raiders
Latavius Murray's starting job is not in jeopardy, but it's hard not to like his rookie backup, DeAndre Washington. He spent a lot of time with the first-team offense Saturday, averaged almost 7 yards per run with his eight carries and tallied a receiving touchdown. Murray will need to be better than he was last season -- 4.0 YPC with 307 carries -- if he doesn't want to fall into a split backfield. The 5-foot-8 Washington will probably cut in to Murray's pass-catching totals from the start anyway.
Dallas Cowboys
For all of the reasons why some fantasy owners don't like Ezekiel Elliot -- rookie, the hamstring injury, whispers about a sub-par work ethic, possibly out of shape -- he showed Thursday why so many are absolutely in love with him. He shredded Seattle's first-team defense for 48 yards on seven carries and picked up the blitz fairly well. While I would still probably pass on him at his current average draft position of fourth overall, I'll concede that he should be a first-rounder everywhere.
Indianapolis Colts
In this week's football news, the Colts picked Stevan Ridley up off the scrap heap Sunday, which says more about the team than the player. The Colts don't have much to speak of behind 33-year-old Frank Gore, and Ridley doesn't change that. If Gore gets hurt, fantasy owners probably shouldn't be clamoring for his replacement. With its still-poor offensive line, aged and diminished starter, and band of ragtag reserves, Indy's running game looks bleak right now.
Baltimore Ravens
Speaking of uninspiring ground attacks, the Baltimore Ravens. Terrance West has been their best back in preseason games, and he proved it again by rushing for 43 yards on seven carries Saturday. Kenneth Dixon's knee injury should cement West as the Ravens' No. 2 RB to open the year. It's still kind of insane that starter Justin Forsett is commonly available in drafts until the ninth round, but if the veteran doesn't shine quickly in September, West could take his job and literally run with it.
Washington Redskins
Undrafted free agent rookie Rob Kelley is just about the last man standing in Washington's backfield. Matt Jones has a shoulder sprain; Chris Thompson is nursing a sore knee and a sore shoulder; Keith Marshall injured his elbow during Friday's game. Kelley, to his credit, did the most with his opportunity, gaining 51 yards on 12 carries and having a good showing as a pass protector. He is suddenly a name to watch.
Seattle Seahawks
Thomas Rawls is going to have to perform some magic tricks to keep his starting job for long if Christine Michael transfers his August play into September and beyond. Michael racked up 58 yards on seven carries Thursday and is now averaging 6.5 yards per tote over 24 carries this month. With a 10th- or 11th-round ADP in most leagues, I want Michael on every one of my squads.
San Francisco 49ers
Carlos Hyde suffered a concussion Friday. He has time to recover, but there is no such thing as a recovery timetable with any concussion. You need to know that Shaun Draughn, who was really valuable in PPRs for a few weeks late last season, is next in line
San Diego Chargers
Danny Woodhead caught 81 passes last season. Will he surpass that total this year? The odds of that question being answered in the affirmative improved Sunday when Branden Oliver tore an Achilles tendon. He's obviously done for the season. The injury strengthens Woodhead's position as an RB2 in PPR formats.
Jacksonville Jaguars
T.J. Yeldon got the start Sunday night and three touches on the Jags' first drive, but he and Chris Ivory were used interchangeably throughout the first half. Neither did anything memorable, but it's worth noting that Yeldon got a carry at the Bengals' 5-yard line. That's where Ivory is supposed to work. This backfield is a total toss-up, and fantasy NFL owners should continue correctly drafting Yeldon and Ivory as low-end flex options.
Houston Texans
Something to keep in mind if you own Lamar Miller: Fourth-round rookie Tyler Ervin was Houston's No. 2 back Sunday. That may not last, but it's not like there is anything special with Alfred Blue or Jonathan Grimes.