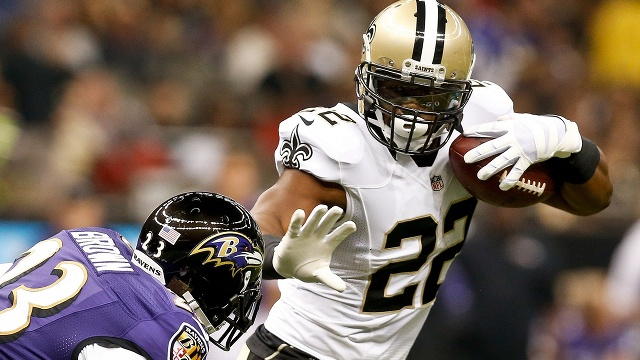 At the start of the 2014 season, Yahoo Fantasy Sports ranked then Cowboys running back Demarco Murray 14th in their Top 150 Fantasy NFL Players of the Season. Murray, ranked below running backs Lesean McCoy, Adrian Peterson, and others -- and then finished the season with 1,845 rushing yards and 13 rushing touchdowns, claiming the NFL rushing title as well. Many fantasy owners were able to snag Murray in the second and third rounds and steal the best running back of the year in the process. So who could be this year's running back stunner?
His name is New Orleans Saints running back Mark Ingram. Entering his sixth season, here's why the 2011 Heisman trophy winner has a better chance than most to claim top running back honors.
The Decline of Drew Brees?
Brees recently turned 37 this offseason, putting him among the oldest players in the league right now. It would be a problem for any other quarterback, except for Brees. He was one game and just 130 yards short of another 5000 yard season.  There's also the shadow of a contract issue as Brees enters his final season of his massive deal, though the Saints would be foolish to let that interfere with the 2016 plans on the field. At some point Brees will start slowing down and the Saints would be wise looking ahead.
The man in the middle
Center Max Unger isn't just a guy, but one of the top people movers in the league. Along with left tackle Terron Armstead, the Saints have two strong options to work with on the line. Unger's presence anchors the overall unit. If 2015 first round Andrus Peat can progress enough to the point where he enters the lineup, Ingram's scenario improves even more. 
The Man Himself
Ingram, while he has had his struggles in his transition to the pros, has shown bright spots along the way. His yards per carry have been steadily increasing, having clocked in 4.6 YPC last season. Ingram has also flirted with 1000 yard seasons multiple times. A cause for concern is the fact that Ingram has played all 16 games only once, so that may become an issue for fantasy playoff runs. Overall, Ingram has been a solid back, but never above that during his pro career, but this year show potential for much more than solid.
So with pieces in place, can Mark Ingram break 1,000 yards for the first time since he was a member of the Crimson Tide this year? My money is on yes he can. Steal Ingram in the second round and be the envy of your league.