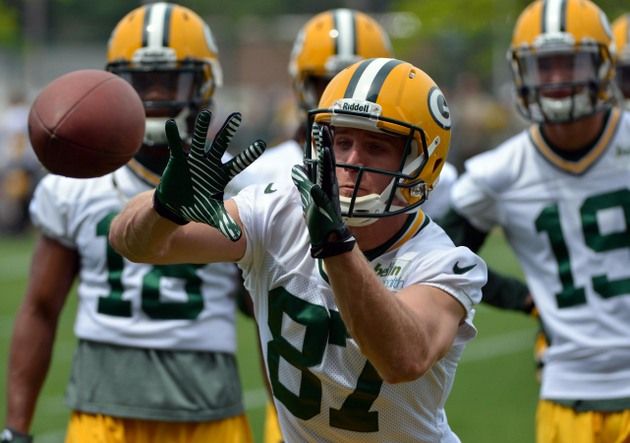 Written by Brian Murphy
16 August 2016
Gone are the days when running backs blanketed the top couple rounds of a fantasy NFL draft; wide receivers are all over the early rounds now. But beware -- some of these guys may torpedo your title chances. 
Jordy Nelson, Green Bay Packers
Aaron Rodgers can be absolute magic on the field, but his presence doesn't mean Jordy Nelson is going to put up circa 2014 numbers again. Nelson will be 12 months removed from his ACL surgery by the time the regular season opens, but what lingering effects will his major injury leave? Can Nelson, a speed-reliant player, be just as fast after the reconstruction and now that he's into his 30s? Let's not forget that he had hip surgery performed following the 2014 season, and he is currently dealing with tendinitis in his non-repaired knee. That kind of injury often pops up when an athlete is overcompensating for another part of the body. With questions marks surrounding both of his knees right now, Nelson doesn't look like a good bet to make it through a full schedule. His current mid-second-round average draft position is frankly crazy.
Demaryius Thomas, Denver Broncos
Thomas racked up more than 100 catches and 1,300 yards last year with a dead-armed Peyton Manning and a still-green Brock Osweiler under center. How could it get any worse? Well, Mark Sanchez and a pair of inexperieced QBs are going to put that brand of thinking to the test. Sanchez, Trevor Siemian and Paxton Lynch will probably convince head coach Gary Kubiak that he should give more work to the Broncos' ground game, thereby cutting into Thomas' targets. Also concerning is that his yards per catch average has dropped in each of the past two seasons. Among the wideouts who are being selected after Thomas on average, there isn't one player I see who definitely needs to be drafted in front of him. Yet his current top-35 ADP feels much too ambitious. 
Julian Edelman, New England Patriots
Edelman is a fringe WR2 in drafts right now, which isn't too lofty. But keep in mind that he has just one season with more than 1,000 yards (1,056 to be exact) on his record and has never surpassed seven TDs in any of his seven seasons. After a broken left foot limited him to just nine games in 2015, in off-season football news, Edelman has undergone two foot surgeries since November and suffered a minor injury to that troublesome foot in practice this past week. Health has always been a shaky concept for Edelman, who has played 16 games in a season just once. Plus, you would be foolish to believe that for this season's first month he will be as productive with Jimmy Garoppolo slinging it as he is with Tom Brady. He's really a mid-range WR3 for those in standard formats.