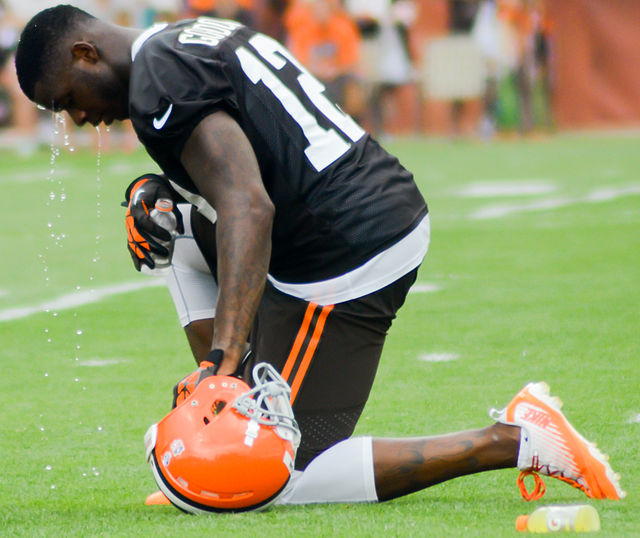 Fantasy football drafts are about talent and value. Here's a look at this week's football news to find rising and falling NFL players.
Hot
Justin Forsett
The California running back is looking to pump the breaks on the Kenneth Dixon takeover in Baltimore. Head coach John Harbaugh said that Forsett is "having an excellent camp" in an under the radar fashion. "I see the same running back that we had two years ago, in terms of his speed, his explosiveness, his vision," Harbaugh said. If the 5-foot-8 back is indeed looking like his 2014 self, when he rushed for 1,266 yards and eight touchdowns, then he should be the first Ravens running back targeted in your fantasy draft.
Michael Thomas
The second round pick had the talent to be a first round grab, but New Orleans is probably happy he slid. Thomas did not put up huge numbers at Ohio State, 1,580 yards and 18 touchdowns the past two years, but multiple beat reporters have praised the 6-foot-3 receiver as the best player in the Saints camp thus far. The Los Angeles native already seems to have the confidence of Drew Brees which may get him additional targets that rookies would not normally see.
Sammie Coates
With Martaivis Bryant suspended for the 2016 season, someone on the Pittsburgh roster has to fill the void across from Antonio Bryant. Markus Wheaton would be the obvious candidate because of seniority, but Coates is looking to change that. Coates has impressed at Steelers camp and it has caught the attention of offensive coordinator Todd Haley. "It's very important, not only for his confidence," Haley began, "but for the confidence of the quarterback, the confidence of the staff." Coates could be a steal if you can grab him in a double digit round.
Not
Dorial Green-Beckham
Getting dismissed from Missouri caused Green-Beckham's draft stock to fall in the NFL draft last year and the same might happen to his fantasy stock this year. Titans head coach Mike Mularkey hinted that the second round pick needs to put in extra work "when nobody is watching." Beckham certainly has the talent but his inconsistent play might have him playing behind fifth round pick Tajae Sharpe. Beckham was already a double digit round fantasy pick projection but even that might be too high for the 6-foot-5 receiver.
Laquon Treadwell
The Ole Miss product was a first round pick and presumed to see heavy targets in a receiving group that lacked talent but that may not be the case. The raw wideout is still taking reps with the second string offense in what seems to be a slow phasing in process by the Vikings. With Stefon Diggs and Charles Johnson earning high praise during camp, Mike Zimmer may feel comfortable brining the 6-goot-2 receiver along gradually, which obviously hurts his fantasy production. In an offense that already relies more on the run than pass, do not draft the rookie until a double-digit round.
Josh Gordon
There is still a lot of upside to Gordon who was recently reinstated to the league, but it is never a good thing when you are told to lose a few pounds. Browns head coach Hue Jackson said Gordon would be the first to tell you "he needs to lose weight." It might end up being necessary for Baylor star to miss the first four games of the season simply to get back into football shape. Of course, during that suspension time Gordon will not be allowed to train at the team's facilities. The 6-foot-3 receiver has a lot of upside, but also a lot of unknowns so do not stress if another team in your league reaches for Gordon before the fifth round.