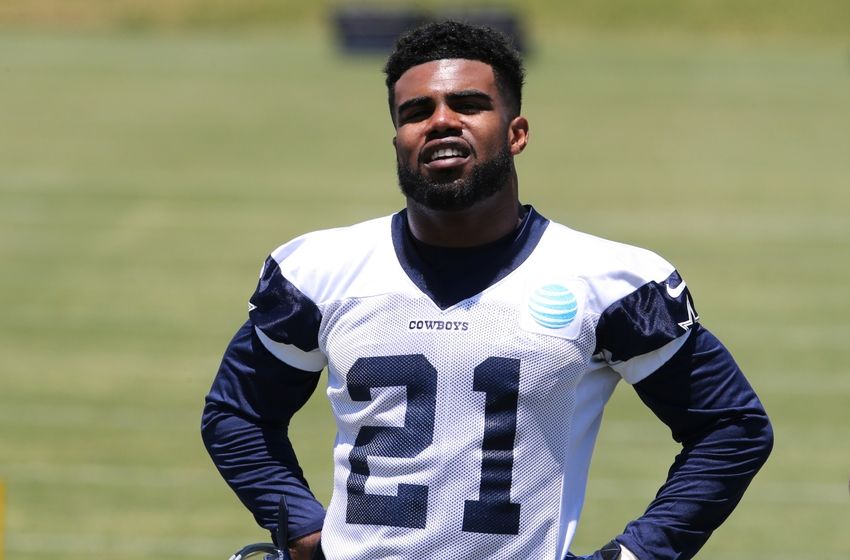 Written by Brian Murphy
11 August 2016
Dallas Cowboys: Is Ezekiel Elliott worth an top-six pick?
The hype surrounding the Ohio State rookie is incredible. But will it turn out to be warranted? The answer to that question will probably be the difference between a fantasy title and a forgettable season for many owners. In Yahoo and ESPN leagues, Elliott is the sixth pick and the third running back off the board on average. I've already made my thoughts known about paying that price. Because of that hype, the high draft slot, the cushy situation in a run-focused offense and the fact that we pretty much know what we're going to get from the other fantasy-relevant Cowboys -- Tony Romo, Dez Bryant, Jason Witten, Terrance Williams, etc. -- Elliott will be the center of attention for both Cowboys fans and fantasy football owners throughout the preseason. And which side you sit on in this debate likely depends largely on how comfortable you feel about having your team carried by a person who hasn't played an NFL snap yet.  
New York Giants: Will there be a second fantasy-relevant wide receiver here?
The Giants' passing offense under first-year head coach Ben McAdoo is predicated on heavy volume and high-percentage throws. There shouldn't be much of problem for this offense to support two receivers whom fantasy owners want to own. We know who the first guy is, but with Rueben Randle having moved on to Philadelphia, who is the new No. 2? Rookie Sterling Shepard, a supposedly healthy Victor Cruz or someone else? The quick-footed Shepard is the odds-on favorite, and perhaps he will end up being a value pick in drafts. In ESPN leagues, he's the No. 40 WR. In Yahoo, he's No. 39. However, Randle, who is nothing special and lags behind Shepard in terms of athleticism, scored the 28th most points among all wide receivers last year. In this offense, Shepard should become a weekly fantasy asset.  
Philadelphia Eagles: Who will lead this backfield?
An Eagles scribe wrote Sunday that Darren Sproles has been the best running back in camp. That may not be what the Eagles want; the 33-year-old isn't exactly a bell cow-type NFL player. Ryan Mathews is supposed to get the most carries among those in this backfield, but he, as Mathews is wont to do, has been injured for most of training camp. And buzzworthy newbie Wendell Smallwood is currently nursing a strained quad, keeping him out of valuable reps that he needs to acclimate to the pros and show that he can be a big part of this ground attack. Sproles still possesses PPR appeal (55 receptions last season), but Mathews is always a poor bet to hold up for 16 games. If he falls again this year, it's fair to wonder whether anyone here will return useful scores in standard formats. 
Washington Redskins: Can Matt Jones be consistent -- and hold on to the ball?
While Philly's ground attack has some real personnel questions at the top, Washington will lean on Jones. Now he must show that he's worth the belief. In 2015, in just his second NFL game, he broke out for more than 140 total yards from scrimmage and two touchdowns. The blemish was that he lost a fumble in that game. He lost another fumble the following week, and his season was never the same from then on. He lost touches as the team couldn't trust him with the ball in his hands (Jones lost four fumbles overall) and averaged fewer than 3 yards per carry after Week 2. Ball handling has been a huge point of emphasis for Jones this offseason, and he'll get all of the work he can handle. He has good pass-catching mitts and a ton of toughness. He might be seen as a low-end RB2 now, but he'll be much better than that if performances like the one from Week 2 of last year become more frequent.
Previous editions