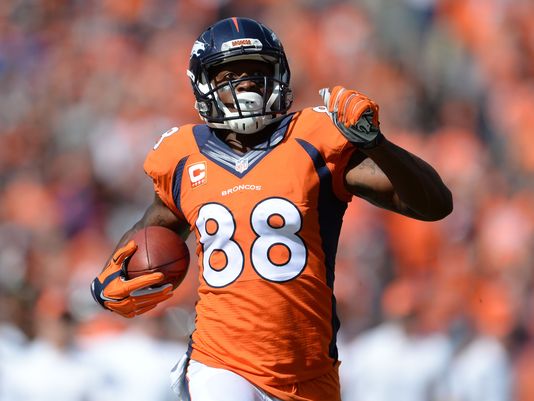 Written by Brian Murphy
11 August 2016
Let's continue a series we started last week and use The Machine's projections to spotlight players who are probably being selected too soon in drafts. While the Machine can give you draft projections for almost any league, no matter the settings, we'll be using ESPN's standard draft ADP information for this article.
Demaryius Thomas, WR, DEN
Thomas' dominant 2014 season left his 2015 year looking like a letdown. However, 105 catches, more than 1,300 yards and six touchdowns are nothing to scoff at. And can the Broncos' passing game really take another step back after dealing with a clearly finished Peyton Manning and his noodle arm? The Machine seems to think so. While Thomas is the No. 15 wide receiver in ESPN drafts, he's 22nd in The Machine's projections. But that is understandable; it's pretty difficult to believe in a passing offense headed by Mark Sanchez, the inexperienced Trevor Siemian and/or rookie Paxton Lynch. That uncertainty should have fantasy NFL owners feeling a little skittish about Thomas. 
Teddy Bridgewater, MIN, QB
Fantasy owners are certainly expecting a jump up from Bridgewater this season. That's why he is the No. 15 QB off the board in ESPN drafts right now. But he has thrown just 28 touchdowns while committing 24 turnovers in 29 career games. He has averaged fewer than 220 passing yards per and doesn't do a lot with his legs to supplement his value. Plus, Adrian Peterson hasn't shown many signs of slowing down. That's why he is the No. 28 QB, according to The Machine. With Teddy and his rising ADP, you may want to see it before you believe it.
Jimmy Graham, TE, SEA
In the latest football news, the Seahawks are saying that Graham is close to returning from his patellar tendon tear. Even if that's true, it really doesn't tell the whole story. Playing football isn't the same as playing the football well, and it's a different conversation from seeing Jimmy Graham playing like the Jimmy Graham we all know. As an obvious point of comparison, Giants wideout Victor Cruz tore his patellar tendon in Oct. 2014 and hasn't played in an NFL game since. Perhaps Jimmy will make it back this season, but he's nearly a TE1 in ESPN drafts. No. 13 at the position, specifically. The Machine has Graham listed 15th. If Graham can overcome the odds and play anywhere close to his elite level this season, more power to him. But that seems like a pipe dream right now, no matter how positively the Seahawks spin his status. Graham shouldn't be any fantasy owner's starting tight end.