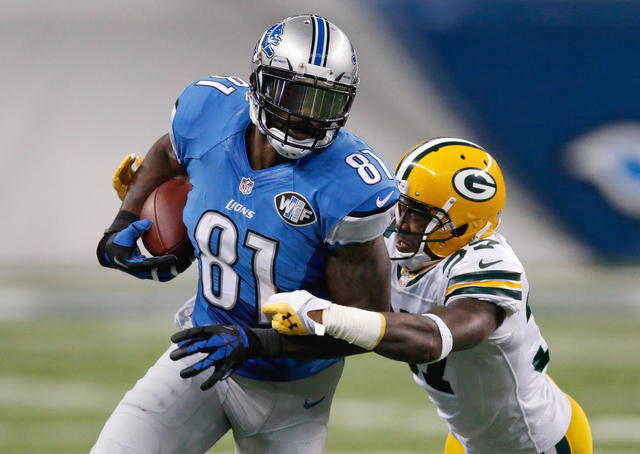 Chicago Bears: Can you trust Jeremy Langford as an RB2?
The short answer is no. Do not trust Jeremy Langford and stay away from the Bears backfield in general. The Michigan State product seems to be the logical choice to take over the bulk of the carries after Matt Forte's departure for the Jets, but that is not a certainty. Chicago does not have significant money invested in him so the team could easily shift gears to Ka'Deem Carey, Jacquizz Rodgers, or Jordan Howard without thinking twice. Unless you can scoop up Langford in late rounds or as an undrafted free agents after watching his preseason production, stay away from the 6-foot 211 pound back.
Detroit Lions: Now that Megatron has retired, who will Matthew Stafford target?
Some forget that Notre Dame's Golden Tate has already totaled 2,144 yards in two seasons in Detroit which makes him the logical choice to become the Lions' number one receiving option. Marvin Jones and Anquan Boldin's presence seem to complicate things but will also keep Tate from constantly seeing double teams. With the pass happy Matthew Stafford looking to redistribute Calvin Johnson's team-high 150 targets last year, Tate could easily eclipse 1,200 yards and 10 touchdowns as a WR2 candidate.
Green Bay Packers: Is Jordy Nelson still the WR1 threat he was in 2014?
Coming off of a significant knee injury, anything is possible, but the Kansas State veteran deserves the benefit of the doubt. In his last three seasons that he was fully healthy, (2011, 2013, and 2014), Nelson totaled 4,096 yards and 36 touchdowns. Mike McCarthy may not be ready to trust a husky Eddie Lacy so Aaron Rodgers will be airing it out plenty during the 2016 season. If James Jones, currently a free agent, does not return to Green Bay and with Randall Cobb coming off of a so-so 2015, there is no reason to think Nelson could not become the topic football news highlights and put up elite numbers again as Rodgers' favorite target.
Minnesota Vikings: How good can Stefon Diggs be?
Coming out of Maryland, Diggs dropped to the fifth round in last year's draft because of the Terps inability to efficiently utilize his skillset. Despite being inactive for the first three games of the year, Diggs was easily the Vikings most productive receiver with 720 yards and four touchdowns. The next closest wideout, Mike Wallace, who is now in Baltimore, was trailing at 473 yards and 2 touchdowns. While Laquon Treadwell gets accustomed to the pro-style offense, Diggs may be the only wide receiver Teddy Bridgewater trusts in 2016 so expect big things from the shifty playmaker. While others sleep on the 6-foot receiver, grab him in the eighth round and reward your fantasy NFL team with 1,000 yard production.