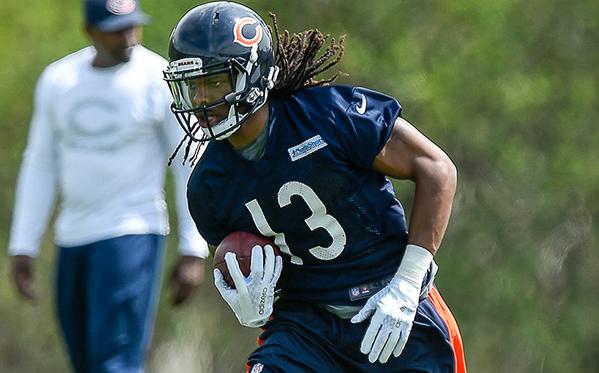 It is more likely than not that the first three pass catchers taken in your fantasy draft this year are, in some order, Antonio Brown, Odell Beckham Jr., and Julio Jones. Rightfully so because they have proven to be the most electrifying receivers with high potential productions, but that does not mean there are not options in later rounds that could actually prove to be top dog.
Brandin Cooks
The Oregon State star is all about explosion. With his jukes in the open field, Cooks has the ability to take any ball he catches to the house causing his fantasy football potential to soar. The 5-foot-10 receiver had injuries slow him down during his rookie campaign, but saw a whopping 129 targets from Drew Brees last season with no evidence of slowing down. Going into his third year in the league, Cooks has the potential of putting up over 1,500 yards and 15 touchdowns as the Saints go to receiver. The best part about his surprise potential is that he can be grabbed in the third round of most drafts.
DeVante Parker
Last season DeVante Parker took a back seat to the likes of Jarvis Landry and Rishard Matthews, but that should change in 2016. At 6-foot-3 with 4.45 second speed in the 40-yard dash, Parker is a receiver that you can trust to come down with the football in a jump ball scenario. With Landry receiving double coverage treatments from defenses and Matthews in Tennessee, Parker is one NFL player that is going to have plenty of opportunities to get the football. The Louisville product could see his rookie year production triple and would be a steal as a ninth or tenth round selection.
Kelvin Benjamin
It is truly miraculous that the Carolina Panthers had the offensive production they did last year without Benjamin in the lineup. Cam Newton will be happy not to go through that again because Ted Ginn Jr. and Jerricho Cotchery are simply not starting caliber receiving threats in this league anymore. With Benjamin likely to see 150 targets, if not more, this season and already having a rookie season of more than a thousand yards, the potential is legitimate. Some will be hesitate to draft a receiver coming off of knee surgery, which makes it that much sweeter to draft a 6-foot-5 stud in the fifth round or later.
Kevin White
With three of Chicago's top five receiving threats, Martellus Bennett, Zach Miller, and Matt Forte, no longer with the team, White will look for a rookie year do-over by taking all of their targets, 184 to be exact. White suffered a stress fracture in his shin that kept him out of the 2015 season, but the seventh overall pick looks ready to overcome the obstacle in a big way in 2016. While opposing defenses focus their attention on Alshon Jeffery, White will use his 6-foot-3 frame and 4.35 second 40-yard dash time to carve up defenders all year long. It would be no surprise if the receiver, who you can probably draft with a seventh round pick, puts up record breaking numbers since the Bears have an unproven running game.
Josh Gordon
It is hard to imagine that the Baylor product put up 1,646 yards in 2013 with primarily Jason Campbell and Brandon Weeden throwing him the football. Yes, Gordon will be suspended for the first four games of the 2016 season, which will make him an even great steal when he slides, but he also missed two games in 2013 when putting up numbers that only Calvin Johnson came close to. If Robert Griffin III, who has a cannon for an arm, is able to consistently get Gordon the ball, then we could see the rekindling of a 2010 college connection. You can easily grab the 6-foot-4 speedster in the sixth round of your fantasy draft and if he puts up number similar to three years ago, he will be the best fantasy receiver this year.