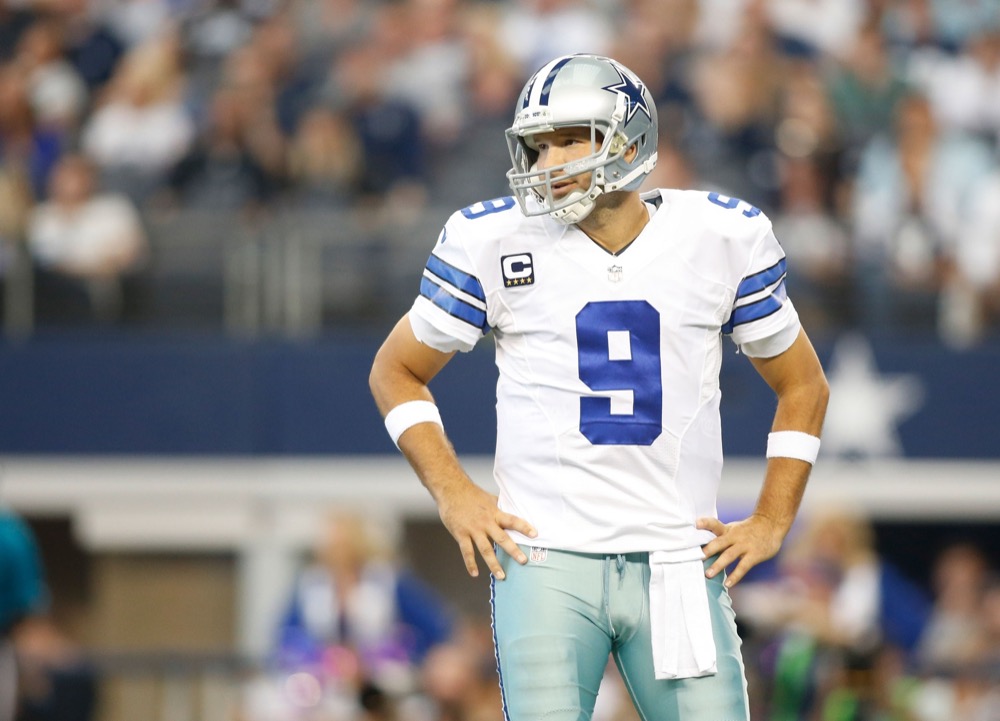 Written by Brian Murphy
01 August 2016
For the past few weeks, I've detailed some players who, by using The Machine from ASL, could be steals during your draft. Today, let's flip the script and look at some players who are going pretty early in drafts, and The Machine says they aren't worth their ADP. The Machine can give you (among a lot of other helpful stuff) draft projections that are customized to your league's settings and accommodates fantasy football owners who play on Yahoo, ESPN, CBS Sports, My Fantasy League or RTSports. This article will be based off of The Machine's projections for a Yahoo standard league and Yahoo's current ADP data.
Tony Romo, QB, DAL
Consistency may be boring, but it should be commended in fantasy. Knowing what you are going to get from your players can make an owner's job during a draft much less stressful. And Romo is a consistently effective player -- when he's actually on the field. Romo hasn't made it through a 16-game slate since 2012, including last year's disastrous campaign in which he twice fractured his left collarbone. Now, he's 36 years old with those injury concerns, and Dallas is in great position to employ a heavy ball-control offense with running backs Ezekiel Elliott and Darren McFadden. That has The Machine very pessimistic on Romo. He is the No. 20 QB in The Machine's projections, but he is No. 10 in Yahoo drafts on average. That's a six- or seven-round difference in a standard league. Considering the depth of the quarterback position, there's no reason to take Romo, with all of his warts, in the seventh round.
Keenan Allen, WR, SD
Allen has been catching everything in sight during his short NFL tenure, highlighted by last season's 67 catches in just eight games. Although he missed the second half of the year due to a lacerated kidney, drafters haven't forgotten what Allen accomplished in 2015; he is the No. 14 wideout selected in Yahoo standard leagues. But The Machine has slotted him at No. 27, which is a 40-pick difference in Yahoo drafts. Simply, The Machine respects Allen's catching prowess but also recognizes that he hasn't scored more than four touchdowns or topped 800 yards in either of the past two seasons while missing 10 of a possible 32 games. His current standard-league ADP seems more appropriate in a PPR format.
Zach Ertz, TE, PHI
Ertz turned a sterling final month last year -- 35 receptions, 450 yards and a touchdown in the last four games -- into a five-year $42.5 million extension this offseason. Clearly, the Eagles believe he is ready to be a difference-making, elite tight end. And he's a definite TE1 in Yahoo drafts thus far (No. 7 on average). The Machine -- sticking with the theme of this article -- is not ready to make such a call. It has projected Ertz to be the No. 13 tight end. Ertz has teased us with his potential through three years.  But it should be noted that he has scored only nine times in 47 games and he didn't top 70 yards in a single game last year prior to that late hot stretch. The Machine believes Ertz will just keep on teasing.
Previous articles about The Machine: