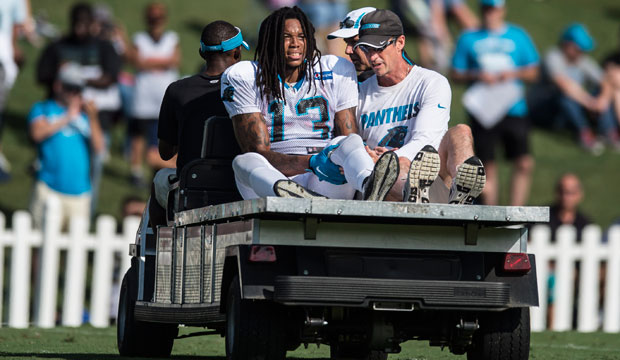 The biggest differences between football at the college and professional level is the speed and complexity of the game. NFL players making the transition, specifically the wide receivers of the world, are no longer the best athlete on the field and are having to understand a new offense with more intricacies than they could have ever perceived before. With that understanding, it is common perception that wide receivers entering the third year of their career are finally ready to reach their potential that evaluators projected when drafted in 2014.
For some like Sammy Watkins, Mike Evans, Odell Beckham Jr., Allen Robinson, and Jarvis Landry, they progressed quickly enough to make an impact in their rookie and sophomore season so we highlight the five lesser known receiving threats ready to make the junior year jump.
Brandin Cooks – 20th overall pick of the 2014 NFL Draft by the New Orleans Saints
The 5-foot-10 speedster saw his rookie season and consequently development stunted after breaking his thumb in late November 2014. Cooks would turn things around in 2015 with a 1,138 yard season to go along with nine scores. With longtime Saint Marques Colston aging quickly and Jimmy Graham out of the picture, the pass happy Drew Brees should certainly be looking Cooks way even more often than the Oregon State product's 129 targets from a season ago. With his deep threat ability and limited running game from New Orleans, Cooks could end up with a 1,300 yard and 12 touchdown campaign in year three of his NFL career.
Kelvin Benjamin – 28th overall pick of the 2014 NFL Draft by the Carolina Panthers
The former Florida State Seminole is coming off of reconstructive knee surgery to repair a training camp ACL tear, which will make some skeptical of drafting him early. That should allow you to cash in during a double digit round and grab the lengthy 6-foot-5 receiver. Benjamin has already participated in OTAs and is "well into his rehab" according to head coach Ron Rivera, so there should be little doubt Cam Newton's number one target is on the field Week 1 against Denver. With a year off to understand the offense, the former National Champion will likely surpass his rookie year total of 1,008 yards and nine touchdowns to the tune of around 1,400 yards and 14 scores with potentially 150 targets.
Jordan Matthews – 42nd overall pick of the 2014 NFL Draft by the Philadelphia Eagles
Despite Nelson Agholar's presence, it is Matthews leading the Eagles receiving corp. Matthews' biggest challenge to a big jump in production will be change from the status quo. It is Doug Pederson's offense not Chip Kelly's and he may be receiving passes from Carson Wentz instead of Sam Bradford at some point during the season. With a more mature understanding of the game, Matthews should be able to transition systems more easily than his deep threat peer Agholar but not having a competent passer under center could hurt. Regardless of who is getting him the football, Matthews is making a sincere attempt to correct his previous drops problem. Expect lots of garbage time production from Matthews that could get his season total up near 1,200 yards and 9 touchdowns.
Davante Adams – 53rd overall pick of the 2014 NFL Draft by the Green Bay Packers
The Fresno State star recorded over 3,000 yards and 38 touchdowns in his two seasons in the Mountain West Conference but has not even hit one thousand yards during his two years as a pro. Despite Jordy Nelson's season long injury last year, Adams could not increase his productioin significantly last year but look for Aaron Rodgers to take advantage of the 6-foot-1 wideout's matchup with backup defenders. In a high scoring offense, Adams can be grabbed in a late round or even as an undrafted free agent with a solid payout of around 800 yards and six touchdowns.
John Brown – 91st overall pick of the 2014 NFL Draft by the Arizona Cardinals
If you knew that John Brown went to Mars Hill College before transferring to the Pittsburg State Gorillas, you deserve a pat on the back. Nonetheless, 7,716 all-purpose yards, nearly half coming through the air, and 34 touchdowns is nothing to look over. With Larry Fitzgerald's production under the 1,000 yard benchmark three of the past four years, Brown is expected to take a bigger piece of the pie alongside Michael Floyd. Brown is shifty and one of Carson Palmer's favorite targets so a 1,300 yard and 10 touchdown season is not out of the question for the 5-foot-11 Florida native.
Marquise Lee, Paul Richardson, Cody Latimer, Josh Huff, and Donte Moncrief are five bonus names to think of for you fantasy NFL teams. Remember not to draft 2014 fourth round pick Martavis Bryant because of his looming one-year suspension.