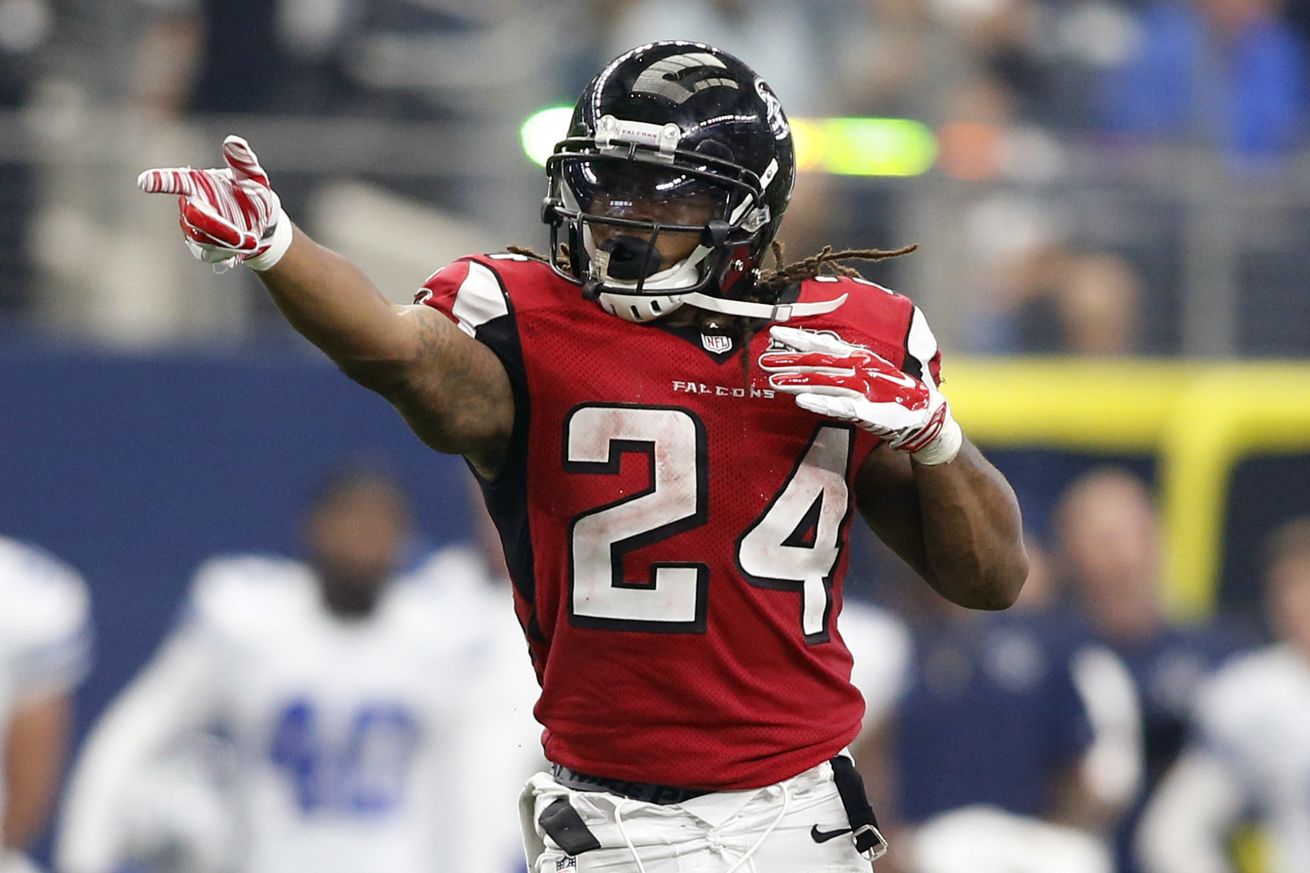 Written by Brian Murphy
05 July 2016
Here's hoping everyone had a brilliant Independence Day weekend. Now that we are in July, we are just a few weeks away from when fantasy football draft season really starts to roll. In Part 3 of this offseason series, I examine a critical question surrounding each NFC South team and some top NFL players.
Atlanta Falcons: Will Devonta Freeman be a first-round bust?
Here's a team that is relatively easy to diagnose for fantasy purposes. Matt Ryan is a QB2. Julio Jones is stud WR1. Mohamed Sanu has some late-round appeal. You don't need to study this team too much leading up to your draft. They are who they are. However, the one is exception is Freeman, the most productive running back in fantasy last year. A change-of-pace player who became a workhorse in 2015, Freeman's 338 touches last season were topped only by Adrian Peterson. It was a workload the likes of which Freeman had never come close to approaching previously; he never took on more than 195 touches during any of his three college seasons. You have to be somewhat wary of a breakdown following such an arduous task, especially from a back who is only 5-foot-8. And Freeman might have hinted toward that breakdown during 2015. From Weeks 3-8, he averaged 159.3 total yards per game and better than five yards per carry. Then he averaged just 90 yards per game and 2.98 yards per carry over the final five weeks as the touches and hits piled up. Freeman's role, production and dual-threat ability has made him a late-first-round selection this year, but given his poor finish to last year, the drastic, sudden uptick in touches and the presence of RB Tevin Coleman, Freeman doesn't look like much of a value choice as a first-rounder right now.
Carolina Panthers: Will Kelvin Benjamin return to his pre-injury form?
The reports surrounding Benjamin this summer have been positive thus far. He tore the ACL in his left knee last August and is expected to be at full-go when the Panthers open training camp July 28. He'll look to pick up where he left off in 2014 when he was a top-20 fantasy wideout as a rookie and surpassed 1,000 yards. He's currently a fourth-round pick in 12-team leagues on average, according to ESPN's ADP data. That's a fair spot, but the 25-year-old has a fair amount of upside too, especially given the strides Cam Newton made as a passer last year without him. I even tried about a month ago to make the case for drafting Benjamin instead of Jordy Nelson. I imagine we'll see Newton eye his buddy heavily this fall. As for my self-imposed question, I don't think Benjamin will return to his 2014 form -- he'll exceed it. I would be a little more concerned if Benjamin was a speed-reliant player coming off an ACL tear. But he's not. He's just a massive dude who already owns great body control and can sky for balls over anyone. You have the right to be disappointed if he doesn't end up with double-digit touchdowns this year. I mean, for crying out loud, Ted Ginn caught 10 touchdown passes last season.  
New Orleans Saints: Is a career year coming from Coby Fleener?
After a couple of nice seasons in 2013 and 2014, Fleener wasn't even a top-20 fantasy tight end last year. If there was a reason for optimism, it's that he surpassed 50 receptions for the third consecutive year. The optimism for Fleener's fantasy stock heading into this season, however, is at an all-time high as he has traded in the Colts' horseshoe for the Saints' fleur-de-lis. Drew Brees loves to pepper his tight ends with targets and he helped 35-year-old Ben Watson become our game's No. 8 TE in 2015. Fleener's got athleticism and natural receiving talent in spades, and those attributes really stood out during OTAs. Away from Dwayne Allen and in a receiving corps without a true No. 1 guy, the stage is set for Fleener to reach career-high numbers. And fantasy owners seem to be expecting as much as Fleener is currently the fifth tight end off the board and an early sixth-round pick in 12-team leagues, according to ESPN's ADP data. His most recent production says he's not worth such an investment. But that's history now. That draft slot is proper because of Fleener's situation and upside.
Tampa Bay Buccaneers: Can Doug Martin sustain his success?
Although Martin's stupendous 2012 campaign was propped up significantly by one record-setting week in which he ran for 251 yards, more than 1,900 total yards from a rookie back is nothing to scoff at. It's what made him a top pick in 2013. But in the next two seasons, injuries and general ineffectiveness left fantasy owners tremendously frustrated with the Dougernaut. Then, suddenly, he rebounded last season. Martin totaled 1,673 yards and seven touchdowns on 321 touches. So, can he keep rolling in 2016? As with all athletes, health dictates everything, but if Martin is able to play 16 games again, the answer to that question should be a definite yes. He's entering his physical prime at age 27, has no real competition for the starting job and can supplement his value as a receiver out of the backfield. He just needs to go out there and do it. And at least if Martin flops again, it won't cost owners as much this time around. In 2013, he was a top-three pick. This summer, he can be had in the second or possibly the third round.
Previous editions