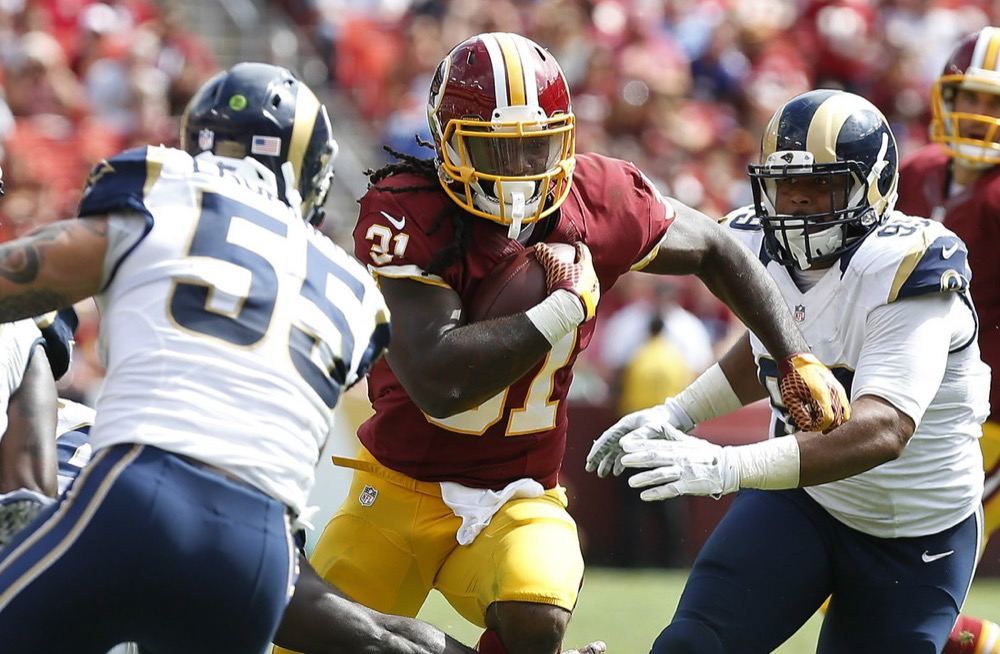 Drafting rookies is a bold fantasy football move, since few are likely to become immediate stat line monsters. An even bolder move is to draft a sophomore who had an incredible rookie season, because of the dreaded sophomore slump strikes so many breakout players. Yet in this minefield of youth talent, there are some who you should expect to solidify their careers as rising stars.
Todd Gurley, L.A. Rams RB
You may say it isn't a stretch to expect Gurley, who ran for over 1000 yards his rookie season, to improve after one year in the league. However, Gurley will now have an even bigger share in the backfield since the Rams spent the offseason by improving elsewhere instead of adding running back depth. With Goff now taking snaps, Gurley should also see more action as a pass catcher out of the backfield, and Goff provides another threat to the offense to take defensive pressure off Gurley.
Matt Jones, Washington Redskins RB
The 2015 third-round pick stood out in Washington last season in part because Alfred Morris underperformed. Jones proved to be a pass catching threat, an area Morris offers zero help, but also provided far more speed and quickness compared to the veteran while running with power.  With Morris heading south in the offseason to the rival Cowboys, Jones will now take over as the primary ball carrier. There are two primary concerns -- fumbles and injuries --, but there is little doubt over whether we're talking about a true every-down back, at least on paper. If Jones shows growth during training camp, he's an RB2 fantasy option with potential for 8-10 touchdowns in what could be a high-scoring offense.
Kevin White, Chicago Bears WR
Technically, we could file the former first round pick as a breakout rookie after he sat last year with a shin injury. White is very fast with a solid build, but will need to get used to the NFL speed of the game. He has had issues with drops in OTAs this year, a scenario worth tracking during training camp. White will line up opposite Alshon Jeffery, meaning he'll rarely face the opponent's top corner. That's a good thing. As long as the aggressive Jay Cutler trusts him, White should receive enough targets to satisfy fantasy owners looking for an upside play from their WR4.
Ameer Abdullah, Detroit Lions RB
With Calvin Johnson's retirement, the Lions will need to look elsewhere for some mega-offense. Here comes Abdullah, who lost some competition when Joique Bell left Detroit in the offseason. Theo Riddick remains, but he's more annoyance than threat. If Detroit finds a running game, expect Abdullah at the center, though the 5-foot-9 back still needs to show he can be a lead runner. Last year's hype cooked too hot, but this time he might be undervalued.