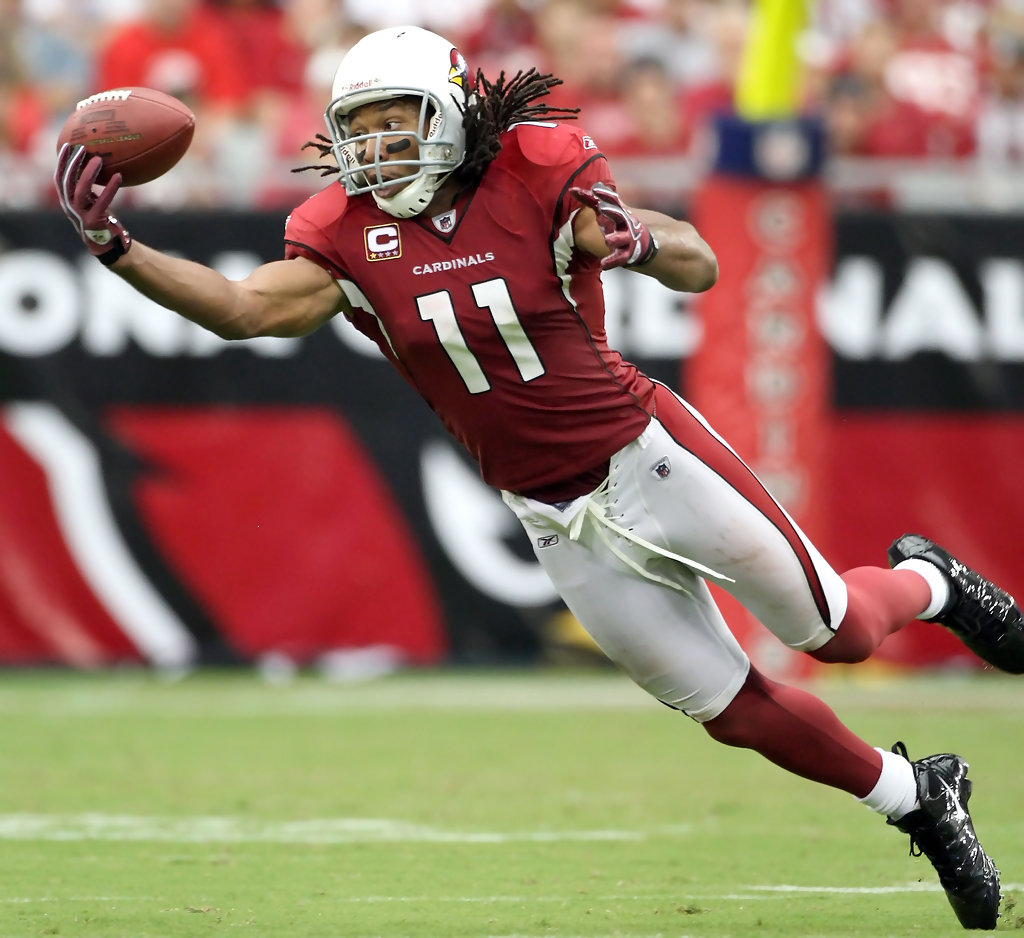 Written by Brian Murphy
21 June 2016
Every team has completed its offseason minicamps and workouts. The next time we have football players doing organized, sanctioned football things, they will come during training camps in about six weeks. Until then, let's address a big question surrounding each team that fantasy owners will be debating over up until draft day. In the first edition of this series, let's cover a big question from each NFC West squad
Arizona Cardinals: Who do you want: Larry Fitzgerald, Michael Floyd or John Brown?
It's a bit of a long shot, but you may participate in a draft this year where all three of these guys are selected in the same round. Via Fantasy Football Calculator's ADP information, Floyd is being taken No. 57 overall; Fitzgerald comes in at No. 62 overall; Brown is at No. 80 overall. If 2015 production was the only factor, Fitzgerald would be the clear leader after posting a 109-1,215-9 line during his age-32 season. But when will Father Time catch up with him? He fell short of 1,000 yards in 2012, 2013 and 2014. People clearly still have faith in Floyd. However, he has been a disappointment two years running after surpassing 1,000 yards during his age-24 season. He didn't reach 60 yards in any game until Week 8 last year. Brown has tantalizing big-play ability, yet he has been the third fiddle when Fitzgerald and Floyd are healthy. I'm probably leaning toward Fitzgerald just because I trust him the most -- I'm a very risk-averse drafter and owner -- although none of these three are truly safe picks.
Los Angeles Rams: Can Jared Goff keep defenses from repeatedly stacking the box against Todd Gurley?
Rams quarterbacks ranked last in QB rating and second to last in completion percentage last season. Hoping that Goff can be better right away than Nick Foles and Case Keenum is not asking for the world. He doesn't need to be elite, just competent. Anything to help Gurley, one of the top picks in every fantasy draft. Keep in mind that he totaled almost 1,300 yards from scrimmage in 13 games as a rookie and less than a year removed from an ACL tear. A year healthier, stronger, smarter and better, Gurley should be a true workhorse for the Rams. Pray for some good health, that Jeff Fisher sticks with him every week and some satisfactory performances from Goff, and the rest should take care of itself for the stud RB. Goff can't possibly be any worse than Foles or Keenum, right?
San Francisco 49ers: Is Carlos Hyde the only fantasy-worthy player here?
When your most appealing fantasy asset is a running back who has averaged barely four yards per carry through his two-year career, has never run for more than 500 yards in a season and has missed 11 of a possible 32 games due to injury, that's not good. And that's probably where we find the 49ers. Colin Kaepernick is on the outs. Blaine Gabbert is ... well, he's Blaine Gabbert. Torrey Smith teases us with his speed, but he has been generally inconsistent during his career. I doubt anyone is going to bet on Quinton Patton, Bruce Ellington or tight end Vance McDonald having a breakout campaign as long as Gabbert is under center. Shaun Draughn was mighty productive in the late stages of 2015, especially for PPR gamers. Alas, he's not very talented and is just a backup until Hyde gets hurt. If you're looking for a really deep sleeper here, I think it's wide receiver DeAndre Smelter. But, yeah, not much to like here. Even less once the hard-charging Hyde is let down by his own body yet again.
Seattle Seahawks: What does Doug Baldwin have for an encore?
Baldwin has been a nice player for the majority of his five-year career. Not a true No. 1 receiver but a solid complementary piece who can have some standout games in a run-heavy offense. That was the case again for the first half of the 2015 season. Then Doug Baldwin became Jerry Rice, although I'm not sure if Rice ever scored 11 touchdowns in five weeks. That is what Baldwin did from Weeks 12-16 last year. He was a juggernaut. From Week 10 on, a legitimate fantasy stud. So which Baldwin are you buying: The guy who we saw for a few months last year or the guy we saw from 2011 through October 2015? He is a late fourth-round pick on Fantasy Football Calculator right now, being selected on average in front of Jeremy Maclin, all three aforementioned Cardinals wideouts, Jordan Matthews, Emmanuel Sanders and Allen Hurns. That's not insane, but I'll pass on him at that spot, and I am willing to admit my mistake if Baldwin shows that his late-season performance was not a fluke.