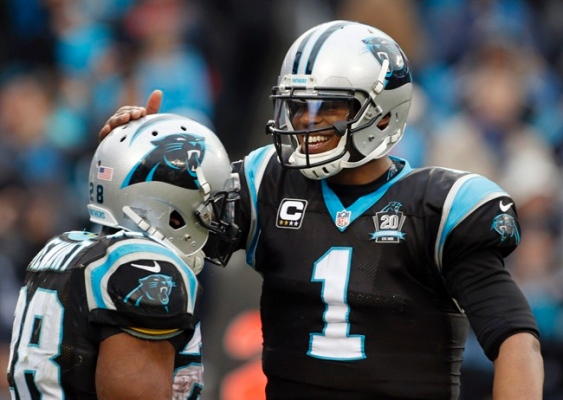 Just in time for the most important weeks of the season, the fantasy community has to stomach yet another loss at the running back position. In fantasy news, Jonathan Stewart of the Carolina Panthers isn't expected to play Sunday due to a sprained foot.
Stewart has been one of fantasy's most consistent producers this year. Since Carolina's Week 5 bye, Stewart has reached double-digit fantasy points in seven of nine games, including last week's injury-shortened outing. He has taken on at least 20 carries in eight of his previous nine games and ran for no fewer than 60 yards in all of them. That's why he's tied with Adrian Peterson for the most 20-carry games (eight) and with Peterson and Doug Martin for the most games with at least 60 rushing yards (10). Simply, Stewart had become one of the safest bets at a position that has experienced tremendous upheaval in 2015.
Now he's down. And given Stewart's history with foot ailments, and the Panthers' commanding lead in the chase for the NFC's top spot, I think it's plausible that owners will have to move on without the No. 9 RB scorer for the rest of the fantasy season. That's a real shame because fabulous matchups versus the Giants and the Falcons awaited him.
So who is going to get those carries instead? Perhaps you should shift your fantasy focus to the Panthers' most natural early-down back, who is someone who hasn't played a single snap since Week 7: Cameron Artis-Payne. The fifth-round rookie out of Auburn is a stocky 5 feet 10, 220 pounds. He's a straight-ahead runner who can dish out some punishment and has decent wheels for a man of his build; he posted a 4.53-second 40-yard dash at this year's combine. Artis-Payne is extremely raw as a blocker, so expect him to come off the field whenever the Panthers need to pass. Rivera said Wednesday that Artis-Payne will "get his share of opportunities" this week. Exactly how many is up for debate, and he won't be the only one taking handoffs.
According to Rivera, either Fozzy Whittaker or Mike Tolbert will be the team's starter in New York. Just don't put much weight into that title. Fozzy has 18 carries this season, eight of which came a few days ago versus the Falcons (he racked up 34 yards and a touchdown). Since the start of 2013, Whittaker has seen only 78 carries to go with 53 receiving targets. While he may be the Panthers' nominal starter, he is not a workhorse-type back. He's never handled 10 carries in any NFL game. He's more cut out for passing-down work
That leads us from a man named Fozzy to a man who calls himself "a dancing bear." Yes, Tolbert has enough bulk (and then some) to take on a leading role, but that is not his deal at age 30. He's a fullback who can catch, pass block and be useful around the goal line with his 250-pound frame. He may steal a few touches in the red zone, but he's not worth your time.
And as long as we're talking about the Panthers' running game, let's not leave out quarterback Cam Newton. He runs. He scores touchdowns. He dabs. He does it all. He actually leads the Panthers in rush TDs with seven. He'll have to pick up some of the slack as well.
As far as the running backs are concerned, I think Artis-Payne will be the biggest contributor and the player I would put into my fantasy lineup if I needed to make a choice here. But don't be fooled; Artis-Payne probably shouldn't be anywhere near fantasy lineups during semifinal week. Again, he is a rookie who can't pass block and has been on the sidelines since mid-October. I doubt the Panthers have a great deal of trust in him, so how could you with a fantasy championship possibly at stake?
I guess the only good news in all of this is that the injury bug bit Stewart in a week where a few running backs who have gained legitimate fantasy value suddenly are available in many leagues: Tim Hightower, Denard Robinson, Bryce Brown, Brandon Bolden, etc. Take your chances with one of those guys if you need a J-Stew replacement. The backfield he's leaving behind is hands-off until some we have some clarity about how Carolina will deploy its three remaining RBs. That clarity probably won't come before Sunday.
Stay tuned to ASL for the best fantasy updates and sporting news around!