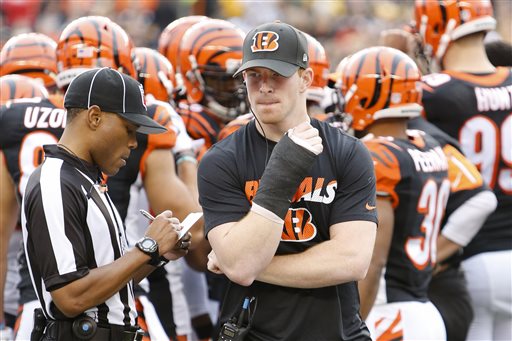 Andy Dalton broke his thumb in the first quarter of Sunday's loss against the Pittsburgh Steelers. AJ McCarron stepped into the QB position for the second drive and ended the game with 280 yards, 2 TDs, and 2 INTs. Dalton is doubtful for next week, and questionable for the rest of the regular season. McCarron will continue to start until Dalton's return.

Right when the QB situation in Houston seemed to be solved, Brian Hoyer is now doubtful for Week 15. Hoyer suffered a slew of injuries last Sunday against the Patriots, including a concussion, a wrist injury and a strained neck. TJ Yates will likely take the start if Hoyer is unable to play next week. Over three games, Yates has thrown for 302 yards, 3 TDs, and 0 INTs. The Texans play the Colts next week.

After rushing for 140 yards and 2 TDs, Todd Gurley was pulled from the field in last Sunday's game against the Detroit Lions. Though he is on the St. Louis injury list, Gurley does not necessarily have a threatening injury. Gurley is listed with a knee injury, although it is likely just a precaution to rest his knee. Unless the Rams decide to rest Gurley further, he should be active for Week 15.

The Arizona RB depth chart took another hit when David Johnson suffered a thigh injury against the Minnesota Vikings. Though Johnson left the game, he was able to return and play additional snaps. He is listed as questionable for Week 15, so stay tuned to ASL fantasy news. Johnson's injury follows Andre Ellington (toe) and Chris Johnson (injured reserve) in the Cardinal RB injury list. If Johnson is able to play next Sunday, hopefully he will be able to split snaps; Ellington is questionable to return for Week 15.
For the best sporting news and fantasy updates, keep reading ASL!