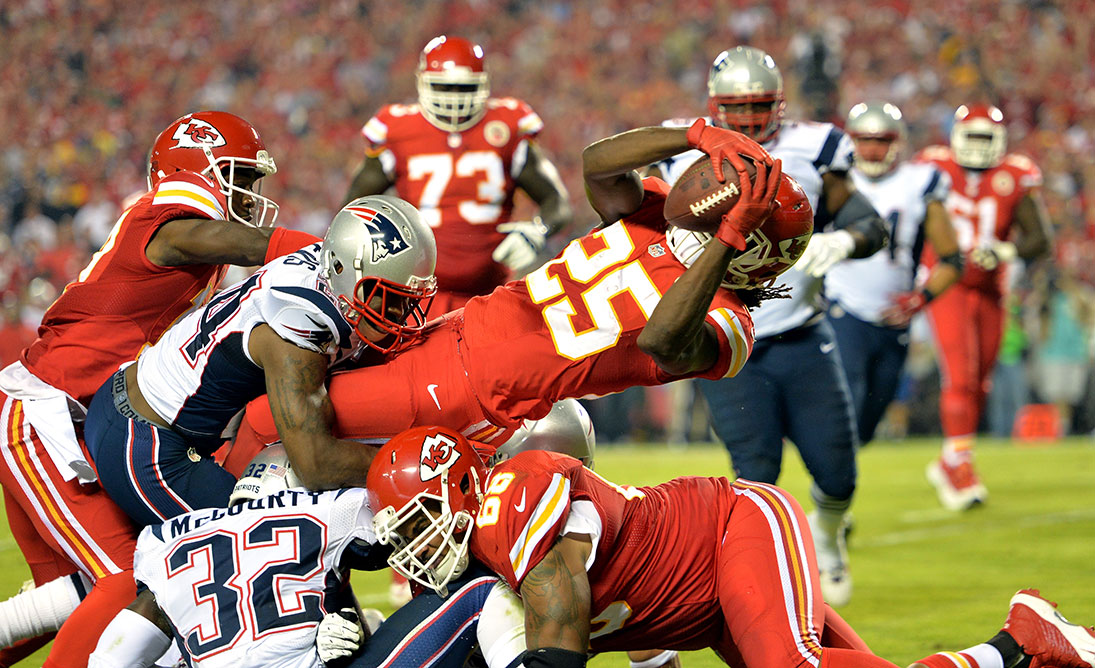 Jamaal Charles tore his ACL in last Sunday's game against the Chicago Bears, making this the biggest fantasy news of the year. Charles will be out for the remainder of the season. Charcandrick West and Knile Davis will take over in the backfield. I would wait to see which RB will receive the bulk of the reps before modifying any fantasy lineup.
Devonta Freeman became a breakout star in the Week 3, rushing for 141 yards and 3 TDs. Since then, Freeman has been a solid RB1 option rushing for 228 yards and 4TDs over the past two games. However, he is currently listed as questionable due to a toe injury for the Falcons Week 6 matchup against the New Orleans Saints. Freeman was limited in practice on Tuesday. Be on the lookout for fantasy updates regarding his injury. If Freeman is out or limited during Week 6, look for rookie Tevin Coleman to make a probable return to the field on Thursday.
Marshawn Lynch has missed the past two games with a hamstring injury. Lynch is currently listed as out for the Seahawk game against the Panthers this Sunday. Though he is expected to practice on Thursday, I would handcuff rookie Thomas Rawls (if you haven't already). Rawls rushed for 169 yards and 1 TD in Seattle's loss to the Bengals last Sunday.

Justin Forsett left with an ankle injury in Sunday's loss to the Cleveland Browns. Though he is currently listed as questionable, Forsett should see playing time this Sunday against the 49ers. Forsett has begun to live up to his fantasy value, rushing for 271 yards and 1 TD over the past two games.

LeSean McCoy is expected to be out for the rest of the month. Filling in for McCoy has been Karlos Williams. Williams missed Week 5 due to a concussion, and may be out for Sunday's game against the Bengals as well. Williams's role in the Bills' backfield increased in Week 3. Since then, he has led the team in rushing. If Williams is out for Sunday's game, expect Daniel Herron and Boobie Dixon to make up the backfield.

Matt Jones is questionable for Sunday's game against the New York Jets due to a toe sprain. Though Jones hasn't had a breakout game since Week 2, he has been splitting reps with veteran Alfred Morris. Look for updates on Jones's injury, as he might be a game time decision.
ASL has the latest sporting news that is relevant to your fantasy lineup, so keep reading!