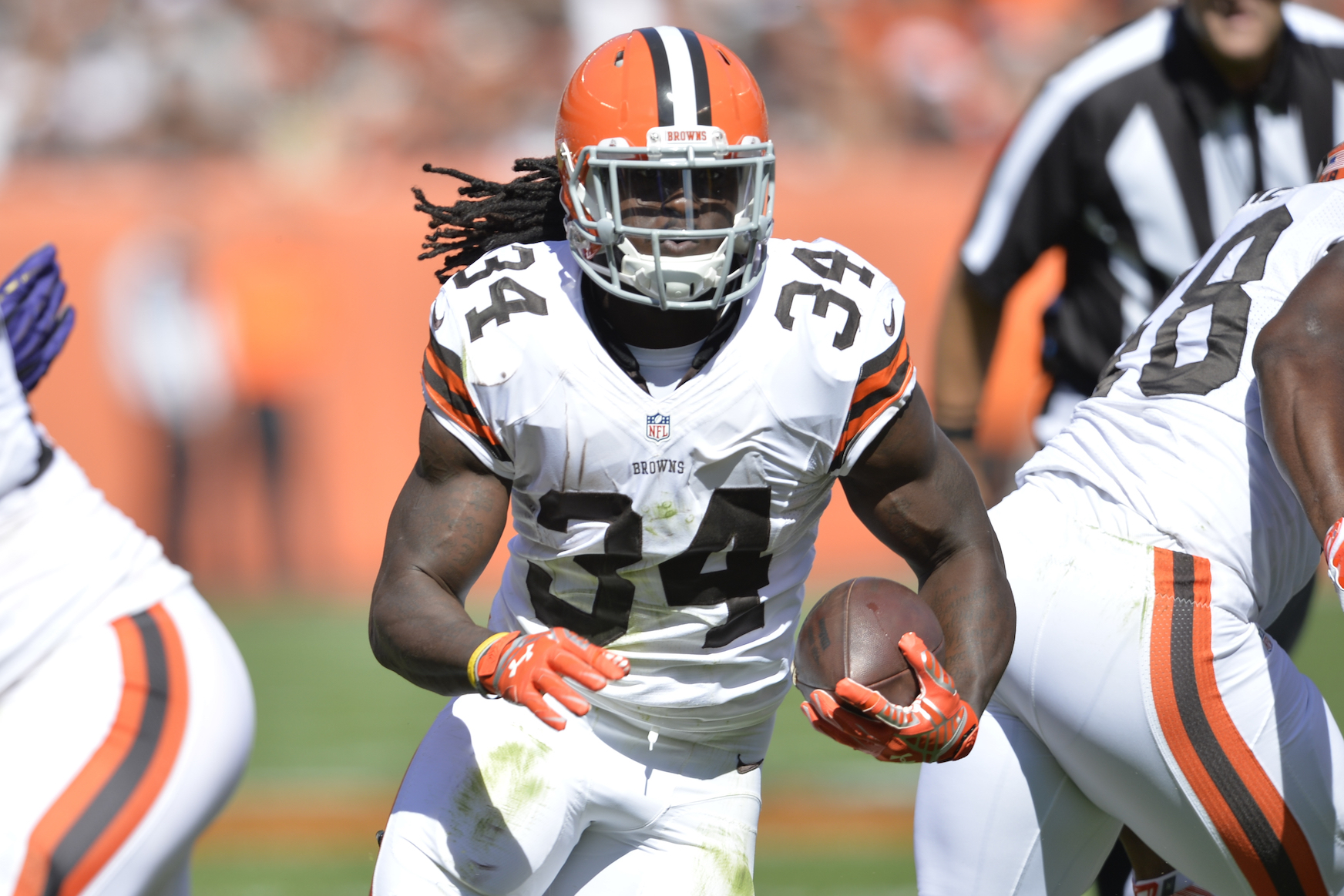 Fantasy Focus: 32 Bold Predictions
It's just a few days away. Fantasy football season is so close that you can probably taste it. Fantasy updates are at all time highs.  This is the time for optimism. If you've already drafted, you feel like you have the roster that is going to bring home the hardware. If you're still waiting to draft, get going because the Patriots and Steelers kick off on Thursday Night! 
Everyone loves bold predictions. They're fun and usually pretty harmless. I usually do this on Twitter on Opening Night, but I'm bringing it over to Advanced Sports Logic this season. It's my annual 32 Teams, 32 Bold Predictions.
Remember these are bold predictions. Claiming that Dez Bryant will finish the season as a top-10 fantasy wide receiver is not a bold statement at all. If I were to say that about Jordan Matthews, however, that would qualify as a bold prediction. There is a significant amount of risk built into each of these statements because of the nature of bold predictions in general. So it's a good idea to keep in mind that these predictions are indicative of players I either like or dislike more than the general industry consensus. You might not agree with some (or any) of them, but that's why we play fantasy football, right? Without further delay, here are 32 Teams, 32 Bold Predictions: 
Arizona Cardinals – John Brown will finish the season with 80 receptions and 10 TD –
Despite being saddled with abysmal quarterbacks, Brown still managed to catch 48 passes for 696 yards and five touchdowns. He possesses a deadly combination of elite speed and route running precision, which should enable him to build off a phenomenal rookie campaign. If Carson Palmer can stay on the field, Brown may end up evolving into his primary target by the end of the season.
Atlanta Falcons – Rookie Tevin Coleman will lead the team in rushing yards and touchdowns –
As much as I want to buy into Devonta Freeman, I just can't do it given the injury risk his size presents with a full workload. Envisioning Coleman as a goal line vulture is easy enough already and it wouldn't surprise me if Freeman transitioned to a third down/passing down role eventually much like Giovani Bernard did a year ago. If you're going to gamble on a Falcons running back, I'm rolling the dice on the unproven rookie.
Baltimore Ravens – Justin Forsett will lead the NFL in receptions by a RB –
The impact of new offensive coordinator Marc Trestman cannot be understated. Forsett isn't in the same league with Matt Forte as a receiver out of the backfield, but honestly who is? It's easy to envision Forsett nearly doubling his catch total from a season ago (44) in Trestman's offense. The Ravens have plenty of question marks in the passing game, especially with Steve Smith on the brink of retirement and Torrey Smith gone. Utilizing Forsett as a safety valve option seems like something that will happen often in the Charm City. I've said it before, but in a point-per-reception league, Forsett might be the best value on an elite running back this season. If you didn't draft him, he should be a primary trade target.
Buffalo Bills – Tyrod Taylor will finish as a top 12 fantasy QB –
This is where it starts to get bold. What makes Taylor such an intriguing option is his ability as a runner, which has a bigger fantasy impact than you may think. Rushing for 50 yards is the equivalent to throwing for 125 yards fantasy-wise. If he stays healthy and avoids major injury, he could realistically run for close to 500 yards this season if he averaged only 30 yards per game rushing. I have plenty of confidence in Taylor as a passer that he's going to be successful, but when you factor in the potential rushing yards and touchdowns, he becomes one of the games better fantasy options on a per-week basis.
Carolina Panthers – Cam Newton will finish outside the top 15 QB this season –  
That offense is brutal. Losing Kelvin Benjamin might be the straw that breaks the camels back. Aside from Greg Olsen, there is nothing to like on that offense and I don't want any part of it. 
Chicago Bears – Rookie WR Kevin White gets healthy and is a monster in the fantasy playoffs –     
Granted there is a legitimate possibility that he misses the entire season with a stress fracture in his shin, but if he finds a way to get back on the field, he's arguably the most talented rookie in his class outside of Amari Cooper. If you have the ability to stash him on an injured reserve spot, I would absolutely roll the dice on White. 
Cincinnati Bengals – Giovani Bernard is going to be a major surprise –
Jeremy Hill is fantastic talent-wise, but I think most fantasy owners are completely writing off Bernard. He still has elite speed, playmaking ability and is an excellent receiver out of the backfield. The workload may not be huge, but I think he's going to make plenty of big-time plays this season. I'm not closing the door on Bernard being a relevant fantasy option just yet. 
Cleveland Browns – Isaiah Crowell emerges as the Browns top fantasy RB –  
He's clearly their best option. It's not even close. For some reason, Cleveland didn't get him 20 touches in a single game last season, which is downright shocking. If the Browns turn "The Crow" loose he could crack the top-20 fantasy running backs with ease this year.
Dallas Cowboys – Newly acquired Christine Michael will finish as a top 20 fantasy RB –
That's right. Word on the street is that the Cowboys are opting for a timeshare between Joseph Randle and Darren McFadden. The problem with that is Randle was a fifth round pick two years ago with 105 career carries to his name and McFadden has eclipsed 200 carries just twice in seven seasons and has an injury history a mile long. There's a reason Dallas elected to trade for a running back as talented as Michael, because they don't really have a clear-cut stud. He may have been buried on the depth chart in Seattle, but don't expect the explosive playmaker to remain on the bench for long. Based on pure talent alone, Michael should take over the starting job, running behind the leagues premier offensive line, sooner rather than later.  
Denver Broncos – CJ Anderson will finish as the top RB in fantasy football –
The emergence of Ronnie Hillman this offseason may scare some fantasy owners, but if you look at what Anderson did in the second half of last season (767 yards and eight touchdowns in just eight games), he was unreal. There is so much risk at the top of the position that the combination of age and talent makes Anderson my dark horse pick to finish as the top running back in fantasy football.          
Detroit Lions – Ameer Abdullah will be a top 15 RB –
He looks like the real deal. It's simple analysis, but he looks great and Joique Bell already has injury concerns coming into the year. This is Abdullah's job to lose at the moment.
Green Bay Packers – Davante Adams will outscore Randall Cobb this season –
The sprained AC joint in Cobb's shoulder scares me. I'm not convinced it's something we should just assume isn't going to be an issue. Even with Cobb on the field, it's fair to assume that Adams is going to average double-digit targets every single week. Adams is someone I would be targeting in every league right now in potential trades.
Houston Texans – DeAndre Hopkins cracks the top 10 at WR –
Someone is going to have to catch the ball in Houston and with veteran target monster Andre Johnson gone, it's Hopkins who should step into the spotlight. He's a talented wide receiver, but this call is more about the sheer volume of targets than anything else.
Indianapolis Colts – Andre Johnson will outscore T.Y. Hilton this year –
Especially in point-per-reception formats, I like Johnson moving to arguably the best passing attack in the league. He's never had anyone this good throwing him the ball and given all of the other weapons in that offense, he's going to see plenty of one-on-one matchups to exploit. This isn't a knock on Hilton, but from a value standpoint, I like Johnson better. 
Jacksonville Jaguars – Blake Bortles outscores Matthew Stafford this year –  
No, seriously. I think Bortles can be a top 15 quarterback. He's looked remarkably better in the pre-season and the additions the Jaguars have made on offense, most notably T.J. Yeldon and Julius Thomas, will be a huge help. Did you know that he ranked fourth in rushing yards by a quarterback last season? That helps. I don't like Stafford at all and I think that if Bortles takes the step forward that I'm envisioning, he will be the better fantasy option when it's all said and done.
Kansas City Chiefs – Albert Wilson emerges as a top 40 WR – 
Considering this offense didn't complete a touchdown pass to a wide receiver last year, this is a bold statement. Wilson is considered the front-runner to start opposite Jeremy Maclin and despite a limited sample size, he's flashed fantastic speed and vertical route-running downfield. He's not on anyone's radar at the moment, but I think he should be.
Miami Dolphins – Jarvis Landry is a top 20 WR in PPR –
He caught at least five passes in each of his final nine games a year ago and while DeVante Parker may possess more upside, I think Landry's floor is insanely high in point-per-reception formats.
Minnesota Vikings – Adrian Peterson is the biggest first round bust this season – 
I'm going to refer you to Graham Barfield has articulated this belief far more eloquently than I could have, so please, go read this right now. The general consensus among fantasy owners is that Peterson despite his age, superhuman workload and missing an entire season, is going to be the exact same guy. He could be, but I seriously doubt it. He's not going to return first round value.
New England Patriots – Dion Lewis will finish as a top 25 RB in PPR formats – 
The industry consensus seems to be that he's going to inherit the "Shane Vereen role", but I don't see it that way. For those of you who don't know, I've been a lifelong Patriots fan, who has seen virtually every game spanning back nearly two decades now. I don't think Vereen and Lewis are similar at all. When I watch Lewis, I see more of Kevin Faulk and Danny Woodhead than Vereen. He excels at getting to top speed very quickly and is adept both as a draw specialist out of shotgun sets or as a receiver out of the backfield.
Fantasy owners in point-per-reception leagues should be all over Lewis, who enjoyed a stellar collegiate career at Pittsburgh and has missed much of his professional career due to injury. With LeGarrette Blout suspended, Jonas Gray jettisoned, Travaris Cadet banged up, James White raw and unproven, and both Vereen and Stevan Ridley both in New York, I feel confident banking on a big game from Lewis in Week 1 against the Steelers. 
New Orleans Saints – Brandin Cooks will be a monumental bust this year –
It feels like a repeat of last season with Cooks. According to Matt Harmon of NFL.com's reception perception data, Cooks didn't play well last season and then got injured. The other problem is that the Saints passing game is shockingly bad without Jimmy Graham or Kenny Stills in the mix anymore. Elder statesman Marques Colston and uber-raw Brandon Coleman project as their starters alongside Cooks with Ben Watson at tight end. This is still a volume offense that may thrive in garbage time, but what's stopping teams from locking in on Cooks and shutting him down. I don't see any way he lives up to the hype, at least not this season.
New York Giants – Victor Cruz isn't a top 50 fantasy WR this season –
As tempting as it would be to write about Odell Beckham, I'm going to go with Cruz instead. The injury scares me. It's the type of injury and the history of guys who have come back from it that keep me from being optimistic about his chances of making an impact this season. I would rather invest somewhere else than take this big of risk. The upside just isn't there or worth it.
New York Jets – Chris Ivory will be pretty good and nobody will seem to notice –
He's not flashy or a potential superstar, but consider where he's going off the board in most drafts or what you would have to give up to acquire him in a trade and it's hard to ignore the value there. I like the general direction the Jets offense is headed with Brandon Marshall and Eric Decker, but make no mistake, this is a run-first offense. Ivory is going to get his touches and rack up the points. 
Oakland Raiders – Roy Helu scores more points than Latavius Murray –
I've never questioned the talent, but given his struggles to stay on the field, you can't guarantee that Murray is going to play 16 games. You just can't do it.
Philadelphia Eagles – Jordan Matthews is a top-10 fantasy WR this season –
I could do a list of bold predictions on the Eagles offense alone. Matthews should be able to build on a stellar rookie campaign and is the primary target now that Jeremy Maclin is gone. He plays mainly out of the slot, but the Eagles use more wide receivers and run more plays than just about anyone in the league. I'll give you a bonus bold prediction as well while we are here: Nelson Agholor will be the rookie of the year in fantasy. I really love this offense (except for DeMarco Murray).
Pittsburgh Steelers – Martavis Bryant still manages to outscore Markus Wheaton –
I still don't completely get the Wheaton hype. If Bryant is able to get back on track and get on the field following his suspension, he's the far superior talent. A premier threat in the red-zone given his size, I like Bryant to challenge for 10 touchdowns this season. 
San Diego Chargers – Danny Woodhead bounces back and is a top 30 RB in PPR – 
I've touched on it before here at Advanced Sports Logic, but he's going dirt cheap in drafts. The injury he sustained last season was a complete fluke. He's back and he's going to be somewhere in the neighborhood of 60 to 70 receptions out of the backfield this season. Make sure he's on your roster if you're in a point-per-reception format.
Seattle Seahawks – Russell Wilson finishes outside the top 5 QB's –
I still like Wilson, however, I don't think he's a lock to rank among the top five at the position. A ton of his value is predicated on his abilities as a runner and I'm not sure how many times the Seahawks want to put the face of their franchise in harms way like that. It's more of a gut call than anything, but I think the rushing yards decline this season for Wilson. Would it shock me if he still managed to finish in the top five? No, but I'm not sold it's a lock that he's going to get there.
San Francisco 49ers – Carlos Hyde will not be a top 20 RB –
When Deadspin is mocking how much talent you've lost, you know it's not good. Seriously, this team has Jordan Devey starting at right guard. Patriots fans remember him as the one who nearly got Tom Brady killed during his four-week stint as a start in New England at the start of last year. He was traded to the Niners for virtually nothing a month ago when it was clear he wasn't making the Patriots roster. Seriously, I wouldn't touch this offense with a 50-foot pole.
St. Louis Rams – On a per-game basis Todd Gurley will be a top 15 RB –
I'm not sure when he's coming back, but when he does, I'm convinced he's going to be really good. He's going to be the centerpiece to the Rams offense and they're going to give him enough touches to put up stud numbers.
Tampa Bay Buccaneers – Mike Evans leads the league in TD receptions –
He good, as the kids say. There isn't much to like in Tampa Bay, but Evans is going to challenge the Bryant's and Jones' for the league lead in touchdown receptions. If he gets off to a slow start due to the hamstring issue, float an offer out there if you don't own him. It should pay off down the road.
Tennessee Titans – Dorial Green-Beckham is the "sleeper" everyone forgot –
He's put on a show in the pre-season and he looks like the real deal. At 6-foot-5, he's going to be a factor in the red-zone. If you've got the room on your bench, he's an awesome stash.
Washington Redskins – Somehow RGIII is starting by Week 8 –
Just because.
For the best fantasy news and most updated sporting news, keep reading ASL!