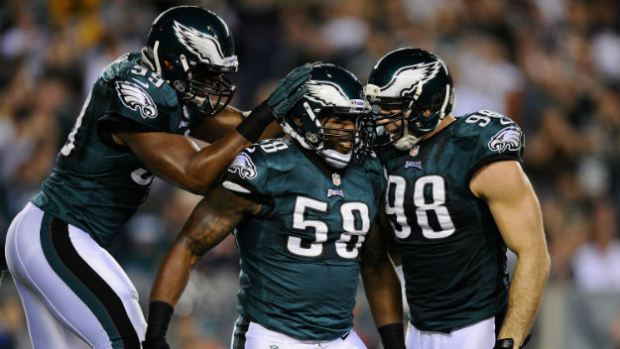 Philadelphia Eagles (98th in ASL's rankings, 167.92 ADP, 198th ranked ADP)- Last year, the Eagles D/ST made a splash in fantasy news by scoring 11 defensive touchdowns, most in the league. They also combined for 49 sacks and 28 total takeaways, good for second and sixth in the league respectively. Fletcher Cox and Connor Barwin combined to create frequent pressure for opposing QB's, including 18.5 sacks between the two of them. The Eagles D also stands to benefit from the addition of 2013 Defensive Rookie of the Year Kiko Alonso at linebacker and former Seahawks "Legion of Boom" cornerback Byron Maxwell. Maxwell in particular should help what was at times last year a depleted Eagles secondary, and second round pick Eric Rowe should also have a shot to win the other cornerback job. The Eagles likely won't have the same touchdown luck as they did in 2014, but should still be able to force enough trouble and prevent enough yards to be a solid defense this season.
Baltimore Ravens (124th, 196.10, 243rd)- This is not the same Ravens D of the mid-2000's that featured Ray Lewis, Ed Reed, and Terrell Suggs in their primes, but the Ravens should be much better than their current ADP suggests. Suggs, in fact, is still a veteran anchor of the Ravens' D, and he's part of the same defense that had the most combined sacks and QB hits last season. Ravens linebackers Elvis Dumervil, Daryl Smith, CJ Mosley, and the aforementioned Suggs regularly blitz, thus increasing the team's potential sack total. Better still, the Ravens also have succeeded in stopping rushers, as they are currently sitting on a 26 game streak in which they have held opposing teams to fewer than 100 rushing yards. This D definitely deserves better than going undrafted in most leagues.
Carolina Panthers (130th, 182.44, 225th)- Even with the loss of Greg Hardy for most of last season, the Panthers forced the second-most fumbles in the league with 22. That was the same Panthers team that also set a playoff record by holding the Cardinals to 78 total yards in an NFC Wild Card game. The Panthers D allowed the 10th fewest yards last season. Carolina boasts a very impressive linebacker core, anchored by star middle linebacker Luke Kuechly. Veteran Thomas Davis and rookie Shaq Thompson also add a balance of experience and speed to their linebacker corps. The defensive line is led by Charles Johnson, who is coming off a season with 8.5 sacks and 3 forced fumbles, and may benefit if Star Lotulelei's late-season improvements last year translate into an improved 2015 campaign. While the Panthers D will, more likely than not, go undrafted, this is a unit worth considering as a cheap but solid late-round steal.
New England Patriots (157th, 193.07, 238th)- The defending champs' defense proved they could stop quarterbacks who throw the ball at the one yard line in last year's Super Bowl, but could actually be a good option in 2015. Although they lost star cornerback Darrelle Revis and veteran defensive lineman Vince Wilfork, the Patriots pass rush should improve thanks to a depth of options, including outside linebackers Chandler Jones and Rob Ninkovich. Devin McCourty leads an underrated secondary that helped the Pats total 16 interceptions last season, good for 12th in the league. The Patriots likely will not wow with takeaways and touchdowns, but do a good job of preventing yardage and points, ranking 13th and 8th in those categories last year. New England's defense has the potential to be near the lower end of the top-10, but definitely good enough to warrant a shot if you are going to wait on your defense until most other teams have drafted one.
For the latest sporting news and fantasy updates, keep reading ASL all season long!