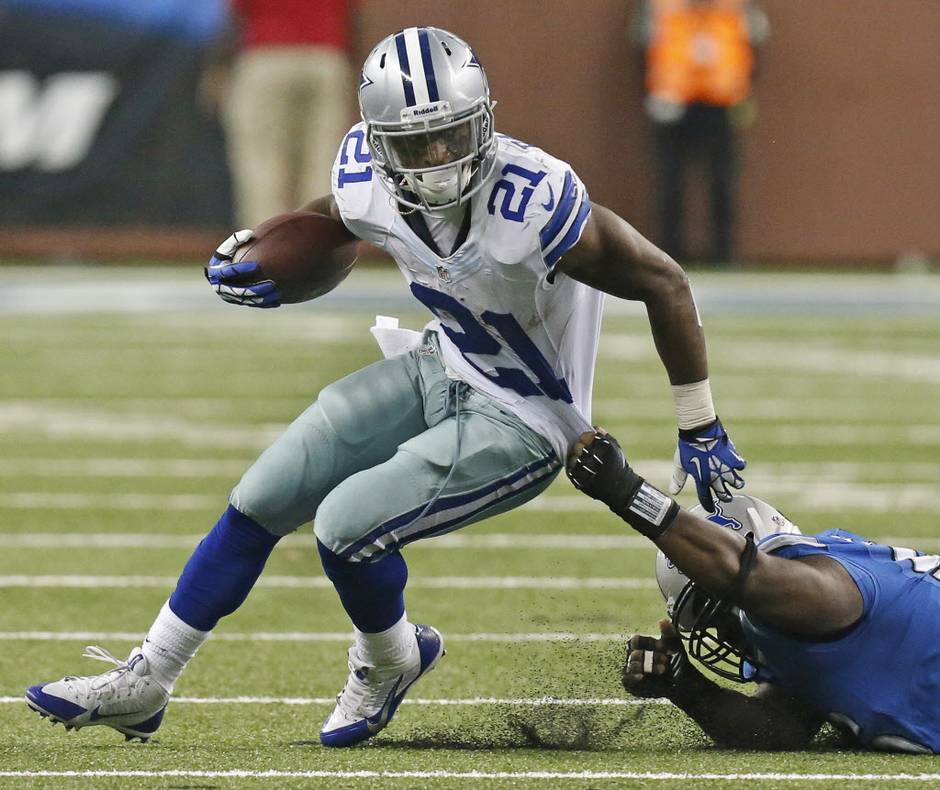 Frank Gore (48th in ASL rankings, 78.02 ADP, 78th best ADP)- A running theme in fantasy drafts appears to be the underrating of veteran players. The 32 year-old Gore is no exception, although he may find the fountain of youth in Indianapolis. The Colts were the third best offense in 2014 in terms of yards per game and fifth best in terms of touchdowns. Gore does not have a serious threat to his reps and has strong potential to put up his fifth straight season of 1,000 yards rushing. Before putting up only 4 rushing TD's last year, Gore had three straight seasons with at least 8 rushing TD's. He should not be picked as your RB1 like he might have five years ago, but if you can get him as a second RB or as a Flex player in the 6th round or later, he should make for a strong value pick.
Joseph Randle (55th, 101.59, 105th)- Randle is the frontrunner to start behind the Cowboys' dominant offensive line and if he gets that opportunity, he could provide solid RB2 value. Randle faces a threat from Darren McFadden for the job, but McFadden was pretty underwhelming last season with Oakland. Randle, meanwhile, is younger and showed some promise as DeMarco Murray's backup, scoring 3 TD's, including 2 TD runs that were 40 yards or longer. Assuming he gains the starting job, Randle has a good shot at 1,000 rushing yards and 6 or 7 TD's. Randle deserves to be going earlier than the 10th round even if his starting job is not guaranteed yet. Draft him earlier with confidence and expect high upside from Randle in Dallas' potent offense.
Pierre Thomas (106th, unlisted)- Thomas is off many players' radars because he has remained unsigned, but the 30 year-old still offers value as a change-of-pace back with PPR upside. Thomas' value will vary depending on where he lands, but he would find some value with most teams, even if he no longer plays his ideal role in Sean Payton's Saints offense. He lost five games last year after an injury to his ribs, but should be healthy and ready to contribute. Thomas had 45 catches last year in just 11 games and had 500 total yards and 3 total TD's in that span even in part-time action. Stretch that over 16 games and that means in excess of 700 yards and 4 TD's. If Thomas signs with a team in the preseason and gets to play this year, those numbers are at least worth a speculative late-round pick.
Charles Sims (108th, 127.89, 144th)- Sims enters 2015 as Tampa Bay's #2 back, but offers upside thanks to his own skill and the vulnerability of current #1 back Doug Martin. Sims played a role in both the running and passing game, as he had 190 receiving yards, 185 rushing yards, and 1 total TD in limited action over 8 games. Doug Martin, however, has struggled to stay healthy in the last two seasons, having missed 15 games over that span and putting up lackluster numbers when he was on the field. The Bucs ranked 29th in rushing yards per game, and while that may not improve very much, Sims may be able to put up better production by catching passes from new starter Jameis Winston. Sims at least deserves consideration as an early-season waiver wire add, if not a flyer pick.
Danny Woodhead (136th, 192.11, 247th)- if there's a pattern in this column, it's that backs known as PPR standouts are being undervalued. Even without the bonus of points for receptions, dual threat running backs offer extra sources of yardage. That brings us to Woodhead, the PPR darling who missed most of 2014 with a broken fibula. Woodhead won't get too many rushes with Melvin Gordon now in the fold, but should carve out the same role he had previously as a pass-catching back. It's worth noting that Woodhead was second in both catches and receiving yards by running backs in 2013, and exceeded 1,000 total yards while putting up 8 TD's that year. You can probably cut both those numbers by about half given the changes in the Chargers' depth chart, but Woodhead should still have a shot at 50 catches, 500 total yards, and at least 3-4 TD's. In deeper leagues, he's definitely worth a shot.