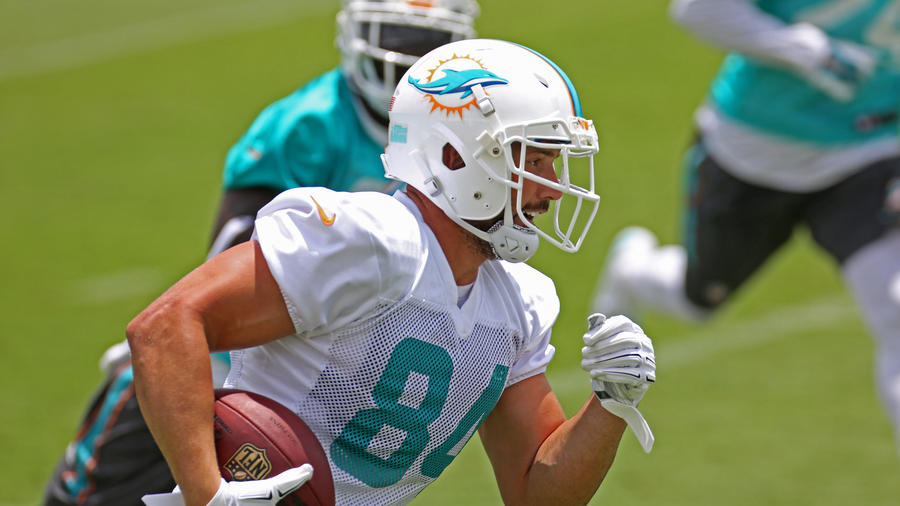 TE Fantasy News 
Delanie Walker (76th in rankings, 149.80 ADP, 176th highest ADP)- The veteran Titans tight end has had two consecutive strong seasons since signing with Tennessee. Walker has exceeded 60 catches in the last two seasons, and has put up two consecutive career highs in yards. He went for 571 yards in 2013, a career high, and topped that by putting up 890 yards last season. The Titans have trusted Walker as a consistent target, as he has caught 10 TD's the last two years. His upside is limited, but he offers solid production at a position with very few consistent performers.
Jordan Cameron (84th, 100.90, 107th)- The Dolphins tight end is not the deepest sleeper or the biggest surprise, but he will likely be undervalued because of his injury risk (concussions in the last three seasons.) If he stays healthy, however, Cameron offers high reward. In his last nearly full season in 2013, Cameron had 80 receptions, 917 yards, and 7 TD's, putting in one of the best fantasy tight end seasons that year. If Cameron can stay healthy, there's no reason he can't put up good fantasy value as a trusted target for Ryan Tannehill. If you can afford to store a backup or find a good replacement on the waiver wire as insurance if he goes down, Cameron offers enough reward to be worth a risk in the middle rounds.
Coby Fleener (104th, 156.06, 187th)- Fleener's recommendation is a conditional one. It depends on whether or not he can prevent himself from making mistakes on the field. If he can avoid that, he offers high-end upside with his physical talents and Andrew Luck at QB for the Colts. He took advantage last year to post a career-high 8 TD's, but will lose some value as Dwayne Allen receives more reps. Luck is good enough at distributing amongst his targets that you can expect Fleener to offer significantly more value than his current draft position. He made it to 50 catches each of the last two seasons and has a good chance of meeting that number again in 2015 if he can avoid mistakes.
Larry Donnell (105th, 185.90, 234th)- Donnell's value fell off after a strong start to 2014, but offers a good opportunity for touchdowns. He likely will not provide too much more yardage than the 623 yards he posted last year, but has the potential to improve on his 6 TD's in what should be a resurgent Giants offense. Even in a bad season for the Giants, Donnell received 92 targets and should be able to match that even if Eli Manning distributes to his many other targets. Donnell should find enough red zone opportunities to put up decent fantasy value and may even have a shot at a double digit TD total if everything goes well.
For the best in sporting news and fantasy updates, stay tuned to ASL all season long!