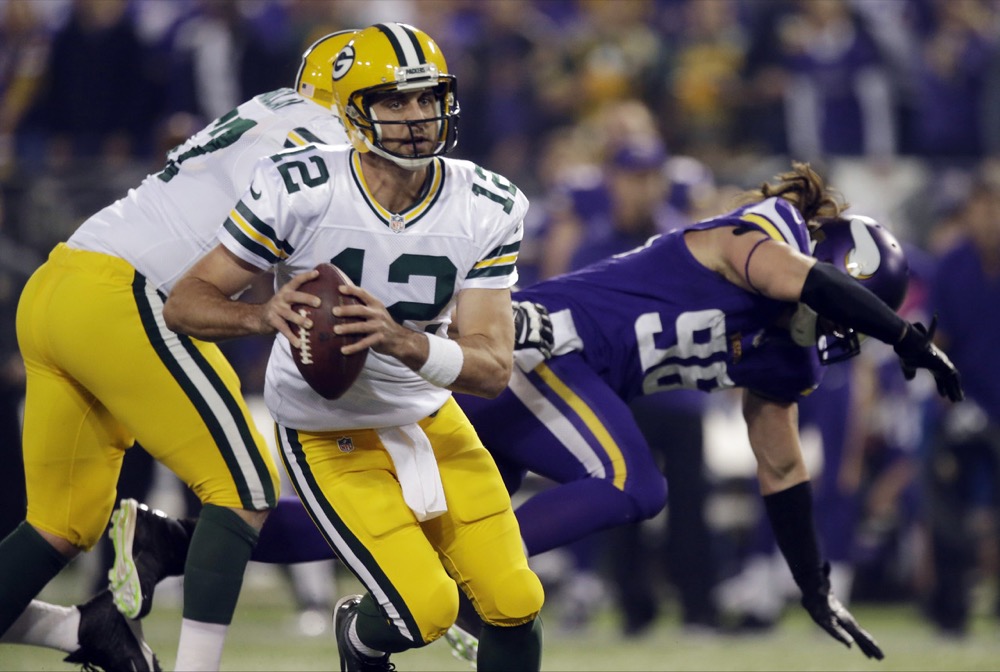 Quarterback: Aaron Rodgers
There's nothing new here. The magic man is going to be a top 1-2 QB when he's on his game. The only question is how high fantasy owners should select him. Andrew Luck and Peyton Manning may be better at the right cost. The Machine suggests waiting till late in the second round to take Rodgers because receivers and running backs are more of a premium in the early rounds. He will still be worth a first round pick though because his easy schedule means the Packers are going to be dominating the competition.
Running Back: Eddie Lacy
Many football experts have Eddie Lacy locked as a top ten overall fantasy football player but don't take him that early. The Machine has Lacy in the middle of the second round and he is only the sixth best fantasy running back. The former Alabama running back is a fantastic player but he is always going to be the second option in Green Bay's offense due to Aaron Rodgers so his numbers are going to stay capped. We still love Lacy's passing catching, his durability, and his lack of fumbles. Expect 2015 to be similar to his 2014 stats of 1139 yards nine touchdowns and all sixteen games played.
Wide Receiver: Jordy Nelson, Randall Cobb, Davante Adams
As long as Jordy Nelson's hip isn't a problem, there's no reason not to expect elite receiving numbers from the Kansas State product. Nelson is as consistent and dependable as they come in the NFL, and the only concern is his health and the emergence of Davante Adams may cause him to slow down a bit. The Machine gives Nelson a second round grade right behind Randall Cobb. 
Randall Cobb was the priority free agent that GM Ted Thompson wanted to keep. That's because Cobb, only twenty four years old set career marks with 91 catches and 1,287 yards and even 12 touchdowns. These numbers are likely capped because Jordy Nelson and Davante Adams are also targets who will eat into some of Cobb's numbers. He is an excellent open-field player which is why he may be even more valuable than Nelson in PPR leagues. Take him early.
Green Bay's offense frequently uses three receiver sets which is why Davante Adams is an intriguing asset to have on your fantasy foster. Adams apparently had an impressive minicamp but his in game performances were strange. In 2014 he was wildly inconsistent and put up strong numbers against good defenses like New England (171 yards) and Miami (77 yards) but oftentimes couldn't get more than one or two receptions a game. He is risky, but could be a steal in the later rounds. He has been given a ninth round grade by The Machine.
Tight End: Andrew Quarless, Richard Rodgers
Richard Rodgers eventually took snaps from starter Andrew Quarless to be the feature TE in Green Bay but he's still not going to be important enough to be a major pass-catcher and both he and Quarless are certainly not draft worthy in fantasy football leagues.
For the latest in sporting news and fantasy updates, stay tuned to ASL all season long!