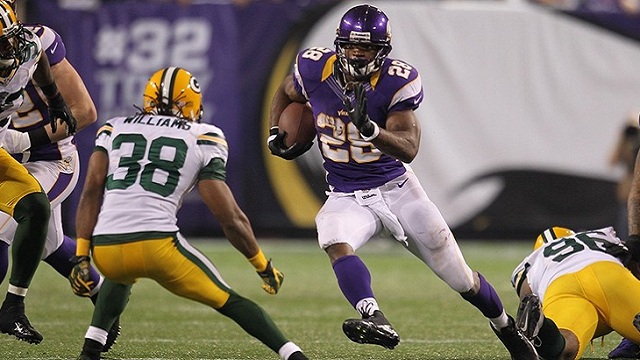 Fantasy Updates
Quarterback: Teddy Bridgewater – The Machine has second-year quarterback Teddy Bridgewater as the seventeenth ranked quarterback. The already polished Louisville product the will improve as a player, but his stats may not follow suit. It will be running back Adrian Peterson who will spearhead the offense not Bridgewater. Thus many of the touchdowns he had in games may swing to Peterson. His high completion rate and low interception numbers will be good enough to land him as a number two quarterback.
Running Back: Adrian Peterson – Take Adrian Peterson as the number one fantasy pick and don't think twice about it. The Vikings are still easing their young quarterback Bridgewater into his first full NFL season so expect 'All Day' to be the feature man for their offense. Peterson has not been known to be a pass-catching back but Norv Turner has excellent experience in implementing his running backs into the passing game. He had 171 in 2013 and 217 in 2012. Don't be surprised if he has 350 plus receiving yards to go along with his already tremendous rushing stats. Peterson has told the media he is gunning for Eric Dickerson's single season rushing record and he's capable of doing so. Be prepared for Peterson to break records and be the Fantasy Football king once again, despite him being the center of sporting news last season.
Peterson will be too heavily featured for backups Matt Asiata and Jerrick McKinnon to be fantasy relevant.
Wide Receiver: Mike Wallace, Charles Johnson, Cordarelle Patterson – Mike Wallace is projected by the Machine to be a late fifth round pick and Minnesota's' best receiver. That's a good place to take him as long as locker room issues don't occur as it did in Miami. Wallace is going to be a polarizing player for fantasy football experts. Norv Turner loves having deep threats in his pass heavy offensive game plan so Wallace should be getting plenty of looks. Unfortunately for Wallace, his quarterback Bridgewater has a weak arm and won't be able to send it deep often with accuracy. Consider him a WR3 but he will have games where he deliver WR1 stats.
Just like his fellow wide-out Patterson was in 2014, Charles Johnson may be the most overrated fantasy football wide receiver for 2015. Johnson had an interesting rapport with Greg Jennings, but with Jennings' departure and with Mike Wallace primed for the deep and outside areas, Johnson will many times be the sole receiver in the intermediate area and may struggle due to inexperience. The Machine has him valued at the eight round which is lower than most ADPs, but even that may be too rich for a receiver who should be a fourth WR at best.
Fantasy owners who took Cordarrelle Patterson had to suffer watching his dreadful 2014 campaign. It is safe to assume that the athletic wide won't be a focal point in the offense when the coaching staff last year gave up on him and he finished with only seven catches in his last seven games. Even one of Patterson's strengths, the screen game may be limited by the arrival of Wallace who is more experienced and may be even quicker. Cordarrelle Patterson is all upside, so he may be worth a late-round selection due to his occasional big highlight plays.
Tight End: Kyle Rudolph – Should he stay healthy, Kyle Rudolph will be a top ten tight end. Norv Turner during his tenure at San Diego made Antonio Gates into a five-time Pro Bowler and a touchdown catching machine. Rudolph doesn't have the speed but he has better size than Gates standing at 6-foot 6. He will be Bridgewater's number one target in the end zone. Hopefully the backup Rhett Ellison has his playing time limited to keep Rudolph on the field for longer durations. Keep in mind, if you are going to draft Rudolph, have a dependable backup you can rely on.
For the most comprehensive fantasy news, keep reading ASL's Fantasy Focus!