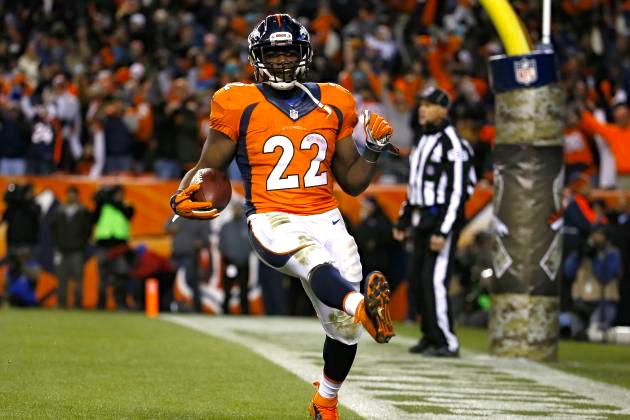 Broncos RB CJ Anderson's spectacular 2014 season has him sitting atop the depth chart heading into the new year, but according to OC Gary Kubiak, the spot has not yet been solidified. Anderson was certainly one of last season's top fantasy sleeper picks, but there were reports of conditioning issues towards the end of last season. This may have contributed to his decline in production, but it still seems as though he may be the best man for the job.
Anderson started the 2014 season as the #3 RB behind Ronnie Hillman and Montee Ball, and was given a chance to prove his worth after both backs went down with injuries. Anderson took over as the lead back in week 10, and put up 767 rushing yards and 10 total touchdowns from there on out (8 games). With all 3 backs now healthy heading into training camp, there should be an open competition, but it's hard to see anyone other than Anderson taking the starting spot.
Though his conditioning toward the end of the season may have put a damper on his strong sophomore season campaign, but his performance in the playoffs showcased his resilience. Anderson's numbers were average, but there were two plays against Indianapolis he made where he extended drives by fighting through multiple tackles on fourth down. His ability to break tackles, in addition to his agility and cutting ability should secure CJ Anderson his starting role.
Anderson broke 1,000 all purpose yards as a second-year tailback taking over after multiple injuries at the position. With the opportunity to start for an entire season, he should easily break 1,000 rushing yards and at least 8 touchdowns.
For the best NFL fantasy sleepers, stay updated with ASL!