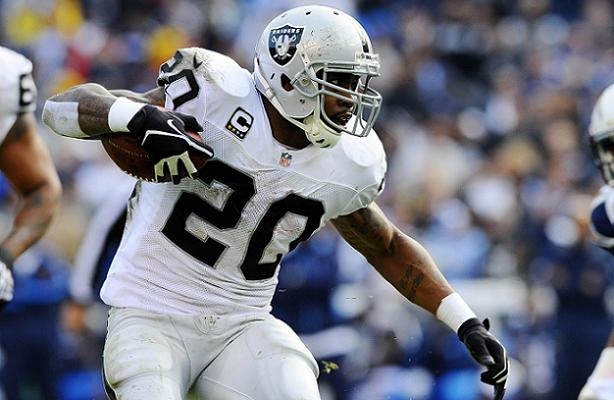 The Dallas Cowboys elected not to draft a running back in this year's NFL Draft, failing to find a suitable replacement for DeMarco Murray who crossed divisional lines to play for the Eagles. Unless a late move for Adrian Peterson is made, it looks as though Dallas will stay put with Darren McFadden at the forefront, and with Joseph Randle and Lance Dunbar handling backup duties.
McFadden is far from the the list of top fantasy football keepers and can't even be considered in the category of fantasy sleeper picks. His best days are long behind him and even in his prime, he was always terribly fragile. Despite all of this, McFadden sits atop the depth chart in Dallas and his numbers from 2014 prove he has no serious fantasy upside. McFadden rushed for a mediocre 534 yards last season with the Oakland Raiders, adding just 2 touchdowns, and failing to surpass 100 yards in any of his team's 16 games.
Some of these problems might be alleviated with Dallas's killer offensive line, as they heavily contributed to DeMarco Murray's career year comprised of 1,845 yards, 13 touchdowns, and 12 100+ yard games. Murray was very well-protected, which led to 2014 being the first year he was able to participate in all 16 games.
Despite the ability of the Cowboys' offensive line to increase running back production, I'm skeptical that they are done making moves to help improve their backfield situation. Adrian Peterson is currently still a member of the Vikings, and notably wants out of Minnesota, leaving a late offseason transaction a possibility that could help both sides.
Though the Vikings are currently in a state of commitment to their franchise RB, he has expressed his interest in a trade to the Cowboys, and they are making space for him. According to Yahoo! Sports, Dallas' QB Tony Romo has agreed to restructure his contract, clearing up nearly $13 million in cap space. Adrian Peterson's current contract is for 3 years, $46 million, and it would look very strange if Romo's restructuring was not done in order to free up room for a potential acquisition.
Regardless of whether a deal strikes between the Cowboys and Vikings, it looks very promising that Dallas will make another push for Adrian Peterson.
Keep reading ASL for the best NFL fantasy sleepers all season long!