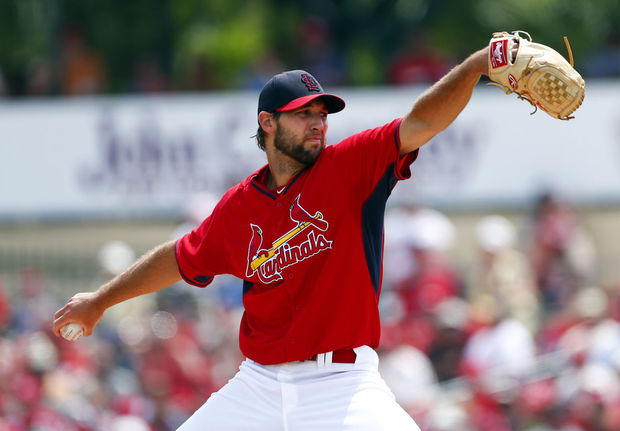 Cardinals right-hander Michael Wacha tossed 5.2 shutout innings and fanned four on Wednesday, March 25, edging Max Scherzer and the Nationals in a 1-0 Spring Training victory. The performance is good news for MLB fantasy owners counting on the young starter to do big things in 2015.
Last season saw him start just 19 games as a shoulder injury sidelined him for two and a half months. Referred to as a "stress reaction" of the shoulder rather than a fracture, the injury was deemed not as severe as similar ones suffered by pitchers such as Brandon McCarthy. Wacha has shown no lingering effects of the ailment, posting a 1.76 ERA and walking only one batter in 15.1 innings this spring.
Though he pitched through discomfort for significant stretches of last year, Wacha still managed some impressive numbers that point toward the front-end rotation piece St. Louis hopes he can be.
At only 23 years old, Wacha appears well-suited to rebound quickly from his shoulder woes and continue improving during the upcoming season. However, his youth may also spell some disadvantages as far as fantasy owners are concerned.  
In two big league seasons, Wacha has logged only 171.2 innings, and the Cardinals may try to take things slow on the heels of his shoulder issue and not push him. It's possible he might be limited to around five innings some nights and miss out on some valuable wins and quality starts.
Regardless, the talent and potential are there, and you shouldn't hesitate to pick Wacha around the 130th selection of your draft. If he takes the ball every five days, he can certainly be a top-25 starting pitcher in 2015. He should prove an asset in terms of ERA, WHIP, and strikeouts even if wins are a bit inconsistent.