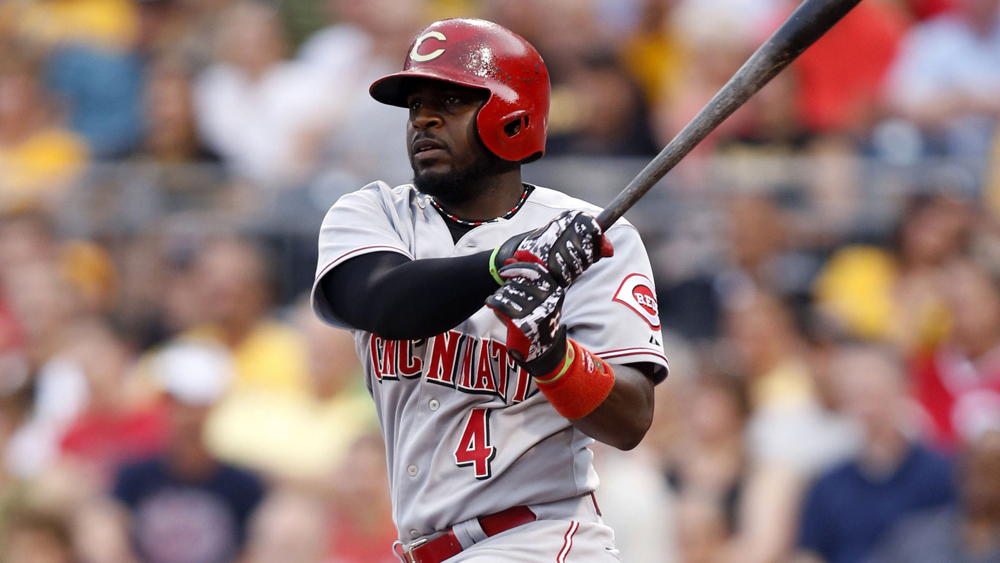 Brandon Phillips - 2B, Cincinnati Reds
Phillips' name recognition, along with the overall dearth of fantasy production at second base, has exaggerated perceptions of his MLB fantasy value for a while now. Once a good bet for around 20 homers and 80 RBI, his offensive numbers have steadily declined and there is little reason to think that won't continue as he turns 34 this year. His OPS plummeted from .810 to .678 in the last four seasons, and his increasing lack of plate disciple (15% strikeout rate last year) won't help matters. The speed element of his game has evaporated as well: after averaging 22 steals from 2006-2012, he has swiped only seven total in the last two seasons. Don't fool yourself into thinking Phillips is still top-15 at his position.
Victor Martinez - 1B, Detroit Tigers
V-Mart enjoyed a tremendous 2014 campaign, putting up a Major League-best .974 OPS on his way to All-Star honors and a second-place finish in AL MVP voting. But there are more than a few reasons to be skeptical of an encore performance in the upcoming season. Not many players have a career year at age 35, and Martinez has been battling familiar knee trouble this spring. His 32 home runs last year were a career-high by a decent margin; he had not broken 20 since 2009. Though his ability and track record are undeniable, his preseason value is inflated by the striking numbers he produced last year. Several rankings place him as a top-50 player, which is too bold for 2015.
Yadier Molina - C, St. Louis Cardinals
Like Phillips, the preeminent Molina brother is another player whose popular reputation will lead to him being drafted too early. As far as catchers go, he's still one of your better options, but unless his name is Buster Posey, I'm not using a premium pick on a backstop. Renowned for his consistence and durability, Molina showed some cracks in 2014. A thumb injury limited him to 110 games, the lowest total since his debut season. His batting average dipped below .300 for the first time since 2010, and his power numbers have taken a nosedive as well (.386 SLG last year, down from .501 in 2012). At 32 years old, the physical demands of the position often take their toll, so it's hard to see Molina reasserting himself as a top-5 catcher.
Ryan Braun - OF, Milwaukee Brewers
Braun's various issues are well-documented, but he has remained a relevant player for fantasy purposes. It's hard to justify, however, ranking him as a top-10 outfielder for 2015 as some have done. He's missed significant time to injury the last two seasons and has seen a fair amount of pop leave his bat, due in large part to the career-low 8% home run to fly ball ratio he posted last year. His 2014 second half was particularly brutal, in which he hit .226 with 8 home runs and 29 RBI. Even if offseason thumb surgery helps keep him on the field, Braun is yet another player on the wrong side of 30 unlikely to reclaim past glory and not worth risking with a first or second round pick.