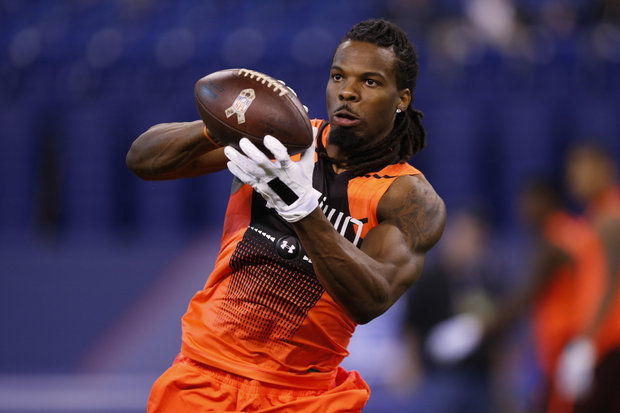 Based on stats and production, Amari Cooper (Alabama) is the clear-cut #1 fantasy WR coming out of the 2015 NFL draft class. Cooper absolutely torched opposing defenders in the SEC this year and finished the season with a gaudy 124 Receptions for 1,727 yards and 16 touchdowns. He had three games with more than 200 yards receiving against SEC opponents. 
On paper, Kevin White (West Virginia) is widely considered as the #1 fantasy WR coming out of the 2015 draft class. White did not disappoint at the NFL combine, measuring in at nearly 6'3" and 215 pounds while running a 4.35 40-Yard dash. His 4.35 40-time was second best among wide receivers. Combining White's physical features and stats from this season (109 Rec, 1,447 Rec Yards, 10 TD's) it's clear why Cooper and White are viewed as the two best receivers in this draft class.  Both of them have made the list of top NFL fantasy sleepers. 
Last year's draft had Sammy Watkins and Mike Evans as the #1 and #2 ranked receivers in the draft class, but it was the Odell Beckham Jr (#3 ranked receiver) who actually stole the show, had the biggest fantasy football impact, and is even considered one of the top fantasy football keepers. Last year's results beg the question as to who might be one of this year's top fantasy sleeper picks. Who's the receiver that's flying under the radar who might have a huge fantasy impact?
It's hard to speculate which receiver that might be because a huge factor depends on which team that rookie gets drafted by. Based on ability, stats and potential, that player is DeVante Parker (Louisville). Parker missed the first seven games of the 2014 season with a broken foot but racked up at least 120 receiving yards in five of the six games he played in. Parker has decent size at nearly 6'3" and 208 pounds and ran a 4.45 40 at the combine. 
Based on ability and recent production, Parker could be this year's Odell Beckham Jr if he stays healthy and winds up on a team with a QB who can get the ball to him.