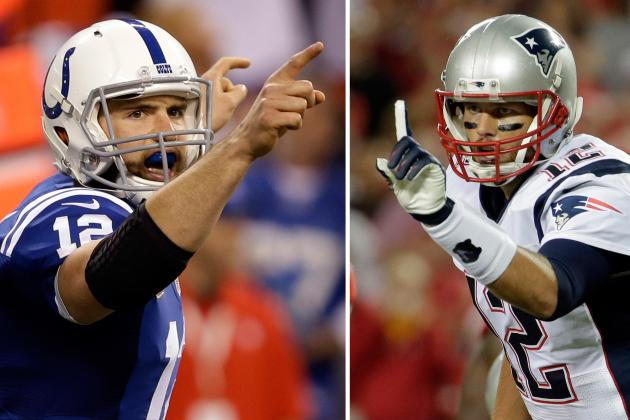 After upsetting the Denver Broncos, the Colts will look to do so again as they head to New England to take on the Patriots. The Pats were nearly beaten by a surging Ravens offense a week ago, and will be tested once again by Andrew Luck and his high-powered offensive attack.
The Patriots seem destined to make it to the Super Bowl once again and it's hard to see the young and inexperienced Luck getting in their way. The former number 1 overall pick has gone 0-3 against the Pats in his career, losing by a combined score of 144-66 in those contests. The two teams only met once this season, and the Colts lost 42-20 at home as Jonas Gray rushed for 214 yards and 4 TDs. Expect to see a similar outcome in the final score, but the means of scoring should differ greatly.
The Colts defense finished the season ranked 18th in allowing 113.4 rushing yards per game, and the Pats should be able to run them into the ground. Earlier in the season, Gray exploded in a breakout performance, but his role has been reduced significantly since that Week 11 meeting. LeGarrette Blount has begun to receive more of a workload, and should be able to find the end zone, in addition to around 50 rushing yards.
As for the passing game, Indy was more successful in giving up just 229.3 passing yards per game this season, ranking 12th in the category. However, Tom Brady's postseason experience should allow him to find success against this difficult opponent. Expect Brady to overcome this tough matchup through use of his TE Rob Gronkowski, as well as his lesser targets in Brandon LaFell, Julian Edelman and Danny Amendola. Gronk should be a lock for at least 10 targets, turning that into 90-100 yards and at least 1 touchdown. In addition to Gronk, hopefully Amendola can keep up his high level of play as he erupted for 81 yards and 2 TDs on 5 receptions in last week's victory. He should see plenty of action in slot routes across the middle, and secure at least a few catches for around 40-60 yards. QB Tom Brady should turn in another solid performance of at least 300 yards and 2-3 TDs in an easy win.
The toughest part for the Patriots will be limiting Andrew Luck and company, as their defense was not too good against the pass this season. New England finished the season ranked 17th in allowing 239.8 passing yards per contest, and they will really have to be on their game to slow down the Colts. Luck has solid targets in Reggie Wayne, T.Y. Hilton, Dwayne Allen, Hakeem Nicks, and former college teammate Coby Fleener at his disposal, and it will be more than difficult to shut them all down at once.
Luck has shown the ability to extend plays outside the pocket with his legs, so New England will have to be diligent in its approach to stopping them even after it seems as if the play is over. The Colts have been pretty successful in running the ball through use of tailback Boom Herron, and they will also have to try and limit his impact, as he gets it done when it counts. The Patriots ranked 9th this year in allowing 104.3 rushing yards per game, and should be able to limit his effectiveness. Expect Andrew Luck to have a solid game in terms of yards and touchdowns, but to also turn the ball over a couple times in a hostile Foxborough environment, against a well-experienced Patriots football team.