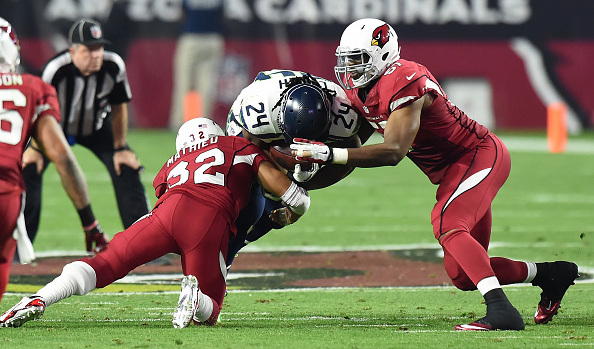 The 7-8-1 Carolina Panthers will be hosting the 11-5 Arizona Cardinals and the red-hot Panthers might be set to advance. The Cardinals have a laundry list of injured players, none more important currently than QB Drew Stanton. The Cardinals are down to their 3rd string quarterback, Ryan Lindley and he's likely to have a bad day against a resurgent Carolina defense.  Various fantasy football implications are in play!
With no strong running game in order due to Andre Ellington's absence (placed on injured reserve before their Week 14 contest), they will have no chance of doing any damage on offense. The only possible benefactor could be Cards wideout Michael Floyd, as he and Lindley have established good rapport, hooking up for 153 yards and 2 touchdowns in last week's loss to the 49ers.
However, for Carolina, expect coach Ron Rivera to allow Cam Newton, NFL fantasy stud, to run wild within the offense. The Arizona defense will probably be on the field most of the game because the Carolina defense is likely to force multiple 3 and outs against the Cardinals. With lead receiver Kelvin Benjamin healthy and prevalent in the offense, he should be seeing 7-10 targets, and put together a solid amount of receptions and receiving yards.
As a solid contrast to Cam Newton and company, running back Jonathan Stewart should also break off into a few long runs and cash in on some goal-line opportunities. Stewart has re-established himself as a powerful halfback with breakaway speed, and his confidence should carry him to another successful performance and a Panthers win.
As for the contest between Dallas and Detroit, the outcome is a little less certain. The high-powered Cowboys offense will prepare to host the stifling Lions defense, in what should be a very entertaining game.
In other NFL player news, Dallas's high-powered offense has succeeded throughout the season due to their three headed monster in QB Tony Romo, RB DeMarco Murray and WR Dez Bryant. Murray broke the franchise record by rushing for 1,845 rushing yards this season, but faces the tough task of the stout Lions rush defense. Detroit finished the season first in allowing 69.3 rushing yards per contest, and will have its hands full against the league's leading rusher in what should be a very tough battle. The Lions killed it against the run, but they were only slightly above average against the pass this season (ranking 13th in surrendering 231.6 passing yards per game), and Romo will exploit them as much as possible. Romo has not only Dez Bryant, but Terrance Williams, Jason Witten and Cole Beasley there to make big plays for him. Expect Bryant to come down with a touchdown, and Jason Witten should get some goal-line looks as well. Murray will struggle but his heavy workload and breakaway ability should lead to a solid performance on his end as well, especially once the Lions begin to overcompensate for Romo's dangerous passing offense.
Looking at the other half of the battle, the Lions offense will face the cupcake Cowboys defense, as they should be able to score some points with their high profile passing attack. QB Matthew Stafford has a pair of 1,000 yard wideouts in Golden Tate and Calvin Johnson, and both of them should be expected to see many passes thrown their way. The Cowboys finished 26th in allowing 251.9 passing yards per game, and Stafford should have fun picking on their lackluster secondary. A 100 yard performance should be in order for Megatron, and Golden Tate will look to do his damage on some short range catches. The Lions rushing attack will be led by starter Joique Bell, but don't expect too much from him. Coach Caldwell will most likely look to exploit the weakness in the weak Cowboys pass defense, limiting Bell's touches and ceiling. Despite Detroit's favorable match up with the Cowboys defense, Dallas should be able to overcome adversity and come out with a win. The Cowboys are simply too strong and too difficult to handle, even with a tough defense led by Ndamokung Suh and company.