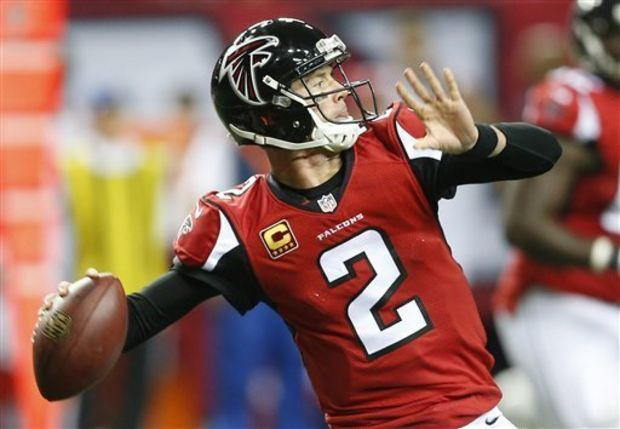 The hits just kept on coming last week as big name performers once again came up small in crunch time. Yes, I am looking at you Aaron Rodgers, Calvin Johnson and LeSean McCoy.
It's been a brutal fantasy playoffs season so far and if you are still standing (in most leagues) on championship weekend, you have certainly earned it. Or, at least you've made it this far without Peyton Manning producing.
Let's take a look at those players we feel will lead your team to that coveted league title.
START
Matt Ryan, ATLANTA at New Orleans: Ryan is on a roll having put up an average of 348 passing yards per game over the past three weeks with eight touchdowns and only three interceptions in that timespan. In the first meeting with New Orleans, he finished with 448 passing yards and three touchdowns. We like Ryan this week as a fantasy football start.
Matthew Stafford, DETROIT at Chicago: It was the Thanksgiving Day game against Chicago that started the streak Stafford is on. He's thrown six touchdowns with only one interception in his last three outings and will carve up a Chicago defense that appears to be mailing it in.
Tony Romo, DALLAS vs. Indianapolis: You give Romo a full week to prepare and a pain-killing injection and he has been lethal. Tossing out the Thanksgiving Day nightmare against Philadelphia when Romo couldn't even practice prior to the game, and he has thrown 13 touchdowns in his last four games. Trust Romo this week.
BENCH
Andy Dalton, CINCINNATI vs. Denver: The rollercoaster that is Dalton is on a downward spiral as he once again came up empty last week against Cleveland. He's managed to top 15 fantasy points in only three of his last nine games. The Denver defense has allowed merely four touchdown passes in the last three games while intercepting five passes in that stretch.
Ben Roethlisberger, PITTSBURGH at Kansas City: This is a tough matchup for Roethlisberger as Kansas City has allowed only five touchdowns in the last four games to quarterbacks. After back-to-back six touchdown games, Roethlisberger has totaled only seven touchdowns over the last five games. There are better matchups this week.
Eli Manning, NEW YORK GIANTS at St. Louis: Manning heads into a hornets nest in Week 16 after tearing up the hapless Washington defense. Few defenses are as hot as St. Louis, who has racked up 17 sacks and 10 turnovers in its last four games. Be thankful if you started Manning last week and be smart by benching him this week.
For the latest in fantasy sit start advice, keep reading ASL!