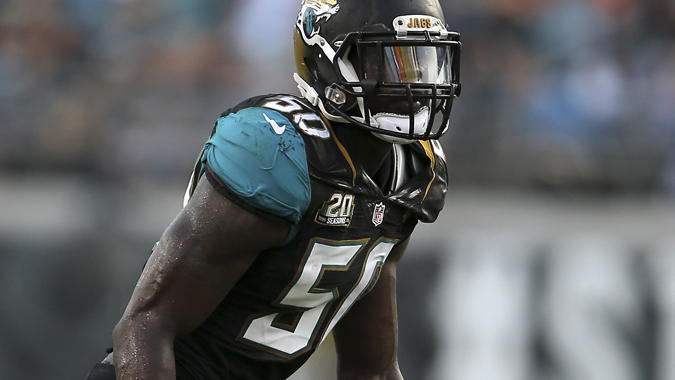 Fantasy Waiver Wire Pickups - 
LB Telvin Smith, Jacksonville - We mentioned Telvin as a deep sleeper several weeks ago, but a new wrinkle has developed. We scouted him as an excelled cover OLB, but had not seen as much from him as a heavy tackle-count type for a linebacker. For much of this game, Smith was one of two ILBs for the game. He played like a poor man's Mychal Kendricks—speed, aggression, leading to lots of action/output…and his numbers followed suit. During Week 12 against Indy, Smith posted 13 tackles—an NFL career high, and it's the most tackles he's had in a game looking back on his years at Florida State as well. Because of the Jags' excessive linebacker injuries and under-performance—Smith is getting more and more playing time. When you play defense for Jacksonville, you will see a lot of time on the field every week. If he starts playing more ILB, then he's going to be a 10+ tackle a game guy. 
Smith is a sensational athlete for a linebacker, a high 4.4s/low 4.5s runner who was fantastic as a coverage OLB in college. He really could be a terrific Safety as well as OLB. Smith is going to see the snaps, and it is starting to rack up Fantasy-IDP output: 8.0 tackles per game over his last three games. You like the tackle counts, but might also get PDs and picks with this talented cover guy. The only think we see that could derail this is if rookie IDP Jeremiah George comes back from his minor injury, and jumps back in as a main ILB. I'm not sure if that will happen now (George is a deep, deep IDP sleeper as well).
CB Desmond Trufant, Atlanta - We rated Desmond Trufant as the best CB prospect in the 2013 NFL Draft, and he has played decently in his two seasons for a young CB, but he might be really coming into his own of late. During his last two games, Trufant has picked off a pass in each contest and posted two PDs in each game as well. He's had at least one PD in seven-straight games, and at least one PD in all but one game this season. Trufant is a shutdown CB talent. He's one of the best, if not the best cover corner I've scouted coming out of college in the past couple of drafts. The IDP fear is teams start moving away from taking chances at him, but we don't think he's there yet. During Week 13, Trufant draws Drew Stanton, and an offense that will take a ton of shots down field—I love the odds that Trufant comes down with a third-straight game with an interception this week.
CB Darryl Morris, Houston - Morris saw more time in Week 12 due to the injury to Kareem Jackson, and he responded with 10 tackles and 3 PDs. He was pitted against A.J. Green a lot…and Green had a great game, but Morris made some nice plays as well…not bad for a UDFA, backup CB taking on an NFL elite wide receiver. They picked on him, and he was not bad. Morris was working his way into more playing time earlier this season, but he got nicked up and missed a few weeks. In the last two games where Morris has seen heavier playing time, he has 14 tackles (7.0 per game) 6 PDs (3.0 per game) and an interception. He gets FF-numbers because he will get picked on due to his inexperience/status. Morris is a tremendous athlete—he's a 4.3+ runner with terrific agility. He went undrafted out of Texas State in 2013, but caught on with San Francisco, and was making noise in training camp…eventually working his way up off the practice squad to the active roster as a rookie. He was released in a number's game, and scooped up by Houston—and is now working his way from unknown player to key DB. The longer Kareem Jackson is out, the more snaps Darryl Morris is apt to see…and FF-numbers he can give you in the short-term.
For the most comprehensive analysis on fantasy pickups, stay tuned to ASL all season long!