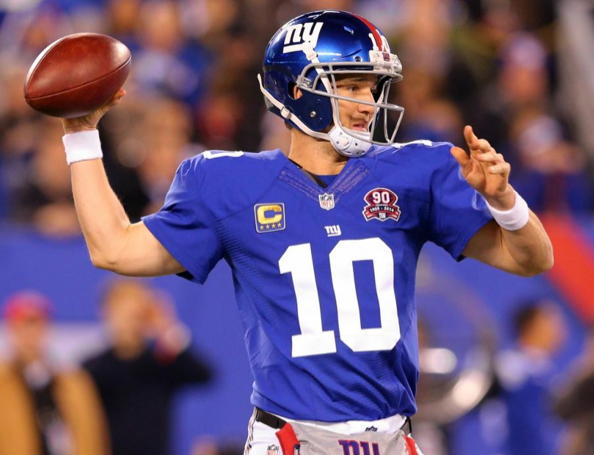 Sit
1. QB Eli Manning, NYG:
The Seattle Seahawks do not have the same rugged defense they had a year ago, but the team still allows only 221.9 yards per game through the air (ranking 6th in the category). This spells trouble for quarterback Eli Manning and his mediocre receiving corps who travel to Seattle for a Week 10 showdown. Manning is coming off a performance that looked much better on paper than it did in reality. He struggled to get anything going until garbage time came around, but finished with a line of 27 completions for 359 yards and 2 touchdowns. His wide receivers didn't help much, as Preston Parker had 3 drops and Reuben Randle dropped an important one on third-down. The combination of poor wideout production and one of the most hostile environments in the NFL makes Manning an ill-advised play for Week 10.
2. RB Lamar Miller, MIA:
Lamar Miller is listed as questionable for Sunday's road game against the Detroit. The Lions rush defense has been superb, ranking second in the league surrendering just 74 rushing yards per game. Miller is dealing with a sprained joint in his shoulder, but it appears as though he will be able to suit up for Sunday. Miller is playing well as of late, finding the end zone 5 times in his last 5 contests, but expect him to struggle heavily against the athletic Lions defense. Consider Lamar Miller a weak RB3 at best and find an alternative if possible.
3. WR Sammy Watkins, BUF:
Watkins is dealing with a lingering groin injury that could definitely keep him out of Sunday's matchup with the Chiefs. He hasn't been able to practice yet, so it seems more and more likely that they will hold him out. If by some chance he can suit up, he has a very tough opponent to deal with. Kansas City ranks first in allowing 199.4 passing yards per game and will key in on Watkins if he takes the field. The rest of Buffalo's targets are less than impressive (Robert Woods, Mike Williams, Scott Chandler), which will almost guarantee double coverage in the rookie's direction. Consider Watkins a risky WR3 even if he can play, but he's more than likely to sit this one out.
Start
1. WR Calvin Johnson, DET:
Megatron is ready to come back for Week 11, as Detroit's bye week allowed him to fully recuperate from multiple injuries (knee, ankle). Calvin Johnson has not played since leaving early during Week 5 and has not had a monster game since Week 1 (7-164-2). Johnson and his fantasy owners are hoping this will finally be his coming out party even though it's against a very impressive Dolphins defense. The veteran wideout will square off against a stout Miami defense that allows 201.1 passing yards per contest. However, couple his ability with the emergence of fellow receiver Golden Tate and the Miami defense could be in for a long day. Consider Megatron a top 10 wide receiver fantasy football start this week.
2. WR Martavis Bryant, PIT:
Martavis Bryant has been spectacular in only 3 weeks of play, catching 10 passes for 167 yards and 5 touchdowns. He has most certainly benefited from Big Ben's magnificent play as of late, but he may have secured a pivotal role in the passing game. The 6'4" rookie from Clemson has proved to be a solid target and is close to unseating Markus Wheaton as the wide receiver to start opposite Antonio Brown. Bryant's value is dependent upon his ability to get into the end zone, and the Jets defense should allow him to do just that. The New York Jets are 31st in the league in allowing 28 points per game. Expect Bryant to find the end zone and use him as a WR2 with upside for Sunday.
3. RB Ronnie Hillman, DEN:
Even with the possible return of Montee Ball, Hillman's workload will not diminish, as he has earned the starting spot in Denver's backfield. Hillman has been stellar as of late, rushing for 299 yards and 3 touchdowns (plus 1 receiving TD) in Denver's last 4 contests. The Broncos match up with the Raiders which should make it very easy for Hillman to maintain his 4.3 yards per carry, as the Raiders rank 27th in giving up 132.5 rushing yards per game. The Broncos will likely blowout the Raiders very early, causing them to run it out for the rest of the game. Consider Hillman a solid RB2 with upside for Week 10.
Stay tuned to ASL for the best fantasy sit start guidance.