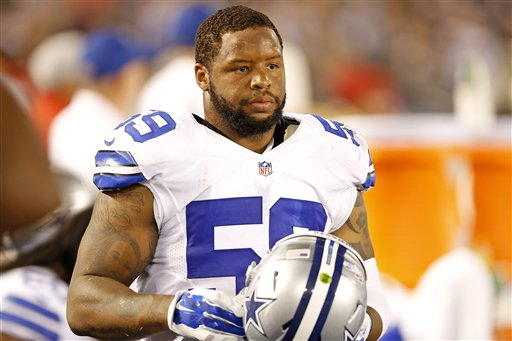 Fantasy Waiver Wire Pickups -
LB Anthony Hitchens, Dallas
With all the injuries the Cowboys have suffered at linebacker, rookie Anthony Hitchens was installed as a starting OLB/LB in Week-9, and accounted for himself well (again). In Week-3, Hitchens had 13 tackles in his other extended play of the 2014 season. This week, he led all Cowboys in tackles with eight. He also had a TFL and a QB Hit accredited as well. Watching him on tape in this game, I liked what I saw: Hitchens is quick to make decisions, and finds alleys to slice through the middle to deliver solid hits to ball carriers. He's aggressive and agile.
In college, at Iowa, Hitchens had back-to-back 100+ tackle seasons in 2012 and 2013. He led the Big Ten in total tackles in 2012. He went on to be a 4th-round pick by Dallas this season. He measured with average speed (4.7+) and agility at the NFL Combine. He's not an all-world athlete, but he's instinctive and energetic. Whatever he is, he's going to start for Dallas from here on in...so he should give you some respectable numbers as needed.
LB Jeremiah George, Jacksonville
Heading into Week-8, we penned this nugget: Now, this is a deep-sleeper IDP...
Originally drafted by the NY Jets in the 5th-round this season, LB Jeremiah George was eventually released to add WR Walt Powell (the single stupidest WR-related personnel decision by the Jets in 2014...not Percy Harvin). Our computer scouting models 'liked' George, but I 'loved' what I saw on tape in college and in the preseason. George was created to be a Middle Linebacker. He plays 150% at all times, and has an excellent ability to slice through traffic and blow up a RB or WR coming out of the backfield.
During 2013 with Iowa State, George was 1st in the Big-12 in total tackles and 10th in the nation with 133 tackles in 12 games (11.1 per game). Consider, George had just two tackles opening day 2013 against Northern Iowa…which means he averaged 11.9 tackles per game against his D1 schedule last college season.
The Jaguars stud ILB Paul Posluszny was lost for the season last week, and journeyman/backup LB J.T. Thomas is projected to start in place of Posluszny, and he's OK, but George is better (we feel). I assume George will be active this week, and if he gets in on some plays...there may be no turning back.
He's either a 'watch list' guy, or Dynasty deep-sleeper stash to see what unfolds.
Jeremiah George was a surprise start at Middle Linebacker for Jacksonville in Week-9, and made some nice plays right away...and then tweaked his ankle in the 2nd-quarter, and did not return. His numbers, you ask? Three tackles (one for a loss)...in only 10 defensive snaps played.
I'm telling you he's going to be a double-digit tackle threat for IDP and the Jaguars if he stays healthy. He's still hidden because he didn't get to play all the way through his debut as a starter. Once he does get a full/healthy start, and has 10-12+ tackles in a game...it will be a mad dash for him on a waiver wire. Be ahead of the curve, but check his ankle status for this week first (it's been quiet on it so far). 
LB Lamin Barrow, Denver
The Broncos have been fighting defensive injuries at the Linebacker position like the aforementioned Cowboys and Jags. The latest is Nate Irving lost for the season after the Patriots game. Everyone thought Barrow would be named starter this week, but Steven Johnson has been named by the team as taking over for Irvin...for now.
Barrow was a 5th-round pick this year for the Broncos, and is more of a true OLB prospect...he's a more a speed/agility player than power linebacker: Very good in coverage, and an 'OK' tackler. Some think the Broncos are trying to groom him as an ILB, which is even more interesting. He's quick (4.6+ speed), but needs to keep bulking up to play the middle (6'1"+, 237 at the NFL Combine).
Barrow has only played limited snaps so far this year, but will now start seeing more time...and if he plays well, he could steal that starting OLB job. He is definitely one to watch during the next few games.
Keep reading ASL for the most comprehensive info about fantasy pickups!