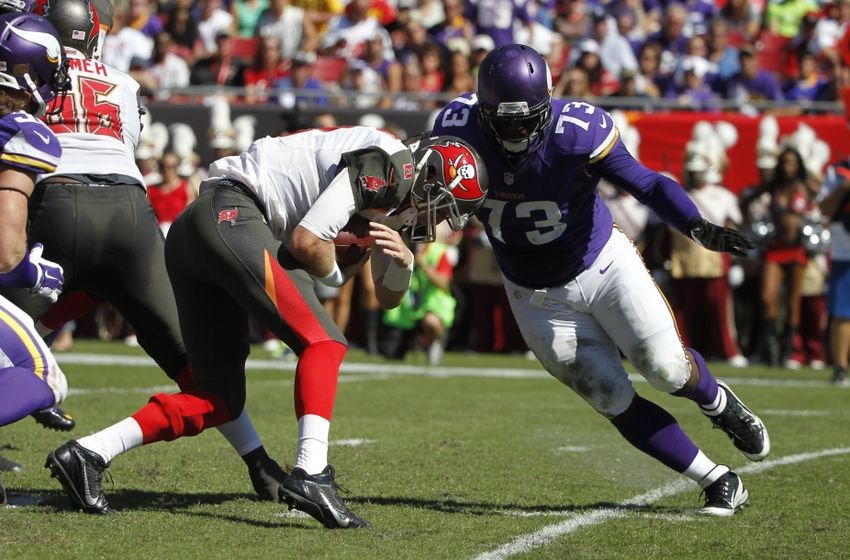 Fantasy Waiver Wire Pickups -
DL Sharrif Floyd, Minnesota (Not currently ranked in Fantasy Pros Top-50 DLs for Week-9)
At one time, Sharrif Floyd was mock drafted as the #1 overall pick in the 2013 NFL Draft. He faded soon after, and wound up as a #23 overall pick for Minnesota. He struggled in 2013, and was barely noticed. Floyd started slowly this year, but is coming on of late.
Weeks 1-6: 1.8 tackles, 0.17 sacks per game
Weeks 7-8: 6.5 tackles, 1.00 sacks per game
Floyd may finally be 'getting it' working with defensive guru head coach Mike Zimmer. His development is one to watch, but he may have already 'arrived', and yet is still a little under-the-radar.  If he is available, Floyd is one of the better fantasy pickups around.
 
LB Telvin Smith, Jacksonville (Not currently ranked in Fantasy Pros Top-50 LBs for Week-9)
This is a defensive 'snaps' story, as much as it is a talent alert...
39 (66% of all defensive plays) = Snap Count Week-8
38 (51%) = Snap Count Week-7
14 (24%) = Snap Count Week-6
39 (51%) = Snap Count Week-5
19 (30%) = Snap Count Week-4
23 (31%) = Snap Count Week-3
Smith was a 5th-round draft pick for the Jags in 2014, a star at Florida State, who we scouted as one of the best coverage linebackers in this draft...a quasi-Safety/OLB (6'3, 218). Smith has impressive measurables as a 4.5+ runner with above-average agility for an OLB. He picked off three passes last season and returned two for TD for the National Champion Seminoles. He's the kind of OLB that can lead all linebackers in interceptions...an OLB with speed and great coverage instincts.
He's a so-so tackler, but his speeds lends itself to getting to action to compile 'OK' tackle counts (83 tackles last season in 14 games at FSU). He can be used as a surprise OLB blitzer in a 4-3, and could grab 2-3-4 sacks in a season surrounded by the right environment. If your scoring system favors interceptions, fumble recoveries, and defensive TDs...Telvin Smith is one to have on the radar if he begins to play most/all defensive snaps for the Jags. Things seem to be shifting his way.
 
DB Deone Bucannon, Arizona (Not currently ranked in Fantasy Pros Top-50 DBs for Week-9)
In our College Football Metrics' draft studies for 2014, our computer scouting models felt Deone Bucannon was a top-10 best overall player in the draft, and a future Pro Bowler. No Safety prospect tackles like Deone Bucannon from the 2014 class, or 2013, or I'm not sure I've ever seen a better tackler/hitter than Bucannon. 
He is a vicious striker, and nearly sure to bring down the ball carrier on every hit. Not only does he crush runners like a linebacker, but he has 4.4+ speed, and is very good in coverage. He is an every-down Strong Safety waiting to happen, and has been playing a lot of de facto linebacker for Arizona this season...playing about 70%+ of the defensive snaps, and playing more than Tyrann Mattieu.
Tony Jefferson has started, and played a lot of snaps for Arizona this year, but he got concussed against Philly...as did Patrick Peterson. By default, Bucannon may play the entire game for the Cardinals this week. If he does, watch out for 10+ tackles against Dallas...the first of many to come for Bucannon.
-- R.C. Fischer is an NFL Draft analyst for College Football Metrics.com, and a football projections analyst for Fantasy Football Metrics.com. His group also provides player projections for Advanced Sports Logic's football software "The Machine."