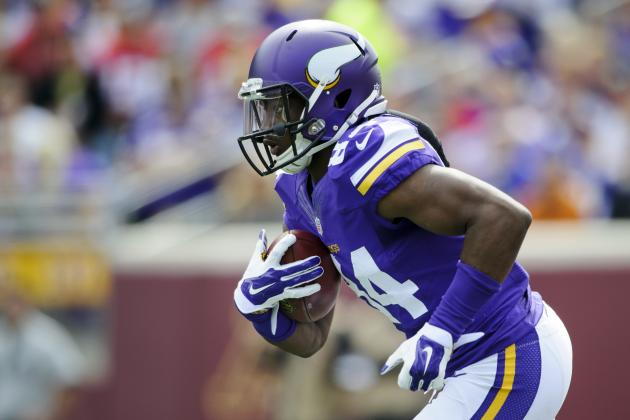 Fantasy Focus - 
Welcome to the fantasy football mid-season point. Week 7 is the last game of the first half of the NFL fantasy season. You should now focus your attention on making a playoff run. In some leagues, playoffs begin in Week 13 meaning you have 6 games after this week to punch your ticket. If you are 3-3 or 2-4 through this point, don't give up on the season just yet. Teams with these records are still in contention to make the playoffs. In Shark leagues the #6 seeded teams average record was 7-6. Some teams were able to sneak in with a 6-7 record. The way this fantasy season has looked you can win 3 or 4 more games and still get into the season. If you had a bad draft, you can revamp your team with waiver pickups and trades. For instance this week, you could have a roster of Brian Hoyer , Justin Forsett , Ronnie Hillman , Branden Oliver, Andre Holmes and Eddie Royal .

The first thing you need to do for the coming weeks is to cut bait on under-performing players, suspended players and unneeded backups. By now some of us have gone through some bye week adjustments. If your defense, kicker or tight end have already had bye weeks then it might be time to drop your backups for these. If you still haven't had a bye week, make sure to gear up for weeks 9,10 and 11 when there is a good amount of teams on a bye.
For players that are suspended such as Adrian Peterson or Ray Rice (guys who have been all over NFL player news), owners are still holding on to these players.  Peterson is still held in 68% of leagues and started in 12%. For Rice, he is owned in about 20% of leagues and started in 9%. Not sure how many of those leagues include draft only leagues or leagues that drafted then moved to another site. The point is these guys are not going to play this season and unless you are in a keeper or dynasty league, they should be dropped.

Under-performing players are the hardest for some owners to let go of. A player such as Cordarrelle Patterson who was drafted in the 5th round might be hard to drop. However, Patterson is owned in 84% of leagues and started in 19% and is averaging 8.3 fantasy points on the season ranking 52nd among wide receivers. He is averaging just 3 fantasy points over the past 3 weeks.

Another player you have to cut from your roster is Chris Johnson . CJ200YD has been a non-factor this season. He did post 21 fantasy points in Week 1 and scored in Week 4 but after last week when he had 3 carries for 9 yards it might be time to rid yourself of this dud. Unless you own Chris Ivory and are holding on to Johnson as a handcuff, there is no reason to justify his 69% ownership with 19% starting percentage.

Injured players should be removed from your roster if they are out for the rest of the season. Even players such as Montee Ball and maybe even Darren Sproles may be dropped in 8-10 team leagues. Players such as Victor Cruz , Marvin Jones , Knowshon Moreno should be dropped. Cruz is still being held on 48% of rosters.

The Golden Mug Award
Awarded to the fantasy players who came through for their team.

Matt Forte - 17 carries for 80 yards and 2 touchdowns, 10 receptions for 70 yards. Finally! Forte owners rejoice that he finally scored a rushing touchdown. He had scored in just 1 game over the past 13 games he's played. His next 5 games are against teams that defend the pass better than the run including a rematch with the Packers whom he put up 25 fantasy points against.

Cam Newton - 284 passing yards 2 touchdowns 1 interception, 17 carries for 107 yards and 1 touchdown. Newton finally rushed for a touchdown this season and looks healthy enough to get more this season. His rushing touchdown total has declined each season since his rookie year.   

T.Y. Hilton - 9 receptions for 223 yards and 1 touchdown. Hilton has been on fire and he finally reached the end zone this week. Hilton's fantasy points have increased every week this season. It might be hard for him to repeat last week's performance but the Bengals defense is ranked outside the top 20. Look for Hilton will have another big game.     

The Urinal Cake Award
Awarded to the fantasy players who you would like to, well you know.

C.J. Spiller - 6 carries for 19 yards. Spiller is a prime candidate for hitting the waiver wire. He has just 1 touchdown in his last 16 games played. Last year it was blamed on an injury. This season the staff just doesn't trust him for whatever reason. The only reason to hold on to him is for insurance if you own Fred Jackson .

Brian Quick -  1 reception 10 yards. After a big Week 3 and 5 Quick looked to be the go-to guy in St. Louis. He was pretty much shut down for most of the game seeing just 4 targets. He will have to rebound against a Seahawks team that played poorly at home last week.

Matthew Stafford - 185 passing yards 1 touchdown. Is Stafford that bad without Calvin Johnson to throw to? Last week Stafford finished outside the top 25 at quarterback and has just 1 game over 20 fantasy points since Week 1. We'll see if he can rebound against two upcoming opponents that have played poorly on defense in the Saints and Falcons.     

MATCHUPS

Good quarterback matchups this week:

Matt Ryan against the Ravens. Ryan has had back-to-back games with less than 20 fantasy points throwing just 1 touchdown and 1 pick in both games. This week he gets back to throwing 3+ touchdowns as the Falcons try to get back into the win column. The Ravens offense exploded last week but their defense still ranks 27th in the NFL averaging 270.5 passing yards allowed per game, with six passing scores given up.

Joe Flacco against the Falcons. On the other side of the field Flacco will do well in this shootout. Last week's 5 touchdowns might be a fluke but against this Falcons defense 3 touchdowns isn't out of the question. The Falcons defense is 29th in the NFL allowing 278.8 passing yards per game with 6 touchdowns allowed.

Sleeper Pick of the Week: Derek Carr against the Cardinals. Carr is a good streaming QB option. Especially if you have QB issues with guys such as Jake Locker and Alex Smith or have Nick Foles off on a bye week. Carr posted his best game as a pro throwing 4 touchdowns last week. The Cardinals are a banged up defense and are 32nd in the NFL allowing 309 passing yards per game, with 10 passing scores given up.

Good running back matchups this week:

Andre Ellington against the Raiders. Ellington is still due for a big rushing day. He normally rushes for 40-60 yards and does most of his damage on passing plays but he can rush the ball at times. He had a game last season where he racked up 154 yards on the ground against the Falcons. This week he faces the Raiders who are 31st in the NFL allowing 149.8 yards with 5 touchdowns. He could finish with 200 total yards on the day.

Ben Tate against the Jaguars. It appears that the Browns are looking to score on the ground when in the red zone as they are running 66% of the time. Jacksonville is 19th in the league allowing 117.2 rushing yards per game with 5 touchdowns. They have allowed opponents to score on 50% of red zone trips at home. Tate is averaging 20.5 fantasy points over the past two weeks.

Sleeper Pick of the Week: Reggie Bush against the Saints. It's this week's revenge game. This will be the first time Bush will face his former team. He was held out last week and should play. The Saints have been awful on defense this season are allowing 28.2 points per game. They are allowing 112.0 rushing yards per game with 5 touchdowns. They are giving up 19 fantasy points to running backs per game.
Bad quarterback matchups this week:

Drew Brees against the Lions. Who thought going into this season that Brees would be outside the top 15 among quarterbacks through 6 games. Jimmy Graham looks unlikely to play but they do get Mark Ingram back in the mix. The Lions are ranked #1 in pass defense in the NFL allowing 197.2 passing yards per game with 5 touchdowns given up and 7 interceptions. They lead the league with 20 sacks. Unless you have a better matchup option on your bench you will likely roll the dice that Brees can rise up to the challenge and play well. Look for Marques Colston to benefit if Brees plays well.

Cam Newton against the Packers. Last week, Newton put the team on his back and almost pulled out a win if his receiver could have held on to a touchdown throw. This week he could be without Kelvin Benjamin who is dealing with concussion issues. That will allow the Packers to focus on stopping Greg Olsen. The Packers are 5th in the NFL allowing 213.5 passing yards per game with 7 touchdowns allowed and 9 interceptions. They have 13 sacks on the season.

Teddy Bridgewater against the Bills. You have to wonder if Bridgewater was rushed back from his injury as he wasn't prepared last week to play, throwing 3 interceptions. This week he faces a Bills team that has been getting to the quarterback with 19 sacks on the season. Minnesota is 31st in the NFL with 22 sacks allowed. Sometimes you have to look at other stats that might be a big factor in production. For instance, the Bills are #1 in run defense which will limit the Vikings run game forcing Bridgewater to throw.

Bad running back matchups this week:
Zac Stacy against the Seahawks. Last week we saw Stacy starting to split time at running back with Tre Mason and Benny Cunningham . We could see another situation where Stacy touches the ball less than 10 times. The Seahawks, who lost last week, will need to come out strong against the Rams. The Legion of Boom has been a legion of bust and don't scare teams right now. The Seahawks are allowing just 82.2 rushing yards per game with only 2 touchdowns on the ground. They are holding opposing running backs to 12.8 fantasy points per game.

Frank Gore against the Broncos. Gore was held to 38 yards rushing last week and has only 1 rushing touchdown in 6 games. This game is expected to be high scoring which means the 49ers will need to pass more. The
Broncos defense is holding running backs to 76.8 rushing yards per game (4th) with 5 touchdowns.
Darren McFadden against the Cardinals. When you have a losing record in fantasy and you are trying to find someone to produce, you can be misled by McFadden's 80 yards last week. He is averaging 13 fantasy points over the past 4 games so that would be the best case in a good matchup. This is a bad matchup against a Cardinals run defense allowing just 75.8 rushing yards per game (3rd) with 3 touchdowns allowed. The Raiders best option is through the air in this game.