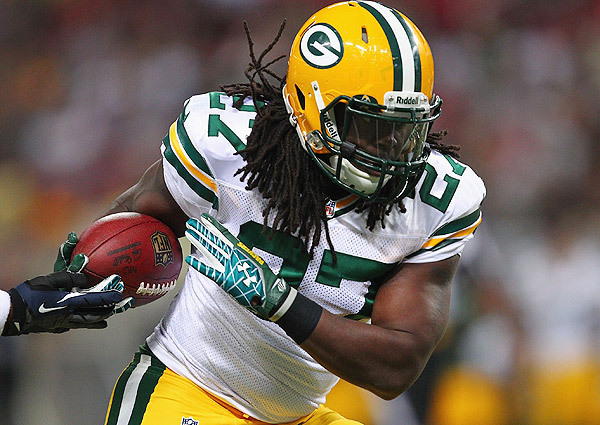 When looking for fantasy sleeper picks, sometimes you do the best you can in fantasy football and you still fall short. Last season in my smaller experts' league (by smaller I mean 24-man rosters) I led the league in scoring during the regular season and lost in the first round of the playoffs. So, not being happy with that outcome, I set out to make some changes for the 2014 season.
The first big deal I made was back in May when it was announced the Josh Gordon had failed another drug test. I probably could have gotten him for less, but my exuberance got the best of me and I dealt Calvin Johnson (a member of the list of best fantasy football keepers) for Gordon and pick 1.11. At the time, I took some heat for that deal, but I'm very please the way things have turned out.
I attempted to deal Eddie Lacy and Montee Ball throughout the offseason but nobody was willing to part with a 1st round pick (I would have asked for more, but their 1st rounder would have been a must) so I just held on and wound up dealing both prior to the start of Week 5 last week.
I dealt Eddie Lacy last Thursday and received Travis Kelce and a 1st round pick in return. Lacy proceeded to go out and put up some monster numbers that night. I'm not totally sure that he'll be able to remain healthy given his violent style of running and so far this season in 5 games he's produced against the weaker teams and been stymied by the tougher teams. Bottom line, I wasn't happy with Lacy and decided to move on.
As was the same with Montee Ball, whom I dealt Sunday morning. The negotiation was a lot harder and I also gave up Andre Williams (one of the better NFL fantasy sleepers) in exhcange for Isaiah Crowell and a 1st round draft pick. I now have both Terrance West and Crowell, so I should be set once Ben Tate moves on which should be no later than after the 2015 season. I didn't want to give up Williams, but given that I think Crowell has a higher upside than Williams and that I couldn't have even gotten a 1st rounder for Ball back before the rookie draft, I'm pleased.
Obviously, I didn't consult The Machine on either of these deals as these were deals done from emotion and gut and definitely lowered my team's chance of winning. But I'm not looking to play it safe, I'm swinging for the fences. As I did in the Megatron-for-Gordon deal back in May, and I think that's now looking like a pretty good deal for me.
Speaking of The Machine, if you haven't had your team rated, now's the time to do it while they're still offering that service for FREE! Just click here for your free team analysis.  Find out what fantasy players are trending in the NFL.
Now, in the experts' league in which I'm attempting to 3-peat I don't think that my team could be playing much better as I lead the league in scoring. But, if the post-season were to start today I'd be on the outside looking in as I currently have a record of 2-3. Last week's loss was due to a mistake on my part. I realized 5 minutes before the Thursday night game (our fist-come, first-serve waiver wire closes with the start of the Thursday night game) that Vontaze Burfict was not going to play in Week 5 so I picked up LB Gerald Hodges of the Vikings and was about to put him into my lineup when my daughter asked if I could help her with her math homework. So, in my attempt to not put fantasy football over my child's education, I answered her question and then turned back to change my lineup....but it was too late. The Vikings/Packers game had already started and Hodges' 7.5 points would be left on my bench and I'd have to take the a zero from Burfict. As it turned out, I would lose by 5 points, 212 to 207. Just another reason to not like math.
Depending on your team needs and roster size, here this weeks...
Stashes of the Week
Brian Tyms, WR, New England - Was rated the top WR in the preseason by PFF and was kept around during his 4-game suspension and was added to the roster at the expense of Kenbrell Thompkins. Get him before he plays a game as he could blowup at any time and be next week's Tim Wright.
Trey Watts, RB, STL - He ran a slow 40-yard dash, 4.78. He's third on the depth chart behind Zac Stacy and Benny Cunningham. But Watts has great bloodlines as his father, J.C., was a starting QB at Oklahoma. With Zac Stacy yet to practice this week, and a Monday night date with the 49ers, Watts has a good chance to get a handful of touches and I'd rather roster him now than do battle on the waiver wire next week. And, if he doesn't see the field or disappoints, I'm free to cut him loose for someone new next week.
Jim Bukowski is Content Manager/Senior Editor/Writer for FantasySharks.com and is a member of the Fantasy Sports Writers Association. He can be reached at This email address is being protected from spambots. You need JavaScript enabled to view it.  and you can also follow him on Twitter at @fantasyshark .