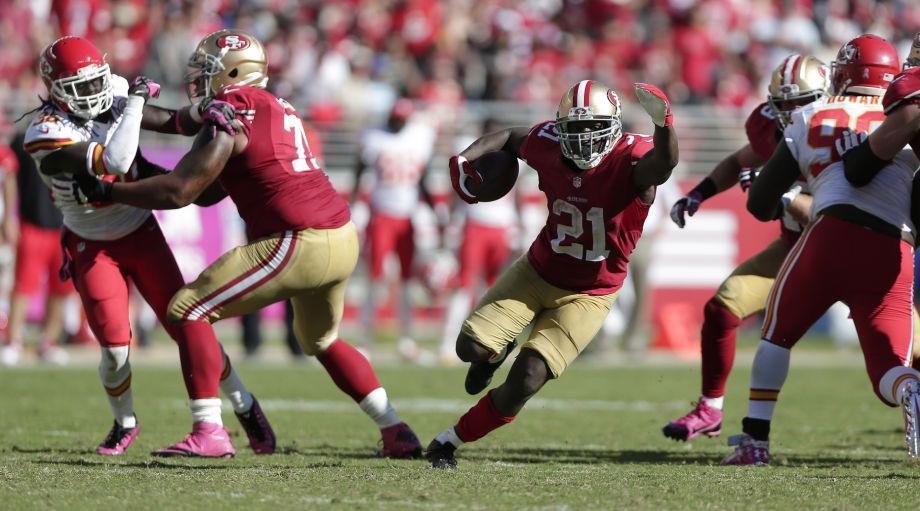 Fantasy Sit Start - 
What once looked like a potential division war, pitting an always strong 49ers squad against a hungry and up-and-coming Rams team, now seems less appetizing. Although the 49ers have regained their form to an extent, the Rams are sputtering. With major injuries on both sides of the ball and poor play, this team now looks like a potential candidate for a top 5 pick in the draft.

However, if you have fantasy players on either team, you don't care whether this is supposed to be a good game or not. You just care about your players winning you the matchup this week.

But what if there are options?

Take a look at our Sit/Start report for Monday night's San Francisco vs. St. Louis game for guidance.

MUST STARTS

Frank Gore, RB, San Francisco

Three weeks ago after a loss to the Arizona Cardinals, there was turmoil in the 49ers locker room. Much blame passed between players and coaches, including Gore, who was none too happy about his lack of touches. His stat line that Sunday read 6 carries for 10 yards.

Well, it appears someone listened to Gore after the Cardinals game. He's averaged 113 yards per game the last two weeks, and while he hasn't found the endzone, the 49ers getting back to their running game roots is paying dividends for everyone.

Expect Gore to have a big night against a once tough, but now sorry, Rams running defense. They rank 29th in the league, surrendering 152.5 yards per game on the ground.  He is an absolute fantasy football start this week.

Anquan Boldin, WR, San Francisco

I'd love to be able to give you a Rams player to start in this game, but in good conscience, I can't do that. There's a good chance for any number of St. Louis players to lay an egg, and while one player may have a decent game, who knows who it might be?

Furthermore, San Francisco's defense has been laying the wood to teams lately. They didn't give up an offensive point against Philadelphia, and they rank 4th and 5th against the pass and run, respectively.

Hence, I give you Colin Kaepernick's most reliable target.

Boldin has yet to put up a TD this season, but he is still on pace for nearly a thousand yards receiving. He will rarely, if ever, let you down should you need a solid 6-10 point performance.

MUST SITS

Zac Stacy, RB, St. Louis

For reason number one, see above. That is, the 49ers defense.

Stacy is prone to an occasional solid running effort. One of those efforts is not to come against the 49ers on Monday night.

While a back such as Jamaal Charles can churn out 80 yards (but without a score) against San Francisco's D, Stacy cannot. Many fantasy owners have seen the promise of Zac Stacy in recent years, and it's never fully come to fruition.

This season, Stacy's best game was a 71 yard effort against Tampa Bay in week 2, which included his only touchdown of the year. Don't rely on him if you need a last second spark.

Michael Crabtree, WR, St. Louis

While Anquan Boldin is a steady force for Kaepernick and the 49ers, Crabtree can easily standout out as exceptional or pathetic. He can always be counted on to be a Boom or Bust player from week to week.

For example, during Week 3 against the Cardinals, he had 10 catches for 80 yards and a touchdown. In other words, a great day for a fantasy owner who started him. However, last week's 16 yards on 1 catch for no scores is also on the table. That would be classified as a devastating stat line for owners.

Plus, for all of the trouble St. Louis has had against the run, they've been great against the pass. In fact, they rank 1st in yards per game against air traffic. And, when push comes to shove for Kaepernick on 3rd down and he needs to go to the air, look for him to eye Boldin, not Crabtree, on Monday night.