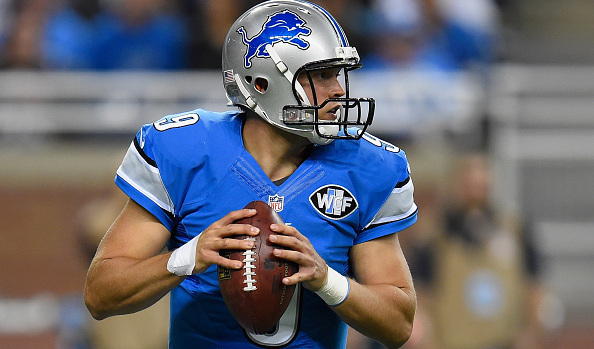 Fantasy Sit Start -
Carolina at Cincinnati – Andy Dalton
Football can be an extremely frustrating game. Something as small as an injured toe can set off a sequence of events that starts off small and ends up in catastrophe. A.J. Green's toe may be the fluttering wings of a butterfly igniting the butterfly effect. The latest reports indicate that Green left practice on a cart and the team is now concerned that it is much more serious than initially thought. That's not only awful news for Green owners, but Dalton owners should be extremely alarmed as well. Green is what makes the Cincinnati engine go. It doesn't take a rocket scientist to see that Green is what makes Dalton a quality fantasy quarterback. Without Green, he loses his best downfield threat, his best red zone target, and his most trusted "toss up a prayer" receiver. Can Dalton still post quality numbers with a limited Green? What if Green misses a few weeks? We'll soon find out if all of Dalton's value is contributed to the elite play of Green.
Detroit at Minnesota – Matthew Stafford
Speaking of losing your best receiver and having the wheels fall off, Stafford could be in for a huge value hit. It has now been confirmed that Calvin Johnson is in fact playing with a high ankle sprain and he's rumored to be shut down for a week or two to rest up. Even with an extra two weeks of rest, a high ankle sprain is a deadly blow to a wide receiver's season. Fellow receivers like Andre Johnson and Roddy White have gone from elite to a shell of themselves for an entire season thanks to the dreaded high ankle sprain. Now it's Johnson's turn to hobble around the field trying to gut out games. Even before the news of the sprain, the Detroit Lions and Stafford have not resembled their rock-and-roll selves from 2013. They are having trouble moving the ball against weaker opponents in the same manner that they could last season. Much like Andy Dalton, we're most likely going to get a good look here to see how dependent Stafford is on Johnson to get his numbers.
Denver at New York Jets – Ronnie Hillman
People seemed more excited to put a waiver on Cleveland's Isaiah Crowell at the beginning of the season than they are to scoop up Hillman in Week 6. Does anyone else see something incredibly backwards with that thinking? With Peyton Manning leading the charge, a Broncos' running back faces less pressure in the box than any other running back in football. That means they don't have to be special to put up great numbers, as evidenced by Knowshon Moreno in 2013. That being said, Montee Ball just could not find a groove this season before suffering a groin injury last week. Even before the injury, when he was on the sideline and Hillman was on in relief, he just seemed to be a better fit. If Hillman comes out with a bang he may not give up the starter's job for the rest of the season. He could play the Moreno role as the all-around back here in 2014 which would be waiver wire fantasy gold. If he is continuously stuffed at the line, can't pass block and can't reel in easy first down passes, he could be passed by C.J. Anderson and then again by Ball upon his return. Hillman has the most value, both short and long term, on the line than other player in Week 6.
Baltimore at Tampa Bay – Vincent Jackson
All Jackson needs is a mediocre quarterback to produce monster numbers. Since his return as the starter, Mike Glennon has proven to be better than mediocre and thusly Jackson has returned to elite form. But can Glennon keep Jackson going at this level consistently to help him regain his top-10 fantasy wide receiver status? Last week was no joke, as Jackson looked the most like his old self than he has in a long time. If they can keep this up it would be difficult to rank nine receivers ahead of him. Especially given the fact that fellow receivers like Andre Johnson , Calvin Johnson and A.J. Green are all in flux with injury concerns. At this point, Jackson has a very strong chance of finishing within the top 10 fantasy receivers and in doing so earning a much higher ranking for next season.
San Diego at Oakland – Branden Oliver
For a second there, it seemed as though the San Diego Chargers had brought back Darren Sproles . Oliver was running hard and catching everything thrown his way and found the end zone every chance he got. With all the injuries suffered by the Chargers' running backs, there is a ton of carries and catches up for grabs. So much so that even Ronnie Brown figures to see some game day action. Ryan Mathews figures to be the lead dog again when he returns from injury, but the role of Danny Woodhead is wide open. Oliver could be a points per reception steal at the RB2 or flex spot if he can continue to carve out a role in this offense. Philip Rivers loves to thrown the ball underneath over the middle and Oliver could turn those passes into huge plays.
New York Giants at Philadelphia – Andre Williams/Odell Beckham Jr.
The future is now for the Giants as two rookies will line up in starters' roles in Week 6. Beckham Jr. finally worked his way back from injury and showcased himself as a very talented, physically gifted wideout. Don't look now, but Eli Manning has two very big red zone threats in Larry Donnell and Beckham Jr. with two very shifty underneath men in Rueben Randle and Victor Cruz . This offense could take yet another step forward but still leans heavily on the production from the other starting rookie, Williams. Rashad Jennings is what was fueling the Giants offense. The running game was opening up the passing game by staying consistent. If Williams starts tap dancing behind the line and not hitting the gaps, the Giants game plan could go right down the toilet. The rookie runner needs to lower his pads and run with authority, using his size to pancake linebackers on his way into the secondary. If not, Manning will be forced to throw more with the defense staying back which is a bad thing for a quarterback who almost broke the 30 interception mark in one season.
San Francisco at St. Louis – Colin Kaepernick– Question Mark of the Week
When is Kaepernick going to take the next step? For two seasons we've been waiting for the big bang and we're still left wanting? How much longer will we patiently wait for him to grow into an elite QB1? Over the past two weeks, Phil Dawson has been the most outstanding fantasy option out of San Francisco. Please be sure to rinse your mouth out when you're done puking from considering that.
Washington at Arizona – Michael Floyd
We have to believe at this point that neither Carson Palmer nor Larry Fitzgerald will be back on the Cardinals next season. We also have to believe that the Cardinals in a worst case scenario will finish around the 8–8 mark. So that means that Floyd could be in for double coverage on the outside with a quarterback not unlike Drew Stanton throwing the ball. Finishing with an even record means that the Cardinals will likely miss out on any rookie quarterback that could just walk through the door and save the day. So, in planning ahead, we'll have to see if Floyd is capable of doing big things with a less-than-appealing option at quarterback. Even a wide receiver as gifted as Fitzgerald with a complement as elite as Anquan Boldin , saw his numbers squandered by the flailing and failing Matt Leinart . If Floyd can live up to the hype as the new WR1 in Arizona with Stanton at quarterback, the sky is the limit. If not, he could be stuck waiting for a move in free agency or a draft day trade for a quarterback that could take years to come about.
Chicago at Atlanta – Devin Hester – Week 6 Short and Sweet
Hester should be a fantasy football start in all lineups as a WR3 against his former team. The extra motivation added to Atlanta's use of him in the slot, makes him a great upside option this week. Not only this week but if Hester stays at this level in the slot he could become one of the few wide receiver handcuffs in the league for both Roddy White and Julio Jones.