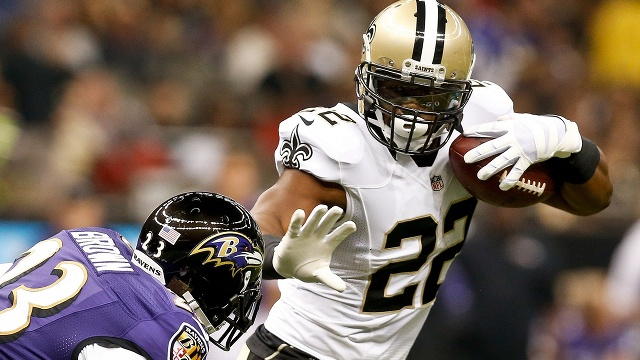 Fantasy Football Start -
1. Terrance West, CLE:
West was able to start his career off on the right foot, rushing for 100 yards on 16 carries in his first NFL game. Expect this momentum to continue since starting back Ben Tate has been declared out for the next 2 weeks. The rookie should receive a ton of carries during that timespan. He has already been named the starter in Tate's absence and has a rather favorable opponent in the Saints. New Orleans had trouble defending the run a season ago, allowing 111.625 yards per game. The mediocre run defense trend continued, as they allowed 123 yards on the ground against Atlanta in their week 1 contest. West can be used as a middle of the pack RB2, with high RB2 upside moving forward if Ben Tate struggles to make a speedy recovery.
2. Mark Ingram, NO:
Ingram has the best chance to retain fantasy value out of the Saint's crowded backfield. Ingram rushed for 60 yards and 2 touchdowns on 13 touches against the Falcons. Ingram will square off against the lackluster Browns defense this week and should have a field day. Cleveland will have a tough time containing the 24-year-old out of Alabama, as he looks much more confident now than in seasons past. Not only in week 1, but also his preseason performances serve as a solid indicator of where his production is headed. Expect him to receive the bulk of the carries, and feel free to use Ingram as an average RB2 this weekend.
Sit
1. Zac Stacy, STL:
Zac Stacy's ceiling has continued to spiral downward since the start of the preseason, and he should be sold high in most standard leagues before it is too late. The first crushing blow to his fantasy value occurred after QB Sam Bradford tore his ACL. The Rams will struggle to get anything going in the passing game this year, which will make it that much more difficult for Zac Stacy to find room to run. In addition, backup HB Benny Cunningham seems to be gaining respect from the St. Louis organization, and received most third down carries last week. Stacy's value has diminished greatly, and he should be considered a weak flex play for week 2.
2. Steven Jackson, ATL:
The Falcons coaching staff only gave up the rock to Steven Jackson 12 times during Atlanta's Week 1 win over the Saints. 12 carries is not enough volume to get the job done for fantasy owners. Even if he sees more action on the field, he's not going any where against the Bengals run defense on the road. Jackson is supposed to be the running focal point for the Falcons in a crowded backfield, but unless his workload increases, he's barely serviceable as a fill-in flex option.
3. DeAngelo Williams, CAR:
Williams is currently dealing with a thigh injury, and it looks to be highly unlikely that he will be able to suit up against Detroit. His list of injuries is quite extensive, and he always seems to be fighting off a new issue. Even if he finds his way onto the field, it's almost certain that Jonathan Stewart would cut into carries for preventative purposes. The Lions were 6th in rushing yards allowed a season ago, and a roughed up DeAngelo Williams will Ndamukong Suh and company licking their chops. Expect a goose egg from the injured tailback, or limited production as he attempts to recover from his leg injury. Avoid inserting DeAngelo into most standard fantasy lineups until further notice.
For the most comprehensive fantasy sit start advice, stick with ASL all season long.