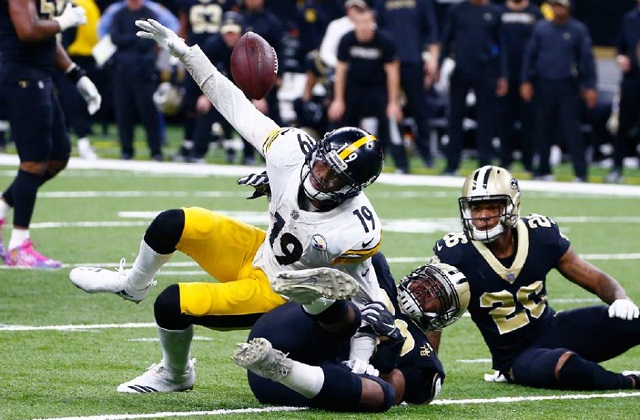 Written by Cam Harper
17 April 2020
See all of Cam's "Dynasty Top-5s" articles: Undervalued | Overvalued
I recently made an article for ASL that highlighted my top five best values for the influx of dynasty drafts that have been occurring due to the mandatory quarantine. It seems only natural to continue the "Top 5" series and make an overvalued list for players to potentially avoid. I have some controversial picks in this top 5, so strap in and prepare yourself. As always, my rankings are based off Fantasy Pros consensus rankings.
Here are the current top 5 overvalued players for your upcomming dynasty draft!
1) Juju Smith-Schuster – Pittsburgh Steelers (Current ranking: 14)
I know, I know. Juju is only 23 and has already had a massive fantasy campaign back in 2018. Sure, Big Ben was injured for the entirety of the 2019 season and had questionable quarterback play as a direct result. Juju dealt with injury issues for much of the season as well. With Big Ben back in 2020 and Juju healthy, the assumption should be that Juju returns to his 2018 ways and helps your team get to the playoffs, right? Not necessarily.
My concerns with Juju lie in the fact that there are red flags with him, especially at his current price. It's very possible that Juju isn't a WR1. Last season was supposed to prove if Juju could handle being the WR1 in Pittsburgh's offense without Antonio Brown there. Unfortunately, we never got to see that. There's a chance that Juju will not be a WR1, in both real life and fantasy, without Antonio Brown on that offense taking coverages away from Juju. That's a big risk to invest an early second round pick in.
Here's the other issue. Big Ben isn't going to be around that much longer. He has two or three years left at the very most. Last season made it obvious that Pittsburgh does not have a replacement ready for when Ben leaves, and the Steelers aren't going to fix that issue this year. They don't have the capital to sign a player like Jameis Winston, and their win now mentality likely means they will not be drafting a QB this season. It's impossible for Juju to bring a return on his ADP if he has Rudolph throwing him the ball.
Compare Juju to who is being drafted around him. Tyreek Hill has little to no red flags. Same for Mike Evans, Julio Jones (other than age), and DJ Moore. All these players have little to no concern that they will perform well. Why draft Juju with potential red flags when a different receiver can be drafted with little to no risk? That's why Juju is being picked too early for me.
2) Courtland Sutton – Denver Broncos (Current ranking: 25)
This is one that just doesn't make sense to me. Sutton is being drafted before guys like AJ Brown, Keenan Allen, Stefon Diggs, and Allen Robinson. All of whom have proven they can do it in their respective systems. Sutton has had one good season, finishing as WR18 in 2019. Here's the dilemma, Drew Lock is now Sutton's QB and Sutton didn't exactly light up the scoreboard with Lock at QB last season. He scored two touchdowns in the weeks Lock played (weeks 13 through 17), both of which came in Week 13. He didn't have a game with more than 5 receptions, and he didn't have a game with over 100 receiving yards.
Additionally, the Broncos are likely going to take a wide receiver in the first round, with speculation that they want to trade up presumably to get CeeDee Lamb or Jerry Jeudy. Clearly the Broncos don't view Sutton as their WR1, so why should the fantasy football community?
The odds of Sutton being a high WR2 or low WR1 year in and year out are low. Avoid Sutton at his current cost, if possible. There are so many safer and better options here.
3) DJ Chark – Jacksonville Jaguars (Current ranking: 40)
DJ Chark had a fantastic 2019 season, posting 73 receptions for 1,008 yards and 8 TDs. This was good for the WR16 spot in PPR rankings at the end of last season. Should that translate into being ranked ahead of guys like Adam Thielen and Robert Woods in your dynasty draft? No. Here's why:
Over 40% of Chark's yards from last season came from three games. Over 60% of Chark's touchdowns came from those three games. If Chark's big three games are removed and replaced with the average of his other 12 games, Chark ends the season with 66 receptions for 743 yards and 4 touchdowns. That's good for WR37 last season. Yikes.
The other issue is that he's playing on one of the worst teams in the NFL that is actively imploding. Minshew is not a stellar quarterback, and it's very likely he's the guy starting this season. The offensive line is bad and Fournette is the only other weapon on that offense. He's being ranked as WR21 and that's his absolute ceiling as long as he remains in Jacksonville. Stay away from this pick.
4) Kenyan Drake – Arizona Cardinals (Current ranking: 37)
Kenyan Drake has me torn. He just feels like a total boom or bust in 2020 with little in between. Drake joined the Cardinals halfway through the 2019 campaign and his stats with the Cardinals for half of a season are fantastic. He had 814 total yards from scrimmage with 28 receptions and 8 touchdowns. If these numbers were paced out for an entire season, he would have had 1,628 total yards with 56 receptions and sixteen touchdowns. That would have been good for RB3 in PPR formats.
Drake played at his absolute ceiling last season. In my opinion, there's no way he finishes inside the top 5 running backs in 2020. While his current going price of RB14 doesn't necessarily reflect that, it still seems risky to me. The Cardinals are going to be a pass-first offense, especially with Hopkins on the team now. Drake didn't do much in the passing game and Chase Edmunds has proven to be more than viable in that regard. There's a good chance that Drake loses a decent amount of passing down work to Edmunds.
I could be completely wrong on this one. Drake could be a total fantasy stud on that offense. However, I feel like Melvin Gordon and Ekeler are much safer picks at a similar price.
5) Marlon Mack – Indianapolis Colts (Current ranking: 45)
The issue with Mack is that he doesn't do anything special. The league has a unique issue of having a plethora of running back talent everywhere. It has the feeling that teams can pick up useable running backs off the street. Mack's lack of doing anything special makes him very replaceable.
The Colts could easily take a running back like Cam Akers in the second or third round that would be an immediate improvement from Mack. That's a massive concern for a player in dynasty that costs a fourth-round pick. Mack has already shown that he is somewhat injury prone, missing games the past two seasons due to injury. He's also a virtual nonfactor in the passing game, posting only 14 receptions for the entirety of the 2019 season.
Mack's price is reasonable, if he remains the starting running back for the Colts for the next three to four years. The issue is that the Colts could replace him at any time. There's a chance that Mack is completely irrelevant in the fantasy world in two years. That risk outweighs the fourth-round asking price. By a lot.
What do you think of these players? Do you agree with me or not? Feel free to reach out to me on Twitter @CamHarperNFL and let me know!