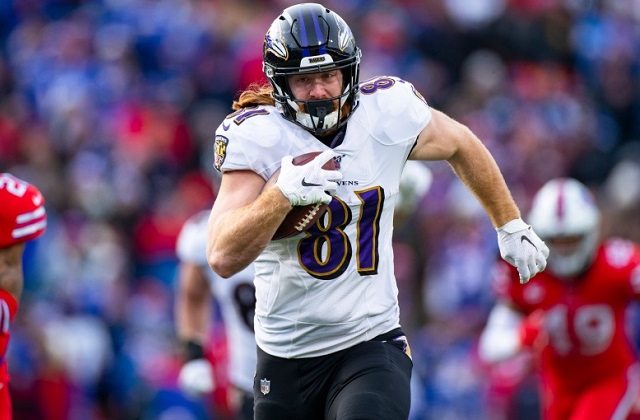 Written by Cam Harper
26 March 2020
See all of Cam's "Dynasty Top-5s" articles: Undervalued | Overvalued
I'm back and here at the perfect time! I hope that everyone reading this is staying safe and smart at home with COVID-19 becoming a prominent issue worldwide. With everyone in quarantine, hopefully this article provides you a little bit of entertainment as we pass the time during this trying time!

It's dynasty startup season, making it the perfect time to start up a fun "top 5" series around topics including undervalued players, overvalued players, players to avoid, best team names, and more! I'm going to start off the series with the most undervalued players, including potentially the most undervalued player ever! All my valuations are based off of common ADP and Fantasy Pros dynasty rankings.

Here are the top 5!

1) Hayden Hurst – Atlanta Falcons

Hurst immediately walks into the starting role vacated by Austin Hooper. Hooper is leaving 97 targets, 75 receptions, nearly 800 yards and 6 touchdowns on the table, placing Hooper as the TE6 for 2019. That was with Hooper missing three games. Hooper would have finished as TE2 if he stayed healthy. Hooper has similar targets and reception in 2018 as well.

The situation gets better! Hurst is arguably a better talent than Hooper. The first-round pick from 2018 has been overshadowed by Mark Andrews, leading Hurst to request a new opportunity on a new team. The Falcons obliged, giving up a second and a fifth. With Hurst having virtually no competition for the starting tight end role, Hurst should be guaranteed to duplicate Hooper's numbers with a feature role in Atlanta's offense. This makes Hurst a virtual lock to be a top ten tight end in 2020.

Additionally, his current ranking is baffling. Absolutely absurd. He is ranked as TE32 on Fantasy Pros and he is currently going around pick 150. Hurst is an absolute steal and a must buy in every league in every league format at this price.

2) Chris Carson – Seattle Seahawks

Another very underpriced player in the dynasty community. Carson is only 25, with back-to-back solid seasons under his belt. Carson averaged 15.5 and 14.0 points per game in PPR formats in 2019 and 2018 respectively. This led to a RB10 and RB18 finish in the last two seasons. Carson was also one of the most consistent running backs in the league in 2019, posting 12 RB1/RB2 games.

Logically, Carson should be valued as a mid RB2 with RB1 upside in 2020, yet that's not the case. He's currently valued around RB25 and is consistently being drafted behind guys like Marlon Mack, Devin Singletary, and David Montgomery. Carson has a much safer floor than any of the aforementioned players and should continue to be the lead back for Seattle for the next few years – at least. Carson just feels like a must buy at his current fifth to sixth round price tag.

3) Brandin Cooks – Los Angeles Rams

Cooks is another guy that really doesn't have a good reason to be so far down draft boards. Cooks was a consistent WR2 with WR1 upside from 2015 through 2018, consistently finishing as a top 20 wide receiver in all formats. Cooks went from being drafted in the fourth round of drafts last season all the way down to the seventh and eighth rounds this season. Sure, he really struggled last season and he probably damaged his owner's chances of winning their league substantially. However, one bad season doesn't infer that his talent magically disappeared.

Cooks is still just 26 years old. Better yet, he will likely be playing for another new team in 2020, which should help his value. If he can land in an offense where he is the number two guy, he should thrive. He'll no longer be battling for targets between himself, Robert Woods, Cooper Kupp, and Gurley. More targets in a new offense could lead to a career year for Cooks in 2020. WR37 is just way too low for a guy as young and talented as Cooks. Another guy to buy all day in your dynasty start up draft.

4) Davante Parker – Miami Dolphins

Another wide receiver added to the list and another head scratcher with Davante Parker at the number four spot on the top five list. He's ranked at WR32 after pulling off a massive breakout season in 2019. Parker's massive production down the stretch of the NFL season led to a lot of fantasy championships. The strangest part about his rankings is that he's not even coming off a bad season, like Brandin Cooks. He was a stud in 2020, posting 72 receptions for 1,202 yards and 9 touchdowns.

The best part about Parker is that his ceiling is even higher. Worst case scenario, Parker already has a year of chemistry with infamous journeyman Ryan Fitzpatrick. Best case scenario, the Dolphins trade up to get guy like Tua, and Parker's ceiling really jumps. Parker is being drafted around guys like Deebo Samuel, Christian Kirk, and Marquise Brown. At a late fifth to early sixth round price tag, Parker should have a safer floor and higher ceiling than all the wide outs drafted around him. It feels like robbery to draft him at his current going rate.

5) John Brown – Buffalo Bills

Rounding out the top five is John Brown in Buffalo. John Brown has always been the guy who has all the talent in the world but can't stay healthy. That has been the story of Brown's career – until 2019 that is. Brown had a real breakout season in 2019, generating 14.7 points per game and finishing as WR15 in PPR formats.

His situation improves as well! Diggs coming to Buffalo should really help Brown continue to see one-on-one looks from opposing defenses. Diggs will soak up some of the targets in the offense, but there should still be plenty to go around. Brown is excellent at creating separation, and he accomplished this against the best corners in the NFL last season. So, what's the catch? Well, this is John Brown and 2019 was the only time in his career he made it through the entire season without getting injured.

Despite this risk, the WR41 price tag is so good. He's getting drafted next to guys like Curtis Samuel, Julian Edelman, and Mecole Harman. Brown is just 29 years old and proved that he can be a consistent fantasy commodity last season. He's worth taking a shot on at that low of a price point.

Honorable Mention: Le'Veon Bell – New York Jets

I'm placing Bell as the lone honorable mention as his current price is somewhat justifiable. He's being drafted around RB20. This is around the same value as James Connor, Marlon Mack, and David Montgomery in dynasty leagues. Yes, the Jets offensive line is really bad. Yes, the Jets have done an awful job at surrounding Darnold and Bell with more weapons on offense. Jamison Crowder is not a WR1 or even a WR2 for that matter. However, he still provides a volume-based floor for a few years to come.

Le'Veon Bell had 245 rushes and 66 receptions last season for a grand total of 1,250 yards. Despite having over 300 touches, Bell only managed to get into the endzone four times. He also posted an abysmal 3.2 yards per rush. It is reasonable to believe that Bell receives a similar workload in 2020 and he should have a better touchdown conversion rate. If he can get closer to ten touchdowns in 2020 with similar total yards, he'll be sitting right around RB10 when the 2020 season comes to an end. He has an extremely safe floor with potential RB1 upside.

For a guy that was being drafted in the first round just a season ago, I like that value in the fifth round.

Want real-time reactions and to be notified when my content goes live? Follow me @CamHarperNFL!