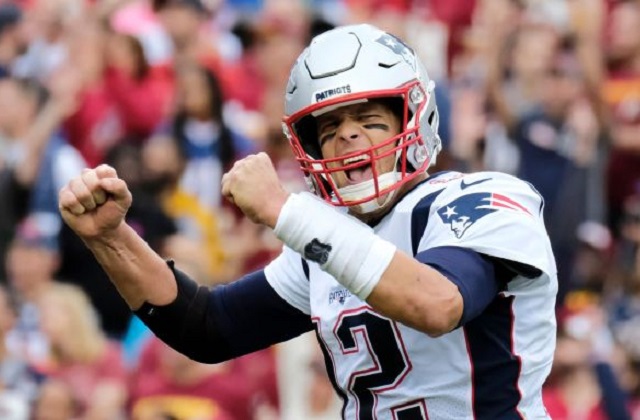 Written by Todd Lewys
22 March 2020
Never before has the NFL's free agent season been so intriguing. And never has it been so impactful.
Here are some observations on what's transpired so far.

Tom Brady makes the Tampa Bay Buccaneers an instant contender. Despite his age, TB12 is a huge upgrade over the turnover-prone Jameis Winston.
Even at 43, Brady is far more accurate than Winston. That will make an already prolific offense that much more deadly - receivers Mike Evans and Chris Godwin are bound to make even more big plays in 2020.
And an already strong defense will be that much better due to the extra rest that comes from sustained drives.

The acquisition of DeAndre Hopkins just accelerated Kyler Murray's development. As good as the NFL's offensive rookie of the year was in 2019, he figures to be even better in 2020.
With Hopkins, Christian Kirk and the ageless Larry Fitzgerald to throw to, the mobile, elusive Murray figures to be unstoppable. Now, can the Cards' defense stop opposing offenses? Time will tell.

Teddy Bridgwater adds stability at quarterback in Carolina. The Panthers are hoping Bridgwater will be as good as he was when he filled in for the injured Drew Brees in New Orleans last season.
Not only is Bridgwater mobile, but he's an accurate passer and doesn't turn the ball over often. He will be a marked improvement over the oft-injured Cam Newton, who is no longer an effective runner or passer.

Baker Mayfield is a whole lot happier in Cleveland. In short order, the Browns' third-year signal caller got a new protector in offensive tackle Joe Conklin, a reliable tight end in Austin Hooper and a capable back-up in Case Keenum.
Meanwhile, the Browns' defense got better with the signing of safety Karl Joseph, who should fill that void capably. The Browns will be better, it's likely they'll be a playoff team - but likely not a contender for a spot in the Super Bowl.

The Chicago Bears now have a full-on competition at quarterback. Something has to give at the pivot position in Chicago in 2020 with the Bears' acquisition of QB Nick Foles from the Jacksonville Jaguars.
One of two things will happen: Mitchell Trubisky will rise to the challenge and arrive as an elite-level quarterback, or Foles will come in and provide the consistency that Trubisky lacked last year.
Both quarterbacks figure to be motivated to prove themselves, which means competition for the starting job should be fierce. Bears' management is hoping that a motivated quarterback will be a productive one.
With their stellar defense and a productive QB, the Bears could be a contender in 2020.

Drew Brees has one more target to throw to in NOLA. In short, the signing of WR Emmanuel Sanders is huge for the Saints. Teams will no longer be able to key on all-world wideout Michael Thomas for one.
And with the field spread out more, TE Jared Cook and RB Alvin Kamara will be two more weapons to utilize along with the versatile Taysom Hill. Question is, does Brees have enough left in the tank for another Super Bowl run?

Continuity in Dallas means the Cowboys could be a threat. Everyone knew that Jerry Jones would never break up the tandem of Dak Prescott and Amari Cooper, right?
Not necessarily. But, with the pair now firmly in the fold - and RB Ezekiel Elliot signed long-term - the Cowboys' offense is in good shape. With a solid defense and new coach in Mike McCarthy, the playoffs are a distinct possibility in the Big D

New era in New England. First it was Gronk, now it's Brady. With those two pillars gone and the departure of LB Kyle Van Noy, the Patriots could be in a tough situation with the inexperienced Jarret Stidham - or someone who's not Tom Brady - at QB.

Minnesota may need a miracle. The Vikes got weaker on offense and defense with the departure of WR Stefon Diggs and veteran DE Everson Walls. They could miss the playoffs again in 2020.

All this player movement - and the movement that's still to come - is setting the stage for what will be a very interesting 2020 NFL season - and a challenging fantasy draft prior to it getting underway.