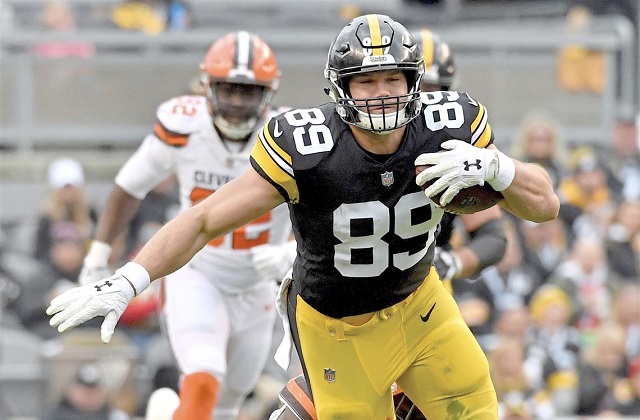 Written by Chris Hexter

05 December 2019

ASL's Chris Hexter reviews who to start and who to sit for Week 14.

For most of us, playoffs start this week and we hope most of you are in the top bracket and fighting for a championship! Keep in mind defense and quarterback matchups in your playoffs. If you don't have a solid backup option for either position, you can find yourself in a tough situation. So, look ahead and plan accordingly.

Whether you are in danger of losing or in hopes of winning, let's get into a vital Week 14 - 5 Starts and 5 Sits. Good luck everyone!



Starts



QB - Jameis Winston | Tampa Bay Buccaneers (vs Colts)
Winston has been terrific in 2019. And this isn't even on the terms of fantasy, I mean actual NFL football. He is still prone to throwing interceptions, but his yardage and touchdown totals are consistent. Last weeks game in their blow out of the Jags was bad for fantasy but a good game for Winston for football purposes. You can confidently roll him out there against a below average Colts passing defense in the playoffs.

RB - Joe Mixon | Cincinnati Bengals (@ Browns)
A week removed from the sits, Mixon has seen something over the past few weeks that we haven't seen throughout the year. That is consistent opportunity. The Bengals are finally understanding that they should let their best offensive weapon touch the ball, at the very least, 18 times. If you can get by Mixon's Week 15 matchup against the Patriots, he'll get Miami and could be this years playoff hero.

WR - Alshon Jeffery | Philadelphia Eagles (vs Giants)
Jeffery blew up in his return against the Dolphins and now gets to go home and face the Giants. When Jeffery is in the lineup, he dominates the target share. Look for that to continue against one of the worst passing defenses in the NFL as he will look to help fantasy GM's win their first week of the playoffs. He is a must start with nice touchdown upside.

TE - Vance McDonald | Pittsburgh Steelers (@ Cardinals)
Vance McDonald only saw three targets last week. However, there were only 18 targets distributed among the skill positions. I project McDonald to see more targets in this one, but even if he doesn't, he faces a defense with the worst tight end coverage that we have ever seen in years. He can turn three targets into a big game. If you are in desperation, especially with Hooper and Olsen's status in the air, you can pivot to McDonald.

D/ST - Minnesota Vikings (vs Lions)
The Vikings defense has been slowing down a little bit as we near the end of the season. Xavier Rhodes "closed" has since been "Rhodes wide open". But this is a get right game for this secondary who gets to go home and face a third string quarterback, who didn't look terrible against the Bears(but didn't look great either). Don't be surprised if this defense gives GM's a top five performance in Week 14.





Sits



QB - Josh Allen | Buffalo Bills (vs Ravens)
It's hard to sit a guy who has given GM's great fantasy production. But this Ravens defense is really no joke. They blitz more than any team and they pressure more than any team. Allen has thrived off of his rushing ability but a cold game in Buffalo will likely see this being a rushing game with the Ravens constantly spying on Allen. If you have to play him, understandable. But if you have a better option with a better matchup, I would take it.

RB - Colts Running Backs | (@ Buccaneers)
Mack has a good shot to return in this game. But there is a good chance he is limited. With Mack's return, four running backs convene into one backfield. For fantasy purposes, I would avoid all options as it is virtually impossible to know who will have a good game, if any, against one of the best rushing defenses.

WR - Amari Cooper | Dallas Cowboys (@ Chicago)
Look back at Cooper's road-home splits. Not pretty when he is away from home. All of his dud games have been away games and now he goes visits a tough Chicago defense in the cold. It's very hard to bench a guy like Amari, who has tremendous upside. But I don't know how happy people will be when he busts in the first week of playoffs. If I have options like DJ Moore, Tyler Boyd, or Zach Pascal; I'm more confident with these options than I am with Cooper. But if you go down with the ship, I'm rooting for ya!


TE - Jared Cook | New Orleans Saints (vs 49ers)
The Saints can win this game, but it won't be from Cook gashing through their second rated tight end defense. The 49ers are a good defense and have been exposed more so in the run than anywhere else. Cook has been electric since the halfway point of the season, but this week he will under-perform.


D/ST - Seattle Seahawks (@ Rams)
The Seahawks defense has been in the middle of the pack and faces the Rams at home who have all of their weapons back. This isn't the Rams offense we have come to know but with all of their pieces back and Goff at home, this could be a high scoring affair and you don't want to go down with the Seahawks defense in your lineups. Go safe with defense as you don't want to be burned here.