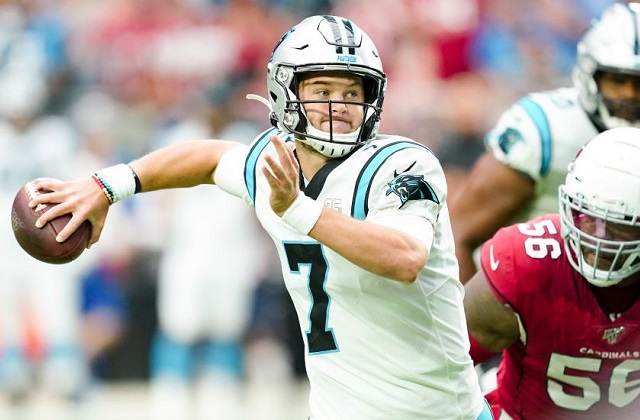 Written by Michael Morrow
03 December 2019
Week 14 is here! The NFL playoff race is hot, the storylines have been great, and for a majority of 59 million Americans who play fantasy football… the playoffs begin. Side note: if your league has playoffs that go through week 17 – I am sorry, bring it up at your draft next Summer.
Last week I recommended James Washington and Rashaad Penny… there were 43 free points right there… let's keep it rolling! Time to take some risks and win that money!

Quarterbacks
Ryan Fitzpatrick (5.4%) – MIA – 12.8 avg.
BE ADVISED: Do not watch the first half if you pick up and play Fitzmagic this weekend. This guy will never go away. With an impressive win against the Eagles this past weekend, Fitzpatrick threw for 365 yards, 3 touchdowns, and 1 interception. In his last two he is averaging 24 points and will look to continue his hot streak as the Dolphins take on the Jets this weekend, a team that just looked lost against Andy Dalton and the Bengals.
Kyle Allen (13.8%) – CAR – 13.3 avg.
I assume the roughly 14% of fantasy owners who own Kyle Allen do so because they lost Cam Newton, nevertheless, Allen has put together back to back solid games against the Saints and Redskins. It looks like Allen finally realized that he can throw to someone outside of Christian McCaffrey and has turned D.J. Moore into a weekly must-start receiver. In his last two games Allen has 6 touchdowns (5 pass, 1 rush) and 2 turnovers for an average of 22.5 points. With another favorable matchup coming against the Falcons this weekend owners who need a shake up can plug and play him.

Running Backs
Alexander Mattison (17.7%) – MIN – 4.1 avg.
With a scary injury to Dalvin Cook on Monday Night against the Seahawks owners should take notice and grab Mattison. The rookie from Boise State has been impressive with limited opportunities this season. He is averaging a healthy 4.8 ypc and has shown value in the passing game. Even if Cook is good to go on Sunday the Vikings may air on the side of caution with their star, especially going into a home matchup against the Lions. In this case, Mattison would be an immediate plug in to any lineup as the Vikings have been great all year at getting the ball to their backs.
Darwin Thompson (5%) – KC – 1.4 avg.
Running mates Damien and Darrel Williams statuses are up in the air for a huge matchup against the Patriots in Foxborough. This would open the door for Thompson and LeSean McCoy to get more touches, which I believe would be split. McCoy has shown flashes of "Shady" this season but there is no denying he could not handle a three-down back workload at age 31. If both Damien and Darrel are sidelined this weekend, plug Thompson into your lineup!

Wide Receivers
Anthony Miller (10.3%) – CHI – 5.2 avg.
Miller exploded on Thanksgiving against the Lions, securing 9 catches on 13 targets for 140 yards. It was by far the second-year wideouts best game of the season, but I anticipate his involvement in the offense to keep steady heading into the stretch run of the season. The Bears have been waiting for a second receiver to emerge alongside of Allen Robinson and they might've found him in Miller. If you've read my articles you know how I feel about targets, they drive the ship for fantasy receivers and, in my opinion, is the barometer for measuring consistency. In his last three contests Miller has gotten 11, 9, and 13 targets. Maybe I'm reaching, but Mitch Trubisky has thrown for his season-high in yards TWICE in that span – 278 against the Giants, 338 against the Lions. It looks like the Bears are finally stretching the field, with Miller being the beneficiary – pick up and play Miller this week!
Marcus Johnson (0.5%) – IND – 4.6 avg.
With literally NO ONE left to catch passes from Jacoby Brissett, Johnson had a decent game securing 4 passes for 55 yards. T.Y. Hilton looks doubtful to return this week, keeping Johnson inline to play a bigger role alongside Zach Pascal. The Bucs have been great against the run all season, meaning the Colts will have to look for other ways to move the ball… expect Johnson to make an impact right away.

Tight Ends
Mike Gesicki (10.3%) – MIA – 5.3 avg.
I sound like a broken record – but at the thinnest position in the NFL, Gesicki has been coming along in the latter half of the season. He has had no less than 6 targets in his last 5 matchups, turning that into around 50 yards and 2 touchdowns, both of which came in the last two weeks. The Jets have been solid against Tight Ends all season, but with Ryan Fitzpatrick playing well, I'd feel confident in playing Gesicki this week and going forward.